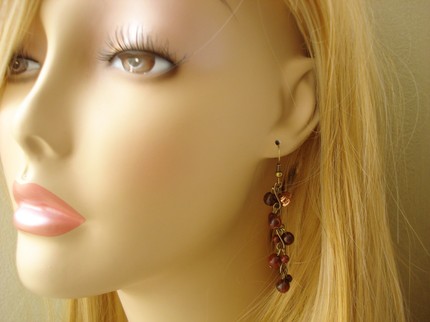 Let's be honest, we are hoping you love us enough to do a few shout-outs for "Or so she says…" by bribing you with a give-away of these screaming hot, jasper stone earrings by etsy's own
MDsparks
. She makes adorable jewelry! So, will it work?? Frankly (I like that word), your chances are pretty good because we are a brand new blog!
Here's what you have to do to enter the drawing: (You can earn up to 3 chances!)
1. First chance – Subscribe to our blog (Click the "Let's Be Friends" link on the side of our blog) How easy is that??
2. Second chance – Do a post about your undying love for us on your blog. It can be short, but I would imagine you have lots to say.
3. Third chance – Post our button on the side of you blog (go to Layout, Add Gadget, HTML, insert code available on our blog…ask if you need help)
When you are done, leave a comment telling us which ones you did, along with your email address. Some of you superstars have already done one or all of these. If so, we applaud you on your wise decision and ask that you refresh our memory as to which you have already done…
The contest ends Wednesday night. We will notify the winner Thursday!
Lots of love,