This one is for you, She One.. Mariel keeps asking me to do a post on this Jell-O. It is soooo good and easy!
Here are the ingredients: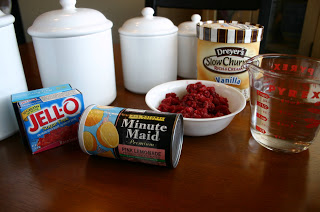 This is my Momma's recipe.
1 package (10 oz) frozen red raspberries, thawed
2 packages (3 oz each) raspberry jell-0
2 cups boiling water
1 pint vanilla ice cream
1 can (6 oz) frozen pink lemonade concentrate, thawed
1/4 cup pecans chopped
Saving syrup, drain raspberries. Dissolve jello in boiling water. Stir in ice cream by spoonfuls until melted. Stir in lemonade and reserved syrup. Refrigerate until partially set. Fold in raspberries and pecans. (I actually left out the pecans) I put it into a 9×13 inch pan. Refrigerate until firmly set. 10 servings.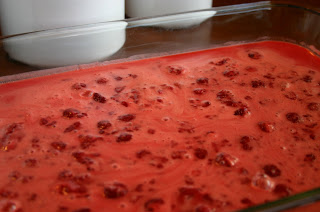 Serve it up!