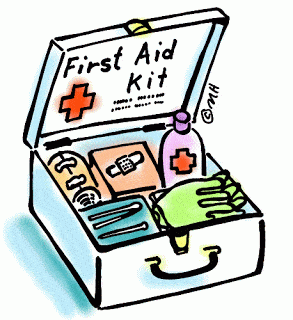 My daughter gets a bloody nose, at least once a week. Bless her heart. I was just thinking, we've been lucky our kids haven't been in any seriously scary situations (knock on wood) where we've needed professional help. So, here are some things to hopefully help with some less serious childhood emergencies.
Always have a first aid kit on hand. You can buy them anywhere or, if you need a family project you can make one of your own.
1. Update your first aid kit every six months to replenish and check supplies. Expired or contaminated items should be replaced.
2. Check with your family doctor for any specific medications and first aid supplies your family might require for an emergency.
3. Some items may break or leak open. Using tubes, plastic bottles, or Ziploc baggies can help prevent contamination.
4. All first aid supplies should be labeled and organized for quick and easy use.
5. Supplies may be divided and organized into compartments or sections for easier access when using your first aid kit.
Standard First Aid Kit Supplies
First Aid Booklet
Prescribed Medications
Any critical family medical histories
Adhesive
Ammonia
Bicarbonate of Soda
Calamine Lotion (sunburn/insect bites)
Diarrhea remedy
Elastic bandages
Gauze bandages
Hot-water bottle
Hydrogen Peroxide
Ipecac Syrup (induces vomiting)
Tweezers
Disposable, Instant Ice bags
Thermometer
Syringe, medicine spoon or medicine cup for giving specific doses of medicine
Blue baby bulb or suction device
Sharp Scissors
Sterile cotton balls, q-tips
Triangular bandage for wrapping injuries and making arm sling
Aluminum finger splints
Eye shield, patches
You can go to
Kids Health
and print off sheets that have common scenarios from Insect bites to nosebleeds to seizures. Put then in a folder so you can have them on hand or for when you have a babysitter- make sure they know where they are. Hopefully you will never have to use them. Make sure the babysitter and everyone in the family knows where the first aid kit is as well.
Keep an emergency contact sheet on the fridge. You can also get magnets to put on your fridge in case of an emergency. I found some at
http://www.safetymagnets.com/
1. CALL

Check the victim for unresponsiveness.

If there is no response, Call 911 and return to the victim.

In most locations the emergency dispatcher can assist you with CPR instructions.

2. BLOW

Tilt the head back and listen for breathing.

If not breathing normally,

pinch nose and cover the mouth with yours and blow until you see the chest rise.

Give 2 breaths. Each breath should take 1 second.

3. PUMP

If the victim is still not breathing normally, coughing or moving, begin chest compressions.

Push down on the chest 11/2 to 2 inches 30 times right between the nipples.

Pump at the rate of 100/minute, faster than once per second.

CONTINUE WITH 2 BREATHS AND 30 PUMPS UNTIL HELP ARRIVES

NOTE: This ratio is the same for one-person & two-person CPR.

In two-person CPR the person pumping the chest stops while

the other gives mouth-to-mouth breathing.

Be Safe!