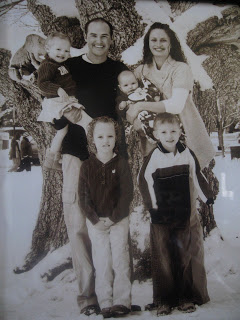 I'm Katie. My husband Brooks and I have been married for 7 1/2 years now. I am a mother of 4, and just had the big 30 bday a couple months ago, which I hate. No, I just can't believe that I'm that old, b/c I feel the same.
I have known Mariel for a while! We went to high school, and she lived down the road from me. Now, I mention this b/c she should know me well enough to know that I'm not crafty (unless I have a kit) or a chef. So, since I did say yes, I've been wondering all week what to post on. Finally Saturday morning it hit me, I'm known for being unsentimental and the de-junker in my family. Since it's spring time, I'll give you a few tips on how to get started on your spring cleaning.
Tips for cabinets:
One thing I've noticed is items in cupboards fall into one of the 4 catagories:
-Garbage
-D.I.
-Item in wrong place-If bike pump is in kitchen, you can put it in the garage, etc.
-Want to keep
So if you have 4 bins, bags, piles whatever to categorize these items, you'll move a lot faster.
Now, don't go in your kitchen and empty out all your cabinets thinking your going to do this! You'll just end up with a big mess and crying or frustrated. Pick 1-3 cabinets to work with at a time per day until you've gone through all your kitchen cabinets. Then move on. The 4 piles will save time, so you're not taking one item that's in the wrong spot and putting it away etc.
Tips for the bathroom:
In your bathroom cabinet you probably have about 7 of the same product all slightly used b/c everytime you go to the store you buy a new one.
A tip for this is to downsize! Only keep one of every product in your cabinet. Then take all extra's and put them in a box. When you run out of product, go to your box and see if you have it before going to the store!
Tips for collecting kids art work or school work:
Everyone wants to keep everything their little one makes right? Well, here's a great tip for only keeping the BEST stuff.
Put a cardboard box, or tuperware under your child's bed. Whenever your child has art work or a school project they want to keep, they put it in the container under their bed. Try to keep it as minimal as possible. Wait until the end of the school year, and then go through the box with them. Tell them they may keep 7 or however many of the items. Then of course parents have their say. This doesn't count with school journals, etc they make that you'll keep for sure. Items they thought were cool, they won't care about after a few months.
Then you can file these in a filing cabinet along with their school pictures.
Tips for closets:
If you have not worn a pair of shoes, a shirt, pants, jacket or any other item of clothing in the last year, this is ALL D.I.!! This includes graduating gowns, prom dresses, brides maid dresses, etc. If you haven't worn it, take a picture and get rid of it!
Either sell your wedding dress, or do what my neighbor did and make dresses for your daughters out of it! (She made her daughters baptism dresses, so cute!)
Tips for toys:
Anytime after Christmas, Birthday, or anything my kids get a lot of toys from, I like to go through their toys and decide what I can get rid of. I do keep the toys I see them play with all the time, but if it's shoved in the back of their closet or anything, it's mine! Yep, either garbage or D.I. depending on condition. Now, this is hard for my oldest son. He can tell you everything he's ever owned, and always asks me where it is. If your child is like this, my tip would be to pack up toys they don't play with, put them in the attic or whatever and then later on you can pull them out and their excited to play with them again, but their room didn't get too cluttered. No, I don't do this with Kimball, way too much work! lol
Tips for drawers:
Go through drawers using the 4 pile method. You would be suprised how many things are just in the wrong spot and therefore unuseable. Then get trays for whatever you have leftover, so it's not rolling all over the place.
Tips for books:
My main thing on books are if you have old college books, throw them out!! You are never going to need them again. Yes they were expensive, but oh well, that's life.
If you're having a hard time getting rid of anything that's memorable but not useful to you, just take a picture, give it to someone who may use it, or have a garage sale if you have a few things!
Now, no, my house is not perfect! So no judging when you come over! I do try to do these things, but I do have a life also. If you need someone to come over and mock you to help you get rid of your old dog's sweater, I can be that person. No, I do love de-junking. I've realized this when my garbage cans are empty on trash day, and I want to run and see what else I can throw away! Yes I know this is crazy, but maybe now I'll help someone…
Sorry a boring subject, yet one I love. Good luck to everyone! Hope something here helps, and inspires you to get started:)!