So, I'm not a total Health Nazi. I really don't think that life would be nearly as enjoyable if I couldn't have an occasional cinnamon roll, movie popcorn, loaded brownie, or bowl of Fruit Loops. (All at the same time, of course.) The trick is being in control of your appetite/cravings and having them in moderation. All the while, feeding yourself with healthy options the rest of the time. I'm not against my kids having treats, but I also want them to know how important it is to eat healthy and how to eat those treats sparingly. And, the best time to teach them is while they're young. But, it's never too late to start!
Bring up the topic "eating healthy" with your kids and usually you will be met with moans and groans. But, I've got
a few ideas for you to help make eating healthy fun…
1. Blindfold the kids and have them taste different healthy snacks. See if they can guess what they are: olives, dried fruit, cashews, yogurt, cheese, frozen grapes, etc.
2. Take your kids to the store with you and let them pick out some healthy snacks that they are willing to eat, instead of sweets and junk food.
3. Make it more convenient to grab healthy snacks. Have a bowl in the pantry filled with healthy snacks: sunflower seeds, craisins, fruit leather, etc. Have a bowl in the fridge, as well: carrots, celery, string cheese, apple slices, etc.
4. Play with your food! My kids love when I will make "faces" with the food: carrots for ears, grated cheese for hair, cut pickles for eyes, and olive for a nose, whatever!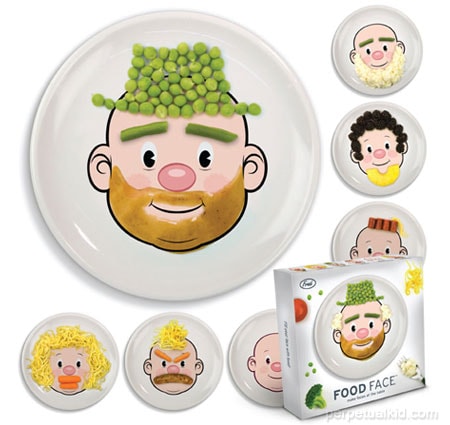 Aren't these the greatest?? Food Face Plate, $9.99.


5. Make a dinner full of healthy foods they have never tried before. Have a competition to see who will try the most of them!
6. Homemade fruit Popsicles, frozen grapes or fruit ice cubes!
These ice/bake trays by Sillicone are awesome. You can use them to make ice or a whole variety of other things! They also come in numbers and other shapes, $14.95.
7. Smoothies are an easy way to sneak in some carrots, spinach, etc. You can find lots of recipes for "green smoothies" online. Check
here
and
here
.
8. Give them a plate of healthy snacks and have them pick them up with a toothpick, or…if they're older, chopsticks.
9. Teach your kids
how to pick ripe fruit
and take them to the local farmer's market to try out their skills. Pick some exotic fruits and try them together! Check out this great list of
Top 10 Exotic Fruits
you must try!
10. Teach your kids about vitamins and minerals and what each of them do for your body. See below and learn more,
here
. Print off the list for your fridge and let the kids check up on the vitamins in the different foods they eat throughout the day.
Vitamin A – eyes, growth, appetite, and taste
Vitamin B1 – nervous system, digestion, muscles, heart
Vitamin B2 – growth, nails, skin, hair, lips, tongue, eyesight and breakdown of protein, fats and carbs.
Vitamin B6 – skin, nerves, absorption
Vitamin B12 – helps make blood and form nerves.
Vitamin C – immunity, heals wounds, reduces cholesterol, increases cell life, natural laxative.
Vitamin D – strong bones and teeth
Vitamin E – strong antioxidant
Folic Acid – produce red blood cells, reduces birth defects
Calcium (mineral) – bones, teeth, nerve function, muscle contraction, prevents blood clots
Iron (mineral) – muscle function and immune system
Magnesium (mineral) – cell repair, food to energy conversion, bones, teeth, muscles and body temperature.
Zinc (mineral) – immune system and breakdown of protein, fat, and carbs.