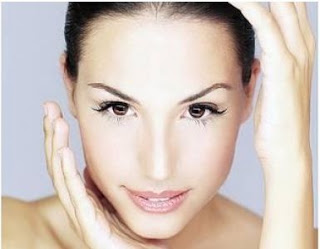 The clothes are coming off in favor of Summer! Here are a few ways to look "Summer ready" so you can flaunt that glow!
1. Do a body check. ( Im sure your hubby will be more than willing to oblige!) Check your skin for new moles or spots you haven't seen before. This will give you a normal baseline, to make sure everything is a ok before you get your glow on!
2. Get fruity. Up your intake of vitamins A and C, which are found in all kinds of fruits. Oranges, Grapefruits, raspberries or cherries all have vitamins that help the body manufacture collagen, which helps keep the skin supple. Also once a week get a dose of foods that contain essential fatty acids, such as: avocados, or salmon which lubricate the skin from the inside out.
3. Exfoliate! Sluff off your winter skin with a good exfoliator. I recommend one with salicylic acid or retinol.
Body Clear
from Neutrogena is a great one that helps with body breakouts, but doesn't over-dry your skin, or for those of you who have really dry skin- the
Sugar Scrub Exfoliator
is gentle enough for everyday use and leaves your skin as soft as a baby's behind.
4. Slather on the SPF. Sun protection is just as important as taking care of those pearly whites. You should use a facial moisturizer with spf everyday, and also in the Summer a body moisturizer with spf. Try Lubriderm's Daily UV Lotion SPF 15. $4 at Target or local drugstore.
5. Last but not least your glow. Not that you all don't already have a "glow" being so special and all- the girls on Good Things Utah swear by this stuff-
Xen Tan
. Mariel and I are in the process of finding out which ones are best. The mist, lotion or mousse. We will let you know! If anyone has used it we would love to hear your comments on it!
Now get glowing!