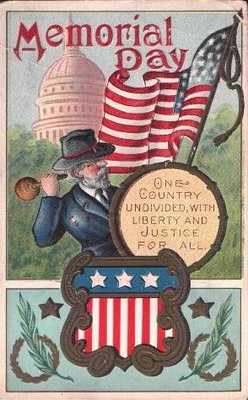 In lieu of Memorial Day, we thought we could just share a few traditions that people across the country do to remember those who have served, and are serving our country today.
In 1918, a war secretary, Moina Michael's, was inspired by reading a poem, and was transfixed by the last verse-"To you from falling hands we throw the Torch; be yours to hold it high. If ye break with faith with us who die, we shall not sleep, though
poppies
grow in Flanders Fields." That day she made a promise to wear a red poppy, as a sign of remembrance, and an emblem of all "who died." Eventually this tradition spread to other countries, and in 1948 the US post office honored Ms. Michaels and had a stamp made.
In Arlington Virginia, since the late 50′s, infantry place flags on each of the 260,000 gravesites. They then patrol for 24 hours a day during the weekend to ensure that each flag stays standing. Since 1988, the Saturday before the observed Memorial Day, Boy and Girl Scouts place a candle on each of the 15,300 grave sites of soldiers buried at Fredericksburg and Spotsylvania National Park on Marye's Heights.
Although Memorial Day is usually meant to honor Americans who gave their life in war, we can also take time to honor our own ancestors by visiting their gravesites, and learning more about them. Memorial Day is a perfect day to mark the beginning of Summer and to get together with loved ones, picnics and outdoor activities.
Have a Great Memorial Day, and a sincere thanks to all those who help maintain our country's freedom!