It's so easy to let your kids just veg out in front of the t.v., while you are getting mommy stuff done. Pretty soon half the day is gone and you realize they are still in their pj's!
Getting
kids to exercise is half the battle, so make it fun! Kids who are physically fit sleep better and can handle physical and emotional challenges better than kids who aren't.
Round up the posse and go for a walk! Or mom can walk and the kids can ride their bikes, rollerblades or scooters. I have a wagon that my kids love to be pulled in. If your kids are older, you can run together.
Jump rope! This really gets your heart rate up, and the kids will love to see mom doing it!
Make a contest to see who can get the most jumps without messing up, double jumps, hopping on one foot then the other, and running forward while turning the rope.
Dance!
I love to do this one with my kids, and I always work up a sweat! Turn on your favorite music and dance away!! Older kids could make up dance routines. For some good work out music for kids- check out
Kids Cd's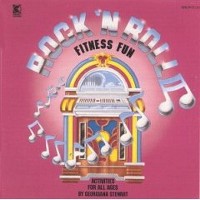 Go swimming! Ride bikes, take the dog for a walk, go to a park and play frisbee.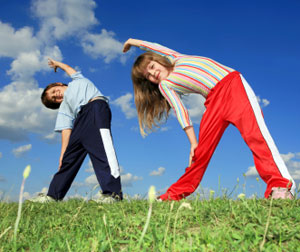 There are a lot of kids
workout videos
out there too. The two that received the best reviews on Amazon were
Kick To Get Fit Jr.
$11.50
Get your kids involved in recreational and team sports- baseball, football, soccer, tennis, gymnastics, swimming, golf, dance, cheerleading the list goes on! In a study conducted by the Women's Sports Foundation found that teens who were involved in sports were less likely to be involved in sexual activity, drugs and abusive relationships. They also had a higher chance of graduating high school and college. So get moving!