Don't forget to enter our HUGE giveaway (scroll down)!…after you read this!
I have been tweezing/waxing my brows seriously forever now. And believe me ladies its cuz I have too! I have coarse, black hair, and if I didn't I would look like this! (Not that there's anything wrong with
her
!)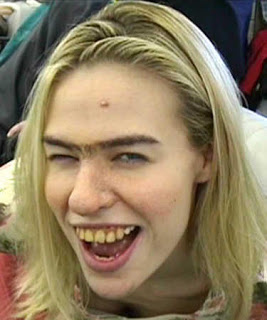 How to Shape your Brows:
First you need good lighting, and a great pair of tweezers. I recommend Trim mini tweezers, for $2 at Target, Wal- Mart or your local grocery store.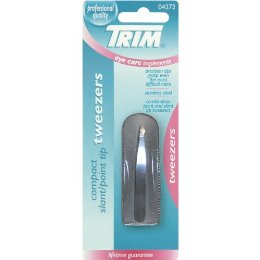 Basically you are going to work from 3 lines. Take anything long and straight and line it up so it touches the outer edge of your nostril and the inside corner of your eye. This is where your eyebrow should start. Then take your pencil or whatever, and touching the edge of your nostril again, swing it towards your pupil. Stop when the eyebrow pencil crosses the center of your pupil. This is where your arch should begin. Continue swinging the pencil past your pupil to the outer part of your iris (or colored part of your eye). Where the line intersects your eyebrow, is where the highest part of your arch should be. Remove hairs from the brow bone, going up. Only remove hairs above your brow if they are stray. This will help keep the natural shape of your brow. After the peak, the arch should start descending immediately. Lastly, take the pencil and line it up with your nostril and the corner of your eye, to your brow area and this is where your eyebrow should end.
Here are the top 5 eyebrow grooming no-no's
1. Making eyebrows too thin. Skinnier eyebrows make you look heavier and older.
2. Using a magnifying mirror. You will see every little hair and most likely over-pluck.
3. Matching your eyebrow color to your hair. (Learned this by experience- take my word for it. Don't ever try to bleach black eyebrows! Hey! I was young!) Eyebrows should compliment your skin tone, not match your hair. They can be tinted darker or lighter, but never go more than 2 shades one way.
4. Being Edward Scissorhands. Only if you have high arches should you need to trim. Being overly snippy makes them uneven.
5. Using
pointed
tweezers. They can break the skin and make scabs. Go for
slanted
tweezers.
My last bit of advice. Tweeze rather than wax. Waxing causes yanking and pulling which overtime will break down the elasticity in your skin ie: causing wrinkles and drooping eyelids. If you must, wax every 6 to 8 weeks just to have a professional help you shape them….. but then again, I just showed you how to do that!