This post is for you hormone raging, lactating, sleep deprived mommas. Not knowing what to expect and how to deal with each situation a new baby can bring can be nerve racking. Just what you need! Here are some tips to help you deal.
Jaundice
About half of all babies have mild jaundice, which gives the skin a yellowish tint. It is caused by too much bilirubin. Your worst case scenario- your little one may need blue light therapy. These days they will deliver the lights right to your door!
Give the baby sponge baths until the umbilical cord falls off. They don't get very dirty! Keeping it dry will help it fall off faster- usually within two weeks. If it bleeds a little it's ok, and if it gets wet pat it dry.
The soft spot can handle some handling, (not that you want to be "handling" it per-say) but combing over it is fine. It will pulse because it's directly over the blood vessels covering the baby's brain.
Baby's will let you know if they are getting enough to eat- and if they aren't! Newborns lose 5 to 8 percent of their birth weight within the first week, but should gain it back by the second. Counting diapers also helps. After about 5 days you should see 5 to 6 wet diapers and at least one or two poops. Speaking of poop, it comes in a rainbow of colors. All are okay, except for white, red, or black unless it's right after birth.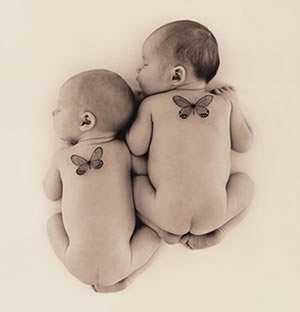 Dry skin is common for newborns. After being soaked in liquid for 9 months, and then they hit the air…. well we would be dry too! Acne is also common but goes away after a couple of months.
Weleda's
calendula products are great for newborns- it's hypoallergenic and have a baby starter kit.
Having a newborn doesn't mean you have to become a hermit. Use common sense when going out- keep the baby out of the sun, avoid sick people, and crowded enclosed places. Teach older children to touch the baby's feet instead of their hands and face. If you don't want to be the bad guy, have your older child be the hygiene police. "Don't touch the baby unless you wash your hands!"
Babies sleep a lot, but not for a long stretches. The first 3 months babies will eat every 2 to 3 hours or so. Then by 6 months most infants can sleep for 6 to 8 hours. Until then, try to get him on a night and day schedule. Don't let him sleep for more than 3 hours without waking him up to feed him. At night, let him sleep as long as he wants once he's regained the weight he lost at birth.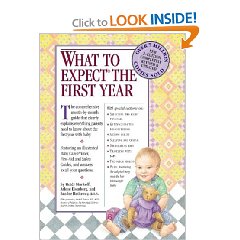 Enjoy motherhood- it goes fast!