I always think it's easier and "more funner" to exercise with cool stuff. It gets me motivated when I get a new pair of running shoes, or a new sports bra, or download a pump- me up playlist.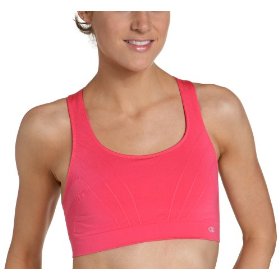 The Champion Sports
bra is my fave. They keep the girls where they should be and it won't break the bank! You can get them at
Target
for $17 on sale, and they come in a plethora of colors!
Good shoes are a must! The best shoe review on Amazon, was the
New Balance WR8509
, it got four and a half stars. $49.99-$82.99 Customers said they are a great shoe with a great price, comfortable, and easy to clean!
This is the coolest thing ever and the price is great! $18 on Amazon, and it got over 2,200 customer reviews with four and a half stars! I'm gonna get me one of these bad boys. It measures all the steps you take in a single day, as well as aerobic steps, how many calories you consume and the distance you've traveled. It has a clock and will keep track of your info for a full 7 days. The best thing about it is you don't have to wear it right on you for it to work. You can put it in your purse and it will keep track while you run errands, but does come with the traditional belt too. Sweet action.
The Max Fitness 65cm Fitness Ball. I think everyone who works should get one of these and take it to the "Office" like good 'ol Dwight! (Hopefully your co-worker won't pop it with their handy scissors) Anywho, customers say it's sturdy, durable, a great price and has helped with back pain. I use mine for a ton of exercises. Sit ups, leg lifts, wall squats and it's more comfortable than the floor! Great for stretching also!
I love this deodorant! I only use it when I work out because it's stronger and deceives those around me…keeps me dry and smelling fresh. (I really should do a commercial….) You can buy it pretty much anywhere for around $8.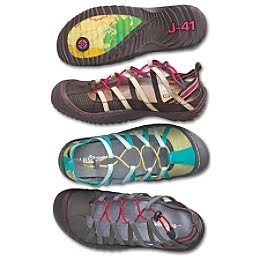 Athleta's
Gladiator Trail Shoe. Great traction, sturdy, and open laces provide great ventilation if you are hiking or camping. Normally $90 they are on sale for $55!
I just recently heard about this stuff called gu (goo). It is perfect for hard core runners or cyclers, to help them stay energized during workouts or races, but works well for anyone working out. It's like eating an energy bar but goes down easier and you don't need as much water to get one down. They don't taste too bad and are actually pretty sweet. They are a ratio of 20% simple/80% complex carbohydrates which is ideal for replacing depleted glucose. You can get them at Target or Wal-Mart, or
Amazon.
This cute yoga mat by
Damask
is only $14.99 for all you yoga gurus out there. It is 3mm thick for super cushioning while you are in downward dog, and really cute!
And for some great workout tunes- click
here
for the Top 100 workout songs!
-
What do you listen to when you're sweating it out?