I have been on a popsicle kick lately. I don't know if it's so hot that nothing but popsicles sounds good, or they are a nostalgic childhood memory.
In case you were wondering, popsicles are one of those foods that came about by accident. In 1905, eleven year old Frank Epperson was mixing powdered soda and water to make soda pop. He accidentally left the bucket outside overnight, leading it to freeze. When he came out the next morning the wooden stirring stick was standing straight up . He said the frozen pop still tasted great and sold them for 5 cents. Then he named them popsicles!
There are a
ton
of ways to make all sort of popsicles, ice pops, freezer pops or frozen ice-whatever you wanna call 'em. All you need are some popsicle molds.
I found a couple of molds on Amazon for a fairly reasonable price.
The Tovolo brand got the best reviews: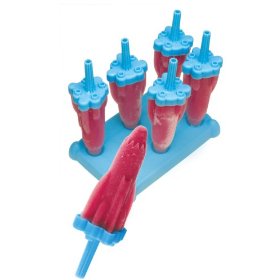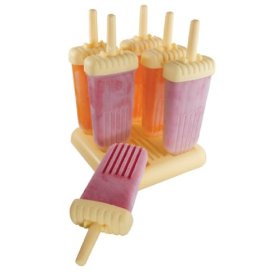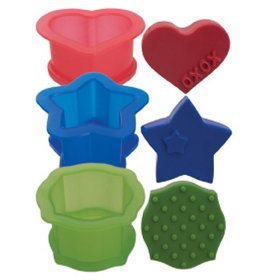 This cool
Ben and Jerry's
book has 90 recipes including, ice cream, sorbets, summer slushes and giant ice cream sundaes. All adapted to make at home. $10
After you have your molds, you're ready! Get your kids in the kitchen on this one- its easy and they will love it! Fill your molds with the following:
Juice (any kind)
Leftover soda (that may have gone flat in a 2 liter bottle)
Powdered drink mix (mixed with water of course)
Yogurt
Pudding
Pureed Fruit
Smoothies/Fruit Shakes
Whipped Topping and fruit
Chocolate or flavored milks
Applesauce
Party Pops- add sprinkles, chocolate chips, marshmallow, nuts or coconuts to popsicles.
Rocky Road pops-1 package of chocolate pudding, 1/2 cup mini marshmallows, 1/4 cup chopped peanuts. Mix, fill molds and freeze
Pina Coladas- Blend pineapple juice, coconut and a bannana in a blender. Fill molds and freeze.
Happy Freezing!