Any body that knows me well knows that I rarely have jeans on. I only wear jeans when I'm going out…the second I get home…their off! I have pajama pants on, yoga pants, lounge pants, shorts, or a cozy skirt on. No jeans in my house. I have this weirdness that I can't stand when I bend my knees and feel the thick jean in the creases of my legs. They just aren't comfortable….and I'm ALWAYS bending over to clean spills, wipe bums, pick up toys, etc. Besides, I don't want to wear out the knees! You pay good money for nice-butt jeans and I'm not wearing them to clean the house.
Aren't these jeans SO fab??
My weirdness even extends to other people in my house. I prefer that people take their jeans off when they are just lounging around the house (kinda like taking your
shoes
off)…I feel uncomfortable
for them
and I can't function properly. It drives my husband nuts that I'm always begging him to change out of his jeans cause I can't cuddle with a man wearing thick material on his bod. Ya know??
Obviously, my love for "lounge" extends to robes and slippers. Mmmmmmm, I love slippers. And, robes are just so handy for those time you just aren't ready to get dressed. But, you don't want to look like a hobo, old maid, or sad sack…so, let me show you some of my favorites out there on the internet…
I love how this robe drapes over your body, doesn't make you look like you gained 30 pounds…and it's black and sexy, without being corny.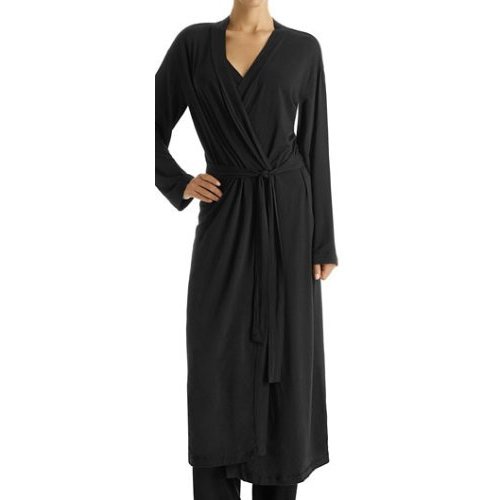 Okay, so this next one…you HAVE to read this review posted on Amazon. I think my eyes almost burst out of my head when I saw this certain word….one I had never heard before, I must be so ignorant.
I bought this robe for my old lady she fruck out when she got it. She said it was the most comfortable robe she ever had, i thought it smelled kinda funky but she had just opened it and it had not been washed yet but yeah i figure other chix would dig it too. Get her one trust me.
That's right, chix…she "fruck" out. And, this robe is so ultra soft and comfy (kinda spendy) that you will fruck out too. I'm really loving this word a lot…it really helps me capture a feeling I have had such a hard time expressing…now I have the perfect word. I think I will be using it regularly, along with "schmell".
So, this robe is just cute. I like cute.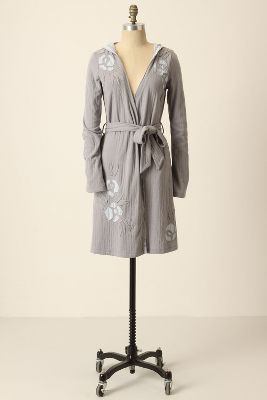 Tonal Magnolia Robe by Anthropologie, $88.
And, my personal favorite that isn't sexy at all…is Land's End's zip front robe. I've had mine foreva and it's perfect for lounging. You don't have to keep re-tying the front to make sure it doesn't fall open. You can bend, wiggle, fruck, kick your legs up, hula dance, etc. and you're still being modest. I like. I fruck out over it.
So, I'm sure you've heard about my devotion to Haflinger slippers…boiled wool, arch support, and usually kinda ugly. But, despite my love I still have a wandering eye for other slippers…such as these button cuties by Simple.
I've not loved the UGG moccasins that I have because they make my feet way too hot. However, they are cushy AND these particular ones are easier to slip on and off for a "cool-down". They would look super special with the Land's End robe.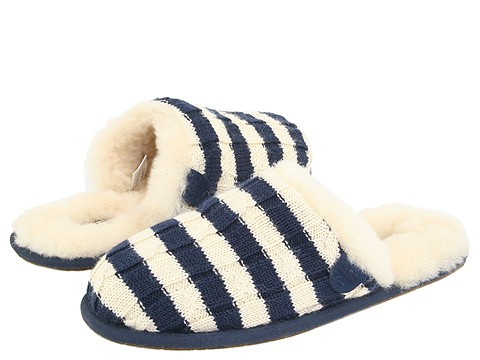 UGG Sweater Knit Slippers, $84.
You will almost never see me barefoot….unless I'm outside. Inside, I wear shoes. Backwards? Maybe. Get ready for Mariel Weirdness Part II: I don't like feeling anything dirty touch my feet when I'm in the house. Grains of dirt, a popsicle spill spot, crushed cheerio flakes, germs, etc. It makes me kinda grouchy. (Outside, I'll totally walk barefoot through the mud, step on spiders, dog doo, over the river and through the woods, etc.) I like floors really clean and seeing how it's a little impossible with 5 kids…I have to wear shoes in the house, namely slippers or flip-flops. Anyway, these flip flops/slippers would be perfect for my quirk…bonus, no sweaty feet.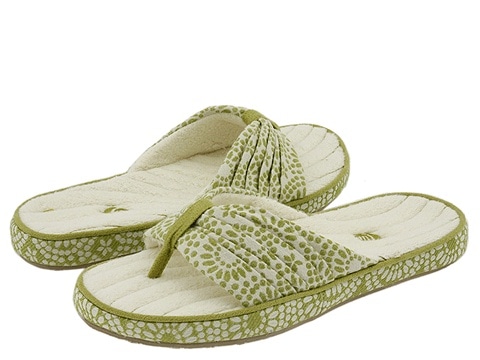 Acorn Dahlia Thong, $54.95.
And, that's a wrap. I hope you're all doing something super fun for Labor Day!