HELLO! I am so excited and honored to be posting on this FABULOUS blog! I too am a blogger…I have 3 of them! YES 3 blogs! It started with the one created for my MIRACLE daughter
Tessa
she was born 15 weeks early weighing a whopping 1lb 15ozs. Recently I add the two others…
Steals, Deals and Heels
and
Deals into Meals
. Go ahead, mosey on over and check them out!
When I was asked to be a guest poster, my wheels started turning and then they fell right of the axle. I couldn't come up with anything I thought you all would want to read about. Then I thought, "What is something that everyone loves and you can never have too much of?" No…not money…though it does answer that question…a recipe! Two to be exact! So here they are and don't worry they are SUPER easy and SUPER YUMMY!!!
Rosemary Tomato Pastry ~
Another name for a fancy-shmancy, healthy pizza!
I made two of theses so my ingredients in the pic are doubled…
Note: I had cut up the tomatoes before snapping the pics. Oh, and the pastry sheets aren't shown…Hey, what can I say….when it comes to food I get anxious and excited!!
You will need:

3 plum tomatoes

1/2 teaspoon kosher salt

1/2 (17.3-oz.) package frozen puff pastry sheets, thawed

1/4 cup shredded mozzarella cheese

1 teaspoon lemon zest (I'm not too fond of the zest but everyone else loves it!)

1 teaspoon fresh rosemary

1/2 teaspoon freshly ground pepper

1 tablespoon chopped fresh parsley (optional)
1. Preheat oven to 400°. Cut tomatoes into 1/4-inch slices, and place on a paper towel-lined wire rack. Sprinkle tomatoes with salt. Let stand 20 minutes. Pat dry with paper towels.
2. Unfold 1 puff pastry sheet on a lightly floured baking sheet. Arrange tomato slices in a single layer on pastry. Stir together cheese and next 3 ingredients in a small bowl. Sprinkle cheese mixture over tomatoes.
3. Bake dressed pastry at 400° for 24 to 27 minutes or until pastry is puffed and golden brown. Sprinkle with parsley, if desired.
There you have it! A healthier version of your everyday pizza!
Caramel Dipped Apples with a twist ~
I LOVE caramel apples but I find they are just to hard and messy to eat. I usually only make it thru about half of the apple before I give up and toss it in the trash. My friend Jenna came up with a twist and here it is…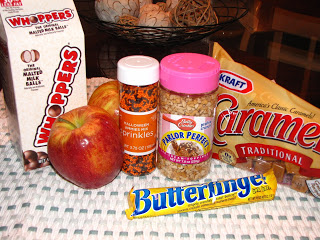 Apples

14oz bag of Kraft Caramels

dipping toppings of your choice…I used Whoppers, Butterfinger, Halloween Sprinkles and Praline Crunch ice cream topping

2 tablespoon of water
Mash all of the toppings up…at least the ones that are not already in "dipping" form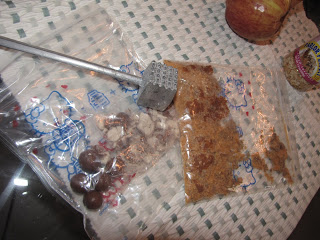 Wedge all of the apples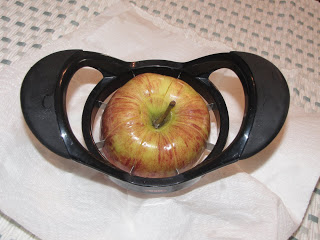 Unwrap all of the caramels and place them along with the water in a saucepan. Cook on med-low heat until caramels are completely melted stirring constantly.
Once it is all melted transfer into a bowl….preferably one that is heated like my electric chip & dip tray. If you don't have one of these I HIGHLY recommend you get one. It is one of the BEST things I own! It is especially good for the caramel…it keeps it warm which makes it SUPER easy to dip the apples in!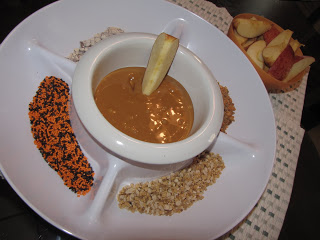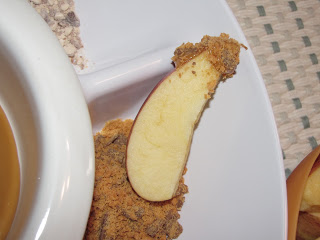 I think this one is PERFECT for Halloween!!
- Tiffany