And, your pants are….where??
~Oh, boots…how I love thee. Thank you for making me look slightly pulled-together, for warming my feet, and for hiding my hairy, winter white legs at church. You're forever a part of me. ~ Mariel
I've been boot shopping lately…and can't believe all the super cute ones I found! Boots are such a perfect option for fall and winter. You can wear them over your jeans, under your jeans or with a skirt/dress…and you will instantly look hot! Wouldn't it be nice if it really was that easy?? So, okay…it doesn't guarantee that you will look hot…but, it's a step in the right direction. Boots tend to be more expensive than shoes…because, well…there's more to them! I just tell myself that they will get worn, they will last as long as they are in style, and it's just one more reason to get out of my lounge pants. Justified.
Check it out: (I tried to find some that I love in all different price ranges…)
Sometimes you need dressy boots, sometimes casual, and sometimes in between…that's where these fall. I love the camel suede, the lacing detail, the toe shape, and the wedge! Wedge heels are my favorite heel for comfort!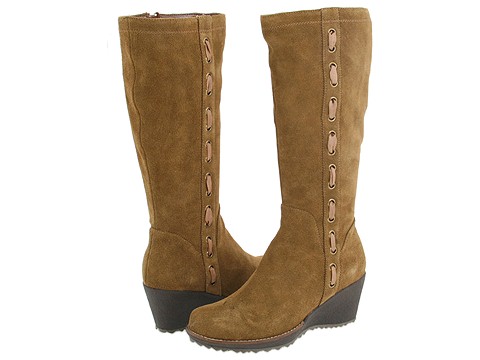 Gabriella Rocha Garland
, $109
I just got these ones and am so happy I did! They are fairly comfy, super cutie-patootie, and the heel is low enough that you can wear them for hours without dying. Scrunched boots are a fun look for this fall/winter season. There are lots of color options, but I got gray.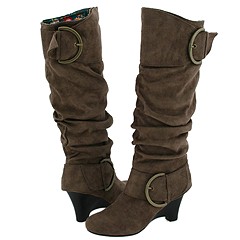 Naughty Monkey D-Ring Suede Boot, $99
Every woman needs a pair of "Wicked Witch of the West" boots. They are great for covering up hairy (me) and white (me) legs in the winter…when you're wearing a dress or skirt. These ones are the sythetic, stretchy, fitted kind…with a great price! It's a bad, bad idea to wear the fitted boots with big, chunky heels and a rounded toe. You know…the kind that we all wore 15 years ago? They make your legs look chunky…and I know you don't want that. Think feminine.
Rampage Teena Boot
, $49.95
You can always count on Target to supply something stylish and affordabel…and these country style boots are no exception! Featured in magazines, these puppies sell out fast! These would be cute under jeans or with a denim skirt or dress and tights.
Mossimo Leather Boots
, $49.99
I recommend getting the neutral colors first…but, then add a splash of color! It will make you so happy…although, the price of these will make you frown. Aren't these cute? Too bad they are $204 bones. But, shoes always go on sale…just keep your eyes peeled.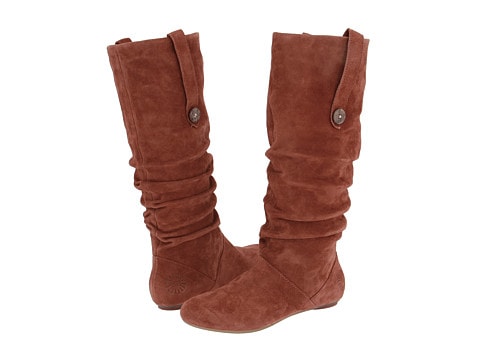 UGG Highkoo, $204
I know this picture is really small…it's all that would work, but I love these boots. You can see the bigger picture by clicking on the link. They are still a little pricey, at $156 dollars…but, that's almost 50% off the regular price of $284. They are 100% leather and don't have an ultra-wide leg opening that makes your leg look bigger than it is. I also like the stitching details and the slightly rounded toe…it seems to be coming back in style. Plus, I'm getting tired of the pointy-toe. I got these in black.

Okay, these are a deal…if they have your size left…normally $200 dollars, on sale for $100! I'm liking the real leather, stacked heel for comfort and ease of walking and the western flair. These also come in black. By the way,
http://www.6pm.com/
is a great source for shoes! They are Zappos's clearance store. If you sign up for their emails, they will send you the deal of the day…and they are always amazing deals! Sizes and styles go quick here, so decide quickly…but, keep in mind unlike Zappos, shipping back and forth isn't free.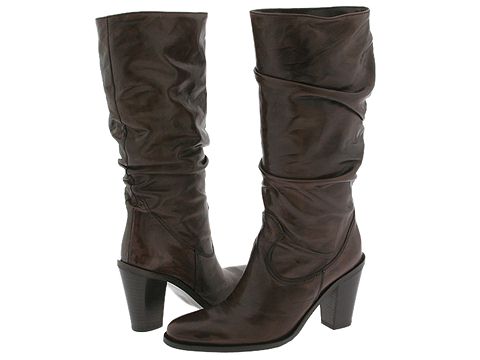 Lumiani 70
, $100