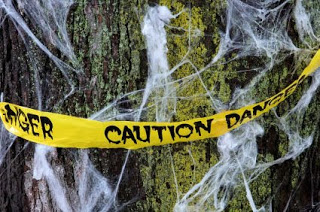 I was just thinking about "Halloween Safety" with Halloween being tomorrow, and all. Not that any of you wonderful mothers need me telling you how to keep your kids safe. But, here are just a few little reminders. (There are weirdo's out there!)
Feed your kids a filling meal before they go out trick-or-treating. This way they will be less tempted to eat candy before they bring it home for you to check.
Make sure their mask or costume doesn't make it difficult for them to see where they are going. You might have them wear makeup instead, but if they do wear the mask, make sure the eyes are big enough they can see well.
Kids also need to be seen, so it's a good idea if they have something on them or they carry something that glows in the dark. You can get glow-in -the-dark necklaces at the dollar store, a flashlight, or reflective tape on their costume.
Make sure their costume doesn't cause them to trip, by making sure it's not too long, wearing shoes that fit, avoiding swords, canes and other props that can get in their way.
If you set jack-o-lanterns on your porch with candles in them, make sure they are far enough away so kids costumes to get accidentally set on fire!
Having a quick brush up on basic every day safety before they go out is a good idea. Not getting into strangers cars or talking to strangers, looking both ways before crossing the street and crossing when the lights tell you to, will help make them safer when they are out trick-or-treating!