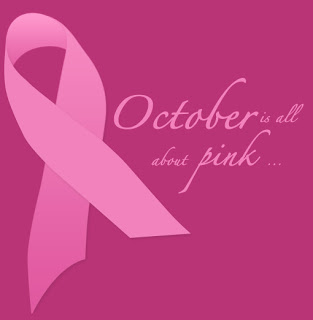 October is breast cancer awareness month. Here are some ways to lower your risk and protect yourself…
Clinical breast exams are as important as mammograms.
*How to train for a mammogram
Mammograms starting at age 40 are crucial (get them earlier if your family has a history of the disease) but if your breasts are dense it's an imperfect screening tool. That's why an annual breast exam with your doctor is a must. This is important for detecting inflammatory breast cancer which doesn't show up on mammograms. On the other hand, ductal carcinoma, the earliest form of breast cancer limited to the milk ducts, is found using a mammogram. So both screenings are equally important.
Diet and Exercise lower your risk. Active women are less likely to develop and die from breast cancer. Regular exercise is constantly associated with a lower risk of breast cancer. Exercise helps lower estrogen levels.
Being overweight after menopause is a high risk. Staying at a healthy weight throughout your life, not only lowers your risk of just about everything else, including heart disease, type 2 diabetes, and arthritis. In post menopausal women, estrogen comes significantly from body fat. If you are overweight, you have higher amounts, which could stimulate breast cancer growth. Losing even 10 pounds may help lower your risk.
Folate, folate, folate. While eating an overall healthy diet may prevent breast cancer, researchers are suggesting eating more folic acid will ward off cancer predispositions. Foods with folic acid include, whole grains, lentils, black-eyed peas, okra, spinach, orange juice, raw spinach, asparagus, grapefruit and pineapple juice. Eat a bowl of Total cereal in the morning and you'll get your required amount for the day.
Your odds. Breast cancer risk is not 1 in 8 for all women rest assured. That statistic applies assuming you live to 85 or beyond. At age 40, the average woman has a 1 in 69 chance of getting breast cancer in the next ten years, at 50 the risk raises to 1 in 42, 60, it's 1 in 29; and at 70, it's 1 in 27. Which means women are more at risk in their 70′s and 80′s-but surprisingly, thats when it's most curable, because women in that age group usually get a less aggressive and more treatable form of the disease.
A family history doesn't mean you'll definitely get it. Only about 20 to 30 percent of people who develop breast cancer have a family history disease. An even smaller number, 5 to 10 percent, have the breast cancer gene. Rest assured: Biology isn't destiny.
If it is caught very early, breast cancer has more than a 90% survival rate in the U.S. The majority of women who get breast cancer in this country don't die from it, thanks to better screening. Most breast cancers in the U.S. are now caught in the early stages.
Throughout October, Clinique is giving back to breast cancer awareness by creating a limited edition lipgloss keychain. For everyone of the keychains purchased during the month of October, Clinique will donate $10 to the Breast Cancer Research Foundation. You can get them for $19 at
Sephora.
So go get your mammies grammied!!