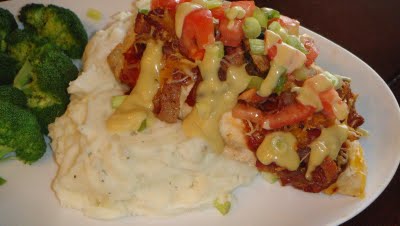 One of my favorite hobbies is to go to a restaurant, find a meal I LOVE, and then come home and play around with the ingredients until I can get my meal to taste just like the restaurant..or, even better! One of my all-time favorite meals at Outback Steakhouse is their Alice Spring Chicken. The combination of flavors are perfect. I love the saltiness of the bacon, the freshness of the tomatoes and green onions, and the sweetness of the honey mustard. The combination of this meal (although it may seem like a lot of different ingredients), when you put it all together, it is DIVINE!! Switch up your chicken dinners to something a little more special. You will feel like you are out to eat at an expensive restaurant, but for 1/2 the price. I went to Outback just a few days ago and spent $22 for MY meal of the Alice Spring Chicken. Making this at home, you could feed a family of 6 for under $10-$12 (buying the items on sale of course).
4 boneless skinless chicken breasts
Garlic powder and seasoned salt to taste
1 T. vegetable oil
8 oz. button mushrooms, cut in half or quarters
1 c. shredded Cheddar cheese blend
½ c. chopped green onions
½ c. real bacon bits (real bacon works best and tastes the best)
½ c. tomatoes
1 bottle BBQ sauce
Flatten chicken breasts to ¼ in. thick (or just cut chicken breasts in half horizontally). Sprinkle with seasonings. In a skillet, brown chicken in oil for 4 min., or until mostly cooked through (you could also grill them if that is easier) In a separate pan saute cut up bacon until crispy. Drain the excess grease. Add mushrooms to the bacon and cook until mushrooms are soft. Place chicken breasts on a cookie sheet or in a 9×13 pan. Squeeze a generous amount of bbq sauce on top of each chicken breast. Top the chicken with the mushroom and bacon mixture. Sprinkle the cheese all over the tops of the chicken breasts. Cover and cook until chicken is done and cheese is melted, about 10 minutes. When chicken is finished, top the chicken breasts with the fresh tomatoes and green onions. Serve with garlic mashed potatoes and honey mustard sauce.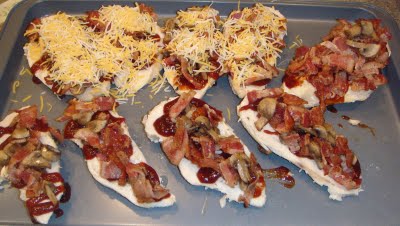 Honey Mustard Sauce
1 c. mayo (can use fat free or low fat)
3/4 c. Dijon mustard
¼-1/2 c. honey
1/8 tsp. Cayenne pepper
2 T. Lime juice
1 tsp. Ginger powder
Mix. Add extra honey or lime for desired flavor.
Creamy Garlic Mashed Potatoes
5 lb. russet potatoes (or red potatoes)
½-1 whole 16oz. tub sour cream (depending on how much moisture you need in your potatoes)
1 cube butter
8 oz. half & half or milk
Fresh or dried Parsley
1 clove garlic
Salt & Pepper
½ c. Parmesan cheese (optional)
Peel potatoes and cut into large chunks. Boil water and add potato chunks. Boil until potatoes are fork tender. Drain majority of water from potatoes. Mash potatoes with either an electric mixer or potato masher. Add whipping cream, butter, sour cream, garlic, salt, pepper & Parmesan cheese.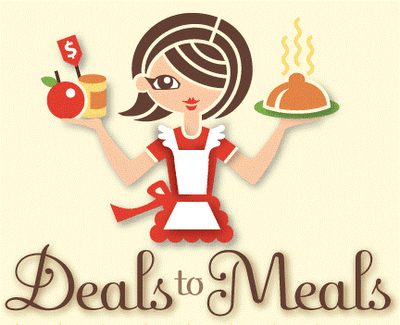 Do you need new and exciting recipes in your families meal plan? At Deals to Meals we help you know what items are on sale at the major grocery stores (without the hassle of using coupons), give you a weekly grocery list, and plan your weeks worth of meals to help make your meal planning EASY and AFFORDABLE! We help take the guess work out of 'what's for dinner'. Cooking, shopping, and meal planning are all FUN again when you have a membership to Deals to Meals. How can this save you money? It's easy! By knowing what items to buy, how to incorporate these great deals into your meal planner, and learning to stock up your food storage and freezer–your family will save $100′s on your grocery budget!
-Shandra