* This post goes out to Justyne! Thanks for the request! *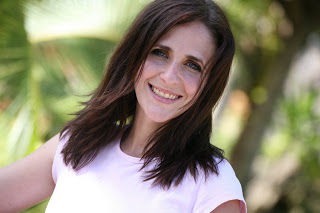 I have been in the wedding industry for the past 12 years. I began after finishing my degree in Culinary Arts. I worked for a wedding reception center making wedding cakes, doing flower arrangements, making food and serving. I then decided to focus on cakes and did that for several years. After starting a family, I decided to start a photography business. I was able to work under a fantastic photographer named Jeri Rogers as her apprentice. I have been a photographer for almost 5 years and it never failed that someone needed a helping a hand to put a quick bouquet together, or someone bumped the cake. I loved being able to jump in and fix whatever was going wrong. Which is how I got into planning and design. You can check out my website at
www.katiebphotography.com
Now days, there are so many examples of fun ideas on the internet. One of my favorite places to get those creative juices going is
www. projectwedding.com
A lot of brides as well as vendors will post ideas and they literally have thousands of pictures to look at, as well as tons of DIY instructions!
It is easier to come up with ideas if you have some kind of color scheme as well as budget in mind. Look for what is going to be in season.
I have a bride who's colors are black and red, who has a relatively small budget for decor. She doesn't want to be traditional but she also doesn't want to spend too much money. Black and red gum balls and layered in tall round vases are not only eyecatching but are great treats for the guests to take home!
Having centerpieces with only one kind of flower and picking a larger sized flower will make it so that you don't have to buy as many.
You can also have several small arrangements of the same flowers (ex: a vase of tulips, a vase of roses, and a vase of lillies) which will allow you to make a statement and are easy to do yourself!
I recently had a bride that wanted a wall of flowers behind her cake. We purchased 8 foot orchid leis and hung them from the side of the tent.
Don't want cake at your wedding? Who says there is only one way to do things? Try cheesecake on a tiered stand or cupcakes (and save on plates/silverware rentals!)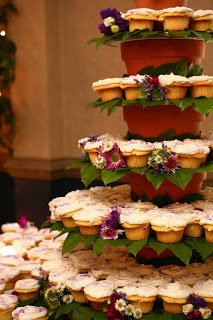 Instead of throwing rice or blowing bubbles, throw orchid blossoms, they can be purchased online for very little and are not something you see everyday!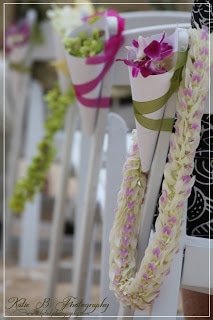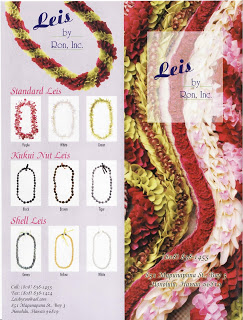 One fun way to include a small child in a ceremony would be to have a necklace ceremony such as the picture shown below. The child is brought up to the front of the ceremony, right after the rings are exchanged. It can be a silent act or the bride and groom can say vows such as, "I promise to tuck you into bed every night" "I promise from this day forward that you, ______ will be as my own for the rest of my days", etc. Be creative. Then the child will be escorted back to their seat and you can continue with the traditional ceremony. It is always fun to include children, if you have them, in the announcement as well. You can word them like this: _________ is excited to announce that his/her parents are finally tying the knot…. or ________ is happy to announce that his/her mommy/daddy is marrying ________ on…..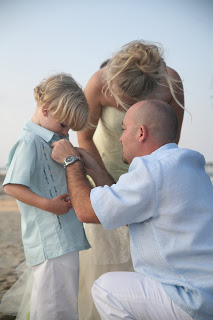 One money saving idea is to reuse your decor. The vases in the picture below were tied to the pews for the ceremony and then untied and transported to the reception center where they were used for the centerpieces.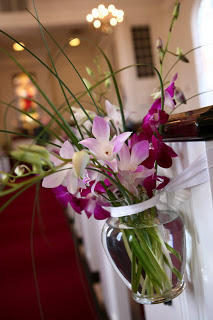 I hope this helps get you on the right track!
P.S. If you are looking for a wedding band for your favorite dude, you must check out Tungsten Wedding Rings. I got my husband's 6th (yes, he lost 5 wedding rings!) from them and it has been my favorite so far! Tungsten is so hard and durable, that even working hard labor in the construction industry doesn't ding it up. His ring still looks soooo good! All of his other ones were pretty beat up. Anyway, highly recommend. Great prices too.