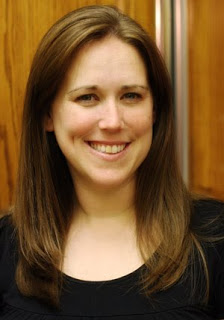 Hi!
I'm Emili, mommy of 3 adorable kids (ages 1, 3 and 4.5 yrs), wife to an incredible Physician Assistant in the local ER, and traveler on the road to better health.
I have siblings and parents that are extremely health conscious and take an active role in their health and lifestyle.
I'm going to share some information about Essential Oils, powerful tools that we use daily to improve our health and overcome discomforts.
We use many other tools as well, but I am going to stick with just the oils for this post!
**DISCLAIMER! For the record, I am NOT a doctor, scientist, licensed anything and my advice is not meant to diagnose, treat or cure ailments. I am sharing what I use with my own family, and what you decide to do with your family is up to you!
What is an
essential oil
? Essential oils are the pures
t oil take
n from seeds, bark, stems, roots, flowers and other parts of plants, like the "plant blood."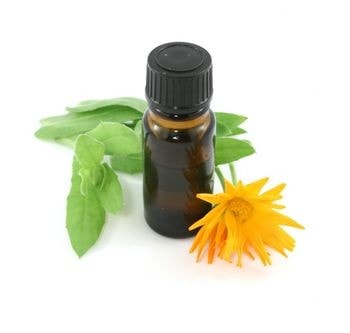 The oils are
extracted
by a low-heat distillation process that can be tricky and complicated. When the process is complete, it leaves you with power-packed, valuable oil.
How do you
use
them?
Usually used in 3 different ways: you can smell them, rub them into your skin or take them in a capsule as a supplement (if your brand is pure enough).
DōTERRA
is the brand that I trust the most for purity, quality control and medicinal effects.
I have compared other brands and I can smell the difference when I compare oils.
Not only can I smell the difference, but I can see the difference in the way they affect my body.
DōTERRA oils are 3rd party tested to keep their quality high and to make sure nothing other than the pure oil is in them!
Smell them!
Ever notice how a smell can lift your mood or bring back a happy memory?
Smells are extremely powerful.
You can put them into the air naturally using a diffuser.
I like to diffuse citrus oils like lemon, orange or citrus bliss to lift my spirits or to motivate me to clean.
Diffusing lavender will help calm your household.
When my kids aren't feeling well I diffuse a blend called "OnGuard" that is antibacterial, but smells really good and cleans the air.
"OnGuard" has cinnamon and orange in it and the smell reminds me of Christmas.
Massage them in!
Essential oils are safe and easily absorbed through the skin into the blood stream to be transported to where it is needed most.
Some of the oils can be too hot to apply directly to your skin, like clove and oregano, so it is good to dilute it with another oil like coconut oil or olive oil.
There is a digestive blend called "DigestZen" that I've rubbed down my neck (over my throat) and on my tummy when I've had heartburn or a stomach ache.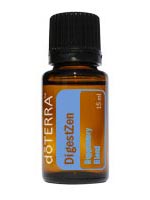 Clove oil has a natural numbing effect, so when the baby is teething I make a blend of clove with a little coconut oil and I rub it right on her teeth.
There is an oil blend called "Deep Blue" which is a blend of peppermint, wintergreen and helichrysum (known to help with pain).
You can rub them on sore muscles for relief, like a purely natural "icy hot."
Oils can help cuts and bruises heal, calm hyperactive kids, and awaken your senses!
Oils are absorbed well through the bottom of your feet.
Often people will massage them into the soles their feet and trust their bodies to get the healing effect from the oils where it is needed.
Another popular blend is called "Breathe."
It is awesome for stuffy noses, sinus infections, asthma or anything that bothers the respiratory tract.
You can rub it over your sinus cavities and under your nose to open up those airways!
Internal Use.
Oils that are pure can also be taken internally as a dietary supplement or to help with a specific health condition.
Check the label first to make sure they are okay to be taken internally.
To take them internally, you can either add them to your water or buy some vegetable capsules from your local health food store and fill them with a few drops of the oils you want to take.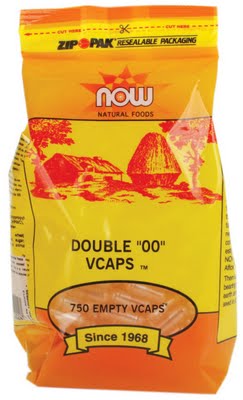 I love to put lemon oil in my water.
Lemon oil is supposed to strengthen your white blood cells and immune system and it helps clear out mucous.
I sometimes put peppermint and grapefruit oil in my water, or in a capsule, or just inhale them to help curb my appetite.
I had a friend challenge me to cut out the sugar from my diet.
Ever tried it?
It's not easy!
I used the oils to help curb my cravings.
You can put 5 drops of oregano, 5 drops of melaleuca and 5 drops of lemon oil in a capsule and take it internally.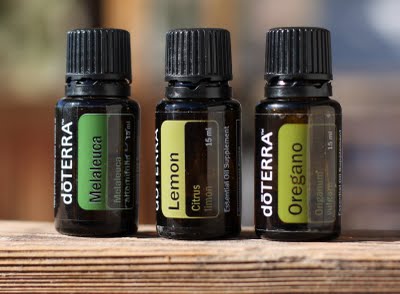 This is supposed to be a "Candida" cleanse that you take for 10 days to help clean out the yeast in your body.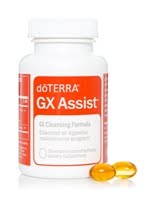 It was so popular that doTERRA came out with a formulated capsule that includes these 3 oils, plus a few extra oils to help.
It is called
GX Assist
.
I haven't tried it yet, but I'm really excited about it!
The 3 oil blend I mentioned above really helped me to overcome my cravings and cut out the sugar.
I've been processed sugar-free (minus a few free days) for about 3.5 weeks now and I've lost 5 lbs!
The popular oil "OnGuard" that I mentioned earlier is also helpful against sickness.
When I feel sick, I take it in a capsule to help my body fight the infection.
When my kids feel sick, I massage it into the bottoms of their feet.
Many people take in internally on a daily basis to help with their immune systems and to protect against viruses they come in contact with.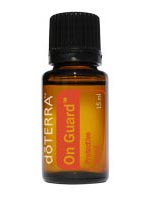 I have a 4 year old son who has
fought with eczema
his whole life.
As a baby he had it everywhere and I couldn't get rid of it!
It plagued him because it would itch so bad that it would often wake him up at night and he would come to me crying.
Here's a baby picture where you can see it all over his little cheeks!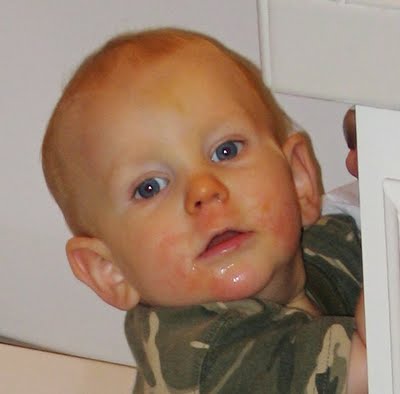 We tried everything from prescription creams to over the counter medications and nothing really worked.
I was thrilled to try essential oils because they were natural and powerful without harmful side effects.
I felt confident they would work.
I tried quite a few until I started using a blend called "Balance" on him, which had Frankincense in it, and finally it made the difference.
It took a couple months to go away completely, but after applying a blend of "Balance" and Frankincense diligently, it finally cleared up!
Here he is now.
I've since learned that Frankincense has many healing properties, especially for your skin.
Chemists are also currently researching Frankincense oil as a possible treatment for tumors.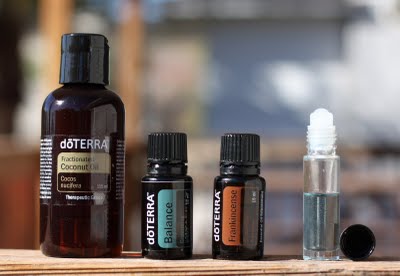 Safety.
Be sure to read this list of
safety precautions
when you use essential oils.
We often post tips and other uses of oils and herbs on my sister's blog, "
Dr. Mom Essentials
."
You can check us out for other tips on do-it-yourself health!
If you would like to give them a try or if you have any questions you can contact me through my
dōTERRA webpage
click on my name at the top and it will provide you with a form to email me directly.
It will not give any of your information to the company; it will come straight to me.
Happy Oiling!