First off…love the new blog! It looks FAB!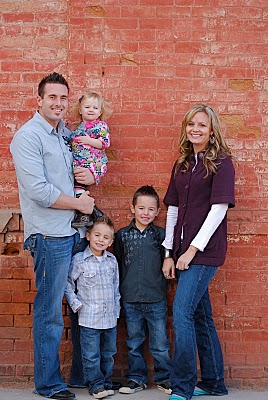 I am Lindsay…mom to three (5, 3 and 18 months), and wife to one. If I wasn't busy enough running kids to soccer or basketball practice, to school or to play group, being big University of Utah fans, (and sometimes squeezing in a date night or a girls night), my husband and I have a
cooking blog
(and if you aren't a follower of
Our Family Treat
, you are missing out

)…and I just started an
Etsy
site. I was so thrilled when Mariel asked me to guest post on here…so thanks for the opportunity!
Holiday's are all about traditions. The beauty is creating new, and using old traditions to make enjoyable and memorable holidays for our kids. I asked my son to write down what our family
Christmas traditions
are. And with my edits to his spelling he said, "We have an Elf that comes every year. We go to Temple Square. We go see Santa. We go ride The Polar Express to the North Pole."
Those are just a few of our
Christmas traditions
. Yes, we do have an Elf named Jingles that decided 5 years ago to come live with us at Christmas time. He moves around the house every night and leaves a treat or a small present if the kids have been good. If they have been naughty he goes back to the North Pole to report to Santa.Like most people, we let the kids open
jammies
on Christmas Eve. We also give the kids each a new ornament every year that represents something about them that they accomplished this year (
ie
. my son started Kindergarten this year, so I got him a school ornament). I also buy the ornament frames from Pottery Barn Kids and put a picture of each of the kids in them from that year…pretty sure soon enough our tree will be full of pictures…and that is it!
The kids favorite traditions is leaving oats and sprinkles for the reindeer on Christmas Eve. The sprinkles are necessary to help the reindeer fly!
One of our favorite traditions we adopted from my husbands grandmother. Now, this is not your typical cut up, soggy bread casserole. This is so so good! Grandma Pat would start the breakfast casserole every Christmas morning bright and early, before any gifts were opened. As the festivities began, the smell of the breakfast became almost unbearable. She passed away only a couple of days before Christmas of 2001, and I never got a chance to meet her, Grandma Pat's breakfast casserole remains one of our favorite traditions.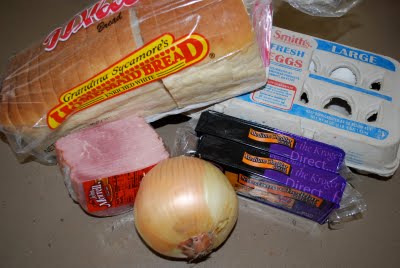 Butter all 12 slices of bread. Place 6 slices, butter side down in a 9 x 13 pan (be sure to spray the pan with Pam first).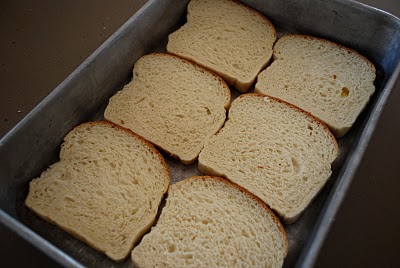 Then add grated cheese, meat and a veggie. This particular casserole had cheddar cheese, ham and onion. However, we also make a pepper jack cheese, sausage and green pepper casserole as well that is just as
delish
(just be sure to brown the sausage before adding to the casserole)!
Then layer with the other slices of bread-butter side up. Then top with eggs. Be sure to get all the bread covered with the egg. Cover with foil and place in the fridge over night.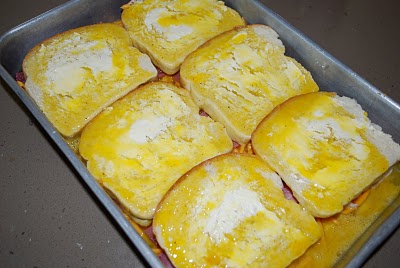 In the morning (before the kids wake you up to open presents) put this in the oven at 350. It takes about 1 1/2 hours to bake…so it is perfect while you unwrap and play with all your new goodies! About an hour into the baking process, remove the foil so that the bread had toast. Once it is nice and brown, remove and serve!
DELISH
!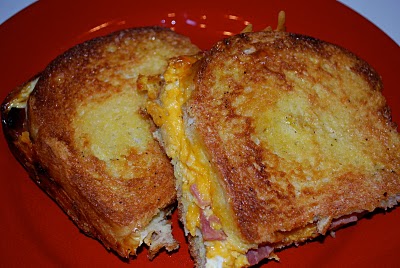 1 pound of your favorite meat
Directions: Butter all slices of bread. Place 6 slices of bread, buttered side down. Then top with grated cheese, meat and veggies. Then place the other 6 slices of bread, buttered side up on the top. Beat 8-10 eggs in a bowl, with salt and pepper. Pour the eggs over the whole casserole…make sure to get all the bread covered with eggs. Cover the pan in foil and refrigerate over night. Bake at 350 for 1 1/2 hours (30 of which is without the foil).
No matter what your holiday traditions are, keep it simple and enjoyable!
Happy Holidays!