Okay, this is a picture of me, on my computer, thinking what on earth I could possibly contribute to
this fabulous blog
…
Then it came to me! Not so much when I took this picture but
in the night, after one of my kids woke me up and then I couldn't fall back to sleep.
Ever have one of those nights?
Anywhooo, let me introduce myself….
I am Amy, mother of three kids, wife to a fantastic husband,
who is in a 27 month residency at The Ohio State University.
(
GO BUCKEYES
!
)
Needless to say, I live in Columbus Ohio.
I was making a speedy stop to the library,
carrying my squirming 16 month old boy,
telling my five and seven year old girls to follow along
when I stopped and noticed
THIS BOOK
on the display shelf…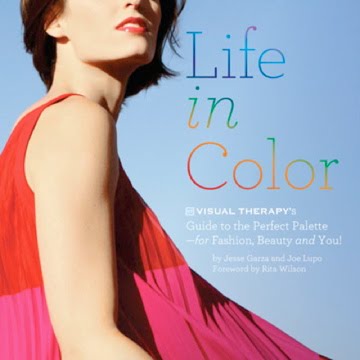 Here I was approaching 30
(which I will be when this is posted)
and had a wardrobe with virtually

no color & no style
I had become the ultimate
"frumpy mom."
This book was the start for me on
How to:
REVAMP MY WARDROBE!
Step #1- Find out what COLORS look good on you.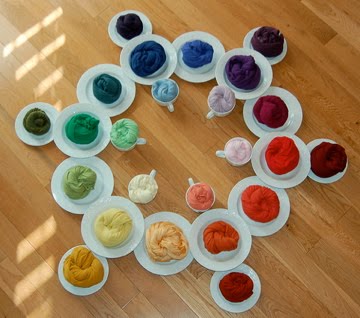 I know there are MANY books similar to
Life in Color
,
which help you identify what colors
look best on you by answering a few simple questions.
This book has four main Colortypes to choose from.
SUN: "Your skin is warm with tawny, peachy, or golden undertones. In the sun, you tan and freckle. You blush peach. Your skin color ranges from creamy to freckly; tawny to caramel."
"From peach to lemon, strawberry to mango, and lime to blueberry, shades on the sun palette are as refreshing as summer sorbet. Suns are golden girls–so they can wear tropical colors all year-round."
MOON: "Your skin is cool with blue or pink undertones. Moon can be ultra-pale or dusky dark. If you'er ultra-pale you probably don't tan, but if you do, you burn first. Your skin may have a translucent quality. Your skin color ranges from ivory to rose; beige to light mocha."
"Moon women can't go wrong playing it cool–they're most gorgeous when they have blues, from turquoise to slate, sky to Tiffany. Their cool skin tones will glow in contrast to blue-reds and pinks, from fuchsia to magenta, rose to petal."
EARTH: Your skin is warm with golden or terra-cotta under-tones. You can develop a deep tan in the sun, but without sun exposure, you may be pale with little or no cheek color. Your skin color ranges from fair to bronze to brown."
"All the sumptuous colors on the earth palette can be found in the fairy tale forest, from ripe shades of berry and plum, to rich moss greens and browns, to bright and cheery marigold, peony, and lilac."
STAR: Your skin is cool, or olive, with blue undertones. Star run the spectrum from palest pale to deepest brown-black. If you are an alabaster Star you rarely tan and tend to burn, but if you are a deeper toned Star you tan and rarely burn. Regardless, you tend not to freckle. Your skin color ranges from alabaster to pearl, deep olive to espresso."
"The Star comes out at night–and so do her best colors. Her palette is a wealth of modern jewel tones, from luminescent pearl to rarest emerald, ruby red to deep lapis blue."
*quoted directly out of Life in Color, by Jesse Garza & Joe Lupo.
I have also heard of the technique of holding a piece white piece of fabric up to your face, looking in the mirror, and then replace it with the color you are considering.
How does it make you look?
People are usually drawn to wear the colors that look best on them,
without even realizing it.
STEP #2-
Do a closet clean out.
This is the kind of closet I aspire to have someday! Look at all the color & variety!
By cleaning out your closet you find out what you truly have and what you need.
Time to get rid of ALL the clothes you don't wear or SHOULD NOT wear!
If in question, try it on, still can't decide, put it in a folded pile and keep it in the top of the closet. If you six haven't worn it in six months, say bye-bye.
STEP# 3- FIND THE STYLE YOU WANT?
*WHO INSPIRES YOU IN THE FASHION WORLD OR BETWEEN YOUR FRIENDS?
*WHAT LOOKS DO YOU LOVE AND WANT TO TRY?
*CREATE AN INSPIRATION BOARD OF PAGES FROM MAGAZINES.
Start with the
basics
you have missing from your wardrobe.
If you are wondering what "the basics" are,
it seems every professional stylist list vary,
HERE
is one that is simple enough that I found.
(Your basics should be timeless,quality, versatile pieces.)
Add to the list your inspirational pieces you that are more funky and fun.
STEP #5- SHOP WITH PURPOSE!
I think checking out what the stores are carrying on-line is a great way to save time and money. You can find the exact item you'er wanting and the store that has it at the best price. Since we can't buy everything we want in a day, though that would be nice, it is great to know the things we do buy, we are going to LOVE and LOOK great in.
My wardrobe is definitely a work in progress. But I hope these steps might help any of you that might be in a style rut like I was. Thanks!!!!