Hello there!! I feel so incredibly honored to contribute to this fabulous blog. A bit intimidated at first mind you, BUT very honored.
Quick intro: My name is Deanne. Friend of Mariel and sister to her sister-in-law. I've been married to my high school sweetheart, who I think is HOT, HOT, HOT, for 11 years.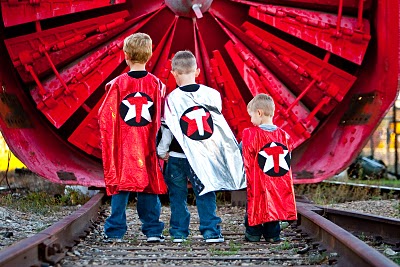 We didn't think that was super enough… so we have another on the way.

My boys were the inspiration for this post. They've somehow duped me into thinking I'd like to spend more
"quality time"
with them. I don't know how they managed it. Could be their irresistable smiles, the way they always sucker me into laughing at things I shouldn't, or maybe it is just the plain and simple fact that they each have me wrapped around their little super fingers.
I like them and that is that
.
But what to do…? What to do…? That is the BIG QUESTION.

So I've compiled a few ideas we have tried or thought sounded fun and have put on the list of things to do. There are things to do WITH your kids and things that your kids can do on their OWN when YOU need a little precious time for YOU.
So here goes:
IF THERE'S SNOW ON THE GROUND, PLAY IN IT!

*Build a snowman.
If you don't feel like rollin' the snow around… draw one.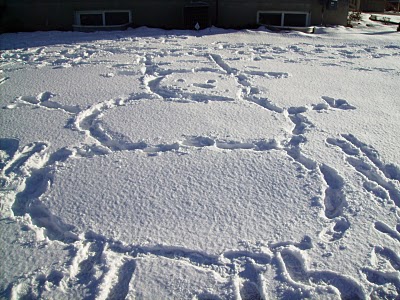 (I did this when I was largely pregnant and bending didn't work real well for me. I know you're all impressed with my artistic abilities)
*Let the kids "help" shovel the driveway. Dad will LOVE that bonding time.
*Play Fox and Geese
If you're not familiar: make boundary trails in the snow, with a few free zones, designate someone as "IT" and play tag. Getting tagged usually includes a good tackle and maybe a white wash. Then that person is "IT".
*Build a Snow Fort… have a Snowball Fight
*Go Sledding
If you need the kids to play outside
by themselves
for a bit, give them each a *
spray bottle full of colored water
and let them use their creative skills to paint a masterpiece on the snow.
If it is just too darn cold to venture out, I guarantee you can find some good *games or puzzles collecting dust in the closet.
What? You can't find any? No worries.
*Play Hide and Go Seek.
*Sardines
Not familiar? Just like hide and seek except only one person hides at first. Everyone else runs around searching for that one person. When you find them you hide with them. Continue until the last person finds the crew. Then that person is the first to hide.
*Play Dress-Ups!
I'm not sure what girls usually dress up as… princesses???
But this is what MY family usually looks like…
*Follow the Leader
*Hot Potato
*I Spy…
If you'd like to get a bit more energy out in this game… have them run to the item they think the person is spying and touch it.
*Color With Them or Let Them Do It On Their Own


*Encourage Them to Write Their Own Stories
I was amazed at the new worlds existing in their little minds!
*Build a Fort With as Many Blankets and Pillows You Can Find, Go Inside and …
*Read Books!

I'll put in a BIG plug for this one. So many adventures to be discovered in a book. Endless fun.
Bring your favorite BOOK or SONG to life!
My boys love the Dr. Suess books…
Green Eggs and Ham
(make Green Eggs and Ham)
The song: Teddy Bear Picnic
(We had one in the back yard- don't forget your teddy bear!)
Do your kids have a few stories memorized? My sis-in-law had the brilliant idea to…
Make Home Movies of the Kids Acting Out These Fun Stories:
The Three Little Pigs and The Three Billy Goats Gruff
…complete with a few simple homemade costumes and Dad as the narrator.
If you don't have enough kiddos for all the characters, get the cousins or neighbor kids involved.
My boys will watch "their movies" over and over.
Something we have started up again are…
Chore Charts!

I know, I know, the kids tend to resist these a bit, BUT they can be made fun!
I like to create our own and change the jobs periodically so they don't get bored with them. I printed these out and then placed them in plastic sheet protectors so they could be marked with dry erase markers and erased at the end of each week, saving on paper.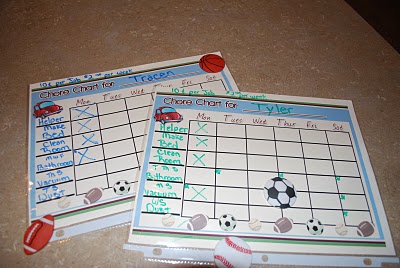 Choose chores that will work best for your family and your kids ability levels. Decide what reward will motivate them best and go for it. Some of the chores my boys have include daily house cleaning. Believe it or not I have found this to be a GREAT time for bonding and teaching. They feel like they are being so helpful and their disgusting bathroom is now getting cleaned EVERYDAY! Totally a win-win situation.
Another thing we have started, that has been working WONDERFULLY, and will promote some good family bonding time is: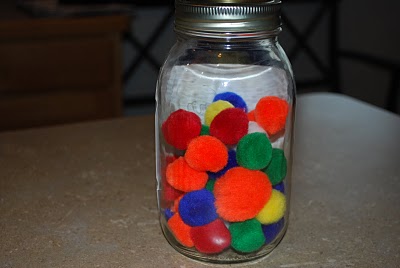 Let me begin by explaining what a "
warm fuzzy
" is. At our home, and probably a few of yours, a warm fuzzy is felt in your heart, by both participants, when someone does something nice for someone else without having to be asked. So if it is discovered that someone has done this, they get to put a "warm fuzzy" in the jar. When the jar is full, the family gets to do something BIG together. Currently, the boys want to go see a movie and then go to Chuck E Cheese. I love how it has encouraged them to just be NICE BOYS.
Well, I do hope this has given y'all a few ideas for ENTERTAINMENT that will also give you the opportunities we all long for in spending more QUALITY TIME together as families.