Hello ladies! It's Cher from Love Actually….back again. I know, I know…you come here to read posts from Jessica and Mariel…
sorry.
BUT, today we did a little blog hijacking swap. So here I am and
there
they are!
So, I'm sure a few of you are breathing a sigh of relief now that Valentine's Day is here and will soon be over. (I kinda feel your pain…and I
love
Vday!). But, I'm here to remind you to keep the romance going all year long…in simple and inexpensive ways! If you need ideas, you are welcome to visit
Love Actually Blog
anytime!
Today's romantic idea is about hot cocoa. Yes, hot cocoa. There's still a couple of month's of winter left (yes, the groundhod saw his shadow…) so you can enjoy this idea that much longer!
What's so romantic about hot cocoa, you ask?
What's not romantic about hot cocoa? Just the very thought of cuddling up with my hubby on a cold winter day with a cup of hot cocoa is enough to make me wish for a winter storm to blow in that shuts everything down! (Luckily, I live on the east coast…my chances are good!)
Hopefully it won't take a winter storm to make you sit down and enjoy talking with your spouse over a cup of hot chocolate one evening during the winter. Here are some ideas to help inspire this mini-date of sorts…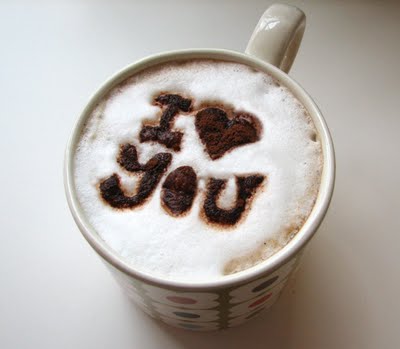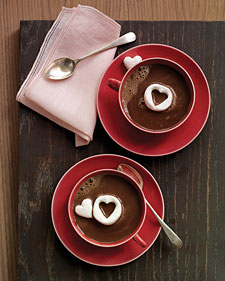 Martha Stewart
tells her secret for making these cute heart-shaped marshmallows!
LollyChops provides the idea, recipe, and

free downloads

to make both of these hot cocoa packages! I especially like the first. I'd attach a tag that says, "You make me Hot! Hot! Hot!"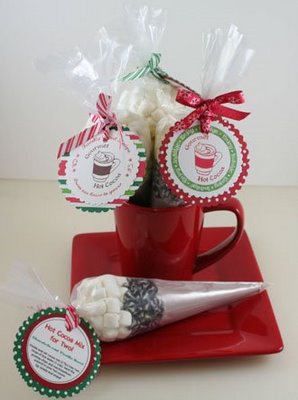 Kellie Fortin
created these fun "Hot Cocoa for Two" cones…this could make a fun gift for any other couples you are friends with, too.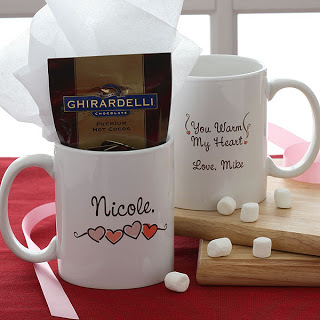 Personalization Mall
offers some creative inspiration for the serious hot cocoa lover who would appreciate their own mug!
Our Best Bites
has the Ultimate Hot Chocolate recipe…with all sorts of possible variations (Mint, Peppermint, Hazelnut, Mexican Hot Chocolate….) Yum!
Don't think I've forgotten about those of you in a long-distance relationship! No matter the distance, hot cocoa can still bring you closer together this winter!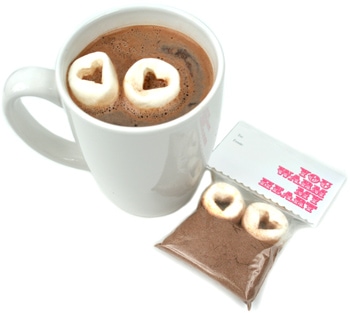 This would be a really light-weight item to ship to your hunny and no doubt it'd leave a warm spot in their heart for you!
Or, send a couple of individual cocoa packs along with a tag that says: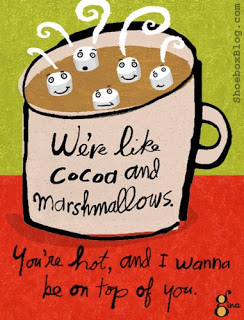 Ha.Ha.
If you want the kiddos to help you make a little surprise for mom or dad, this would be a fun and easy little project. (Of course…I'd write something cute on that mug…like any of the above sentiments)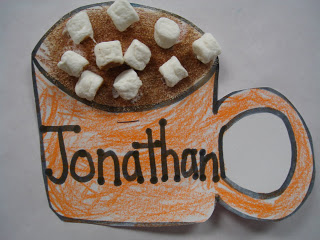 (I found this by doing a google search…so I have no idea where it's from)

And… that's all folks. Thanks for letting me interrupt your regularly scheduled program…please stay tuned for more from Jessica and Mariel tomorrow! Too-ta-loo! (or however that's spelled…)