I can't wait to dye eggs with my kids this year! Halle is so excited and Sawyer will actually understand what we are doing. Here are some fun ways to decorate eggs, and after the hunt, you can make deviled eggs and egg salad sammies. (yuck)
First of all, to boil the perfect eggs, place into a shallow pan, cover with water and boil gently for three minutes. Turn off heat and cover pan with a tight fitting lid and let sit for 15 minutes. Place pan in sink, carefully drain out hot water and let cold water run over them for several minutes. Turn off water and add several ice cubes and let sit for about 5 minutes more.
Crayon Eggs.
Super easy and great for little ones. Get out the crayons, let them have at it and then put them in the food coloring with a bit of white vinegar. Let them sit for a minute (or as long as the kids can stand it) Remove and let them dry.
Drip dot Easter Eggs.
Be sure that boiled eggs are cool and dry.
Place a double folded kitchen towel and place it on the table underneath child's hands so if the egg slips out it will have a soft cushion to land on.
Place boiled eggs into an empty egg carton for stability.
Place some paint onto a paper plate or a small dish or palette. Add several drops of water to the paint to thin it out.
Using the paintbrush, place a generous dot of paint on top of your egg. If the paint is not thin enough to start dripping down the egg, add another generous dot. If it still doesn't drip, dip your paintbrush in water and add to the dot on the egg until it begins dripping down the egg. Repeat this several times so that it drips down around the egg several times. Use two different colors to create your drips.
Allow the drips to dry completely. If your eggs begin to stick to the cardboard egg carton, carefully loosen them and scrape off any cardboard from the egg with your fingernail, then move them to a different area of the carton to continue drying.
When completely dry, carefully hold the egg upside down and paint the bottom half of the egg solid, this will cover up the end of the drips. Place the egg upside down to allow the solid area to dry. If needed, repeat with another coat and let dry again.
When dry, use the handle end of a paintbrush dipped in white paint to add polka dots to your solid color. Let dry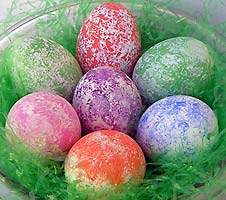 Sponge Painted Eggs
Soak a household sponge in water, then ring it out completely. Cut the sponge into several different pieces, enough so that you have one for each color.
Using a paper plate as a palette, squeeze out small amounts of several different colors of paint.
Place an empty egg carton upside down so that you can rest your eggs on it to dry once painted.
Hold an egg in your fingers, and with your other hand, dab a sponge into desired paint color.
Dab the sponge onto a piece of paper towel. The object is to remove the excess paint, but not completely dry it out.
Now dab the sponge directly onto your egg, using any type of random pattern you like. Paint as much of the egg as you can and place it down to dry.
Repeat steps four to six for each egg, using different colors.
For a colored background with white sponge marks, simply paint the egg a solid color with a paint brush or with one of your sponges. When dry, sponge on a pattern with white paint.
When one side has dried, complete the other side and allow that to dry as well.
Marbled Eggs.
Wrap fresh eggs in onion skin.
Carefully insert the egg (with skin) into old pantyhose and tie the ends so the egg can't escape.
Place eggs in deep saucepan.
Add enough cold water to about 1″ or more above the eggs.
Heat rapidly to boiling. Remove from heat. Cover and let stand about 24 minutes.
Immediately cool eggs in cold water in a bowl to prevent further cooking.
Remove the pantyhose – eggs are marbled.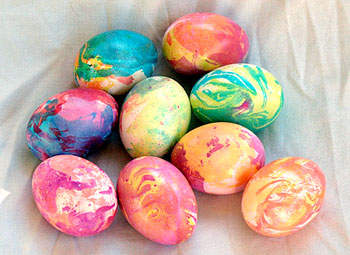 Oil and Food Coloring Marbled Eggs.
In each container combine one tablespoon of each of the following: oil, vinegar, and your choice of food coloring.
Add enough water to make the liquid deep enough to cover an egg.
Swirl the liquid with a spoon, and quickly lower and raise an egg into it.
Pat dry with a paper towel, and repeat with a second color.
Swirl into a third color, if desired. Some white areas can be left on the egg.
Gently pat dry the completed egg, leaving a bit of the oil to give the egg a varnished look.
For more great Easter Egg dying ideas, go to Mariel's post from last year
here.