Almost always, expanding your family is a happy occasion. I know for our family it was. When we adopted our second child Sawyer, and he was home for a few days, I think our daughter, Halle, wondered, "when is this kid going home?" In hind sight, I feel bad I didn't prepare her more for the coming of a new brother. But, at the time the emotions of the adoption, the legal issues and home studies were quite consuming. Not to mention, she didn't have the usual 9 months to see my waist expanding and the talks about it. That being said, I would like to prepare both of them better the next time a little one comes around. (No people, there's no bun in the oven!)

Don't tell your kids they are getting a new playmate.
Playmate may be true down the line, but not yet. Your kids might get the wrong impression that things will be instant fun when the little one comes home. Newborns aren't the best entertainers for kids (for mom they're great!)
Don't forget to recognize that your children are special to you, just like the new baby will be. Do something special. Give them a gift "from the new baby", or make them a special t- shirt so that they know you're still special to them and will be to the baby. Zoey's Attic has some great T's!
Make an effort to "schedule" time with the other kids just one on one. Having "dates" is a great idea.


Be honest about how life will "really" be when the baby comes. Tell them at first the baby will demand a large amount of time, and that Jr. will mostly just cry, eat sleep , and not a whole lot more. Also tell them Mommy will be tired, and will have to take naps to rest!
Get your kids involved with the preparation and arrival of the little one. Ask for their help. Kids love to be needed and helpful. Have them draw pictures to put in the baby's room, pack the diaper bag (after you get it all together), and fetch diapers and bottles for you. Getting them involved with the baby helps them feel more apart of baby's life.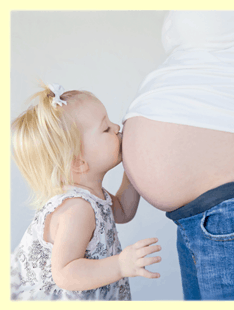 After the preparation, how are you kids going to act towards the new baby? 2 year olds usually show jealousy by acting up when they want your attention. For toddlers, negative attention is better than no attention at all! Ok, so bear with me here…. I love this technique from Nanny Jo on Supernanny. It's called the Involvement Technique. It's really complicated. Get them involved with what you're doing. Whether it's changing a diaper, helping spoon feed, grabbing a washcloth, you can pay attention to both kids at the same time. Make sure you thank them for their efforts and how much you appreciate them.
Here are some great children's books on adding a sibling to the family: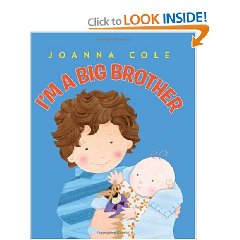 I'm A Big Brother by Joanna Cole
Amazon
$7.