I "googled" April Fools Day and found the top 100 April Fool's Hoaxes of all time- I thought they were pretty funny! I just can't believe people fell for them! (Actually I would be the one who would!)
On April 1, 1957 the British news show Panorama broadcast a three-minute segment about a bumper spaghetti harvest in southern Switzerland. The success of the crop was attributed both to an unusually mild winter and to the "virtual disappearance of the spaghetti weevil." The audience heard Richard Dimbleby, the show's highly respected anchor, discussing the details of the spaghetti crop as they watched video footage of a Swiss family pulling pasta off spaghetti trees and placing it into baskets. The segment concluded with the assurance that, "For those who love this dish, there's nothing like real, home-grown spaghetti."
The Swiss Spaghetti Harvest hoax generated an enormous response. Hundreds of people phoned the BBC wanting to know how they could grow their own spaghetti tree. To this query the BBC diplomatically replied, "Place a sprig of spaghetti in a tin of tomato sauce and hope for the best."

In 1959, Prankster extraordinaire Alan Abel dreams up a campaign calling for animals to wear clothing, and the Society for Indecency to Naked Animals is born. Spokesperson G. Clifford Prout appears on Today to promote the group's catchy slogan: "A nude horse is a rude horse." Eventually, 50,000 concerned citizens sign its petition, and even Walter Cronkite gets hoodwinded-until it's discovered that Prout is actually comdeian Buck Henry.
In 1996, the Taco Bell Corporation announced it had bought the Liberty Bell and was renaming it the Taco Liberty Bell. Hundreds of outraged citizens called the National Historic Park in Philadelphia where the bell was housed to express their anger. Their nerves were only calmed when Taco Bell revealed, a few hours later, that it was all a practical joke. The best line of the day came when White House press secretary Mike McCurry was asked about the sale. Thinking on his feet, he responded that the Lincoln Memorial had also been sold. It would now be known, he said, as the Ford Lincoln Mercury Memorial.
The
Daily Mail
reported that a local manufacturer had sold 10,000 "rogue bras" that were causing a unique and unprecedented problem, not to the wearers but to the public at large. Apparently the support wire in these bras had been made out of a kind of copper originally designed for use in fire alarms. When this copper came into contact with nylon and body heat, it produced static electricity which, in turn, was interfering with local television and radio broadcasts. The chief engineer of British Telecom, upon reading the article, immediately ordered that all his female laboratory employees disclose what type of bra they were wearing.
The Daily Mail ran a story about an unfortunate Japanese long-distance runner, Kimo Nakajimi, who had entered the London Marathon but, on account of a translation error, thought that he had to run for 26 days, not 26 miles. Reportedly Nakajimi was now somewhere out on the roads of England, still running, determined to finish the race. Various people had spotted him, though they were unable to flag him down. The translation error was attributed to Timothy Bryant, an import director, who said, "I translated the rules and sent them off to him. But I have only been learning Japanese for two years, and I must have made a mistake. He seems to be taking this marathon to be something like the very long races they have over there."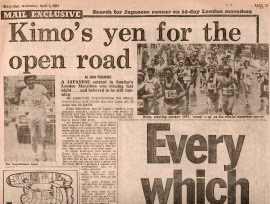 Burger King published a full page advertisement in USA Today announcing the introduction of a new item to their menu: a "Left-Handed Whopper" specially designed for the 32 million left-handed Americans. According to the advertisement, the new whopper included the same ingredients as the original Whopper (lettuce, tomato, hamburger patty, etc.), but all the condiments were rotated 180 degrees for the benefit of their left-handed customers. The following day Burger King issued a follow-up release revealing that although the Left-Handed Whopper was a hoax, thousands of customers had gone into restaurants to request the new sandwich. Simultaneously, according to the press release, "many others requested their own 'right handed' version."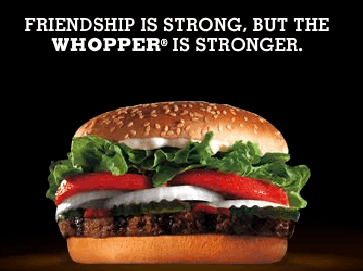 In 2009, The Daily Mail revealed that Walkers Crisps had designed noise-free crisps, to be marketed as "Ready Silent Cri-sshhp." They would allow people to "eat loud snacks in the cinema without disturbing the person next to you." The crisp was said to have "the same flavour and crunchiness, except it comes already crushed."