I cannot believe this weather we are having! Snow in April does not do good things for my psyche! I have always wanted to learn how to put together a great floral arrangement, and I'm in need of one now. Although, I'm sure it will cost me an arm and a leg for flowers now, but for my sanity and all things pretty, I will bite it.
Martha says, "Celebrate big, billowing flowers with an exuberant large-scale arrangement. This display showcases the unrestrained beauty of hydrangeas. An armful of the flowers overflows a generous glazed-iron urn-shaped vase in an effortlessly elegant way. Tendrils of clematis winding through the blooms emphasize the cottage-garden feeling." Thanks Ms. Stewart.

To re-create this whimsical centerpiece, cluster pink peonies and tulips, red roses, and chartreuse verbena in an oversize square vase. Wrap striped and polka-dot ribbons around the vase and hot-glue in place (or substitute heavy-duty double-faced tape). Make two or three to run down the center of the table.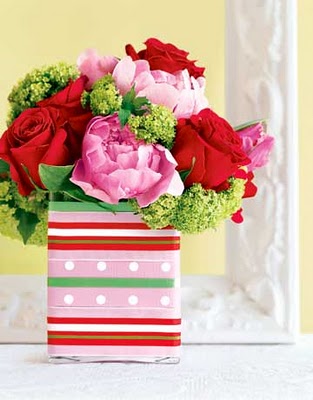 For a casual outdoor setting, place simple groupings of flowers into coffee and soup cans painted from Benjamin Moore sample jars. Or use old vintage Mason jars. (Luuurve it!)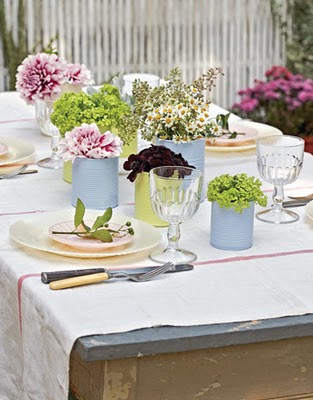 I love this idea- who would've thought you can do this to tulips! To make these common bulbs more exotic, just put your thumb under each petal and fold it back with your forefinger. Afterward, they almost resemble camellias!

Why bother with floral foam or marbles when the best arranging tool is right in your backyard? "You can use tree branches to form a backbone that will support more delicate stems," says florist Felipe Sastre. Here, Sastre crisscrossed six pear boughs and weaved in hydrangea and lisianthus, as well as lady's mantle. If your branches are alive and leafy like these, scrape the bottoms, then split them up the center a couple of inches to aid water absorption.

Here's how florist Michael George gets roses to absorb more water and live longer: Wrap the flowers in brown packaging paper to protect them, then snip a quarter inch off the stems and place them in one inch of boiling water. "The shock of it forces the air out," says George. "You can actually see bubbles coming from the ends." Leave roses in place until the water turns tepid, give the stems a fresh cut, then transfer to cool water.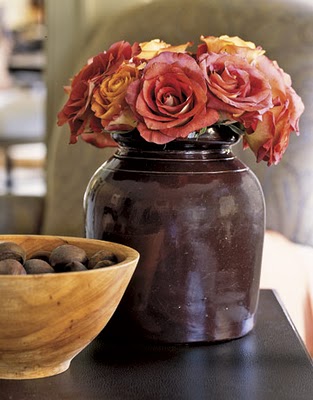 Create a study in color with different flowers in shades of the same hue. Hydrangeas and clematis in purple tones look unified yet diverse. The aqua-colored McCoy bowl peeking out is a bright surprise.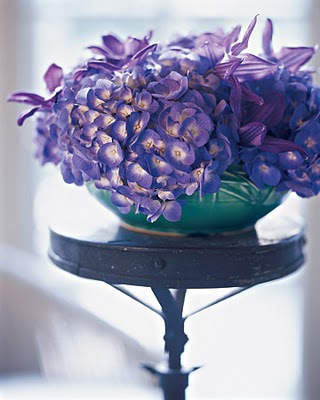 "It's so much easier to arrange a bouquet on a lazy Susan," says florist Meredith Perez, "because you can turn the vase and see your display from all sides."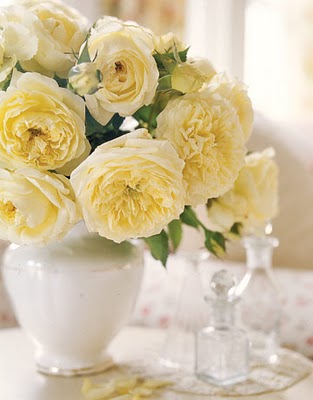 A few tips: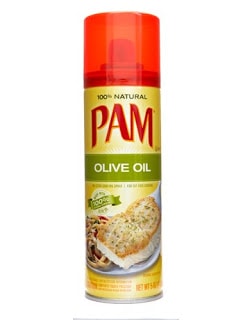 Who knew? Good old cooking spray helps tropicals — such as bird-of-paradise, ginger, and heliconia — last. The spray basically seals the pores of the flower and prevents it from drying out. Lightly spritz each bloom once, from about 12 inches away. It'll make 'em shine, too!
No flower food? No problem. You can put a few drops of Clorox in the water as an alternative. The bleach prevents bacteria — one of the main purposes of other additives.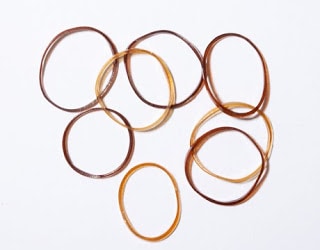 The same elastic that secures your hair will also keep flowers in place. Put the band around the stems, about four inches below the top of the blossoms. "Choose clear elastic and position it at the waterline," says George. "The band will be totally invisible." (Goody Ouchless clear, latex elastics, $3.89 for a package of 52)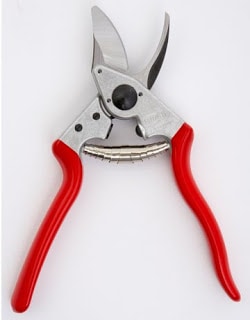 For a clean cut, it's best to snip stems with garden clippers or a sharp knife. When you use scissors to trim flowers — especially those with tubular stems, like Gerbera daisies — the stems crack. The blooms can't get water and will die soon after.
Please please please let the flowers bloom soon!