Hi Roberta here again! Hope you are enjoying my guest posts! I wanted to introduce you to the awesome man in my life! This is Steve! We have been married 10 amazing years and each day just gets better and more exciting! We have 2 great kids and love going on vacations and taking walks. Today I am going to teach you how to make these stylin, trendy balloon flip flops!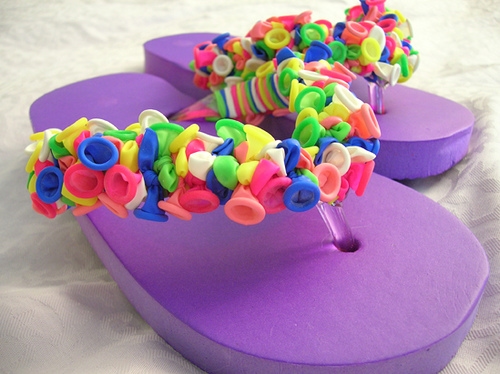 I made these with a group of 11 year old girls! They did a fantastic job! It takes about 1 hour to do a pair of flip flops. These are so fun for the summer, and you will get comments on them wherever you go! Make these for yourself, your daughter or a friend. It's also a great craft for the kids. Send them outside on the porch and have them tie, tie, tie! You can use a pair of flip flops you currently have or buy a nice new clean pair. At Old Navy they are 2 pairs for $5!
What you will need: 
200 water balloons-I buy mine at Walmart or All A Dollar
Flip Flops
Directions: 
Double knot the water balloons around the thong of the flip flop. I also think it looks better if you do a pattern of your color choice. For instance, pink, green, purple, blue, yellow, orange, repeat. Make sure the knot is on the outside part of the flip flop. You will tie 50 balloons on each thong part.