Hello There! I'm Nichole and I am super excited about doing post on this super fun blog. I've been a reader from the beginning and I love the variety here. So when I was asked to do a post, I knew exactly what I wanted to share. You may remember a post I did about a year ago at the very beginning of my journey,
"Get Fit With The Whole Family"
.
In order to understand my journey you have to know a little bit about me. I am 31, (when did that happen?) about 5′ 4″ tall and have always been the "big" girl of the group. At the age of 14 I wore a women's size 14 and as I got older, I got bigger. Both of my parents are large and it seemed to me like it was something I couldn't do anything about. I learned to live with my weight and enjoyed an active social life through my 20′s and didn't think anything about it. I would go dancing, hiking and all of those other bits and pieces so it seemed to me that I was fine.
These are hard pictures to share, so bare with me and my commentary.
(I am mortified that my arms look like sausages and that my head looks too small for my body)

About a year ago I just decided I had had enough. I was tired of not being about to find clothes that fit or looked good. I was tired of people assuming I couldn't go hiking or anything similar.
Mostly I was just tired and at my largest.
(my ginormous boobs and the massive roll bring tears)
At the beginning, this is hard, really hard to admit, but I weighed 300 lbs, wore at size 24 jean, XXL shirt size, a 42 E bra size and a size 8 1/2 shoe. I never felt that big or thought of myself as so out of control but everyone else did.
(my arms are massive)
I woke up one day and decided I wanted to run a 5k. I figured that running was a good way to lose weight and to prove I could do anything. Great in theory. I pushed too hard and after a month had a very painful stress fracture. The only thing to do for a stress fracture is rest. It is so hard to hear that you have to rest when the one thing you actually want to be doing is be active!
(take notice of my arms and face in this one)
It was then I decided that I couldn't do it alone. I enlisted the help of a friend to be my work out buddy. She was thin and peppy and agreed to help. We worked out for about a month but I knew we weren't getting in the kind of work out I needed. So, we enlisted the help of a personal trainer. I know, you think personal trainer, big bucks. The truth is, you are right. Luckily our trainer agreed to train us together so we could split the cost. I lost 20 pounds in the first month and was so excited.
After a few months my friend backed out. Bummer. My built-in reason to not ditch the trainer and flake out was gone. I had to find some motivation to keep going. There was a
great post
about motivation not long ago, but I had to really decide if I wanted it.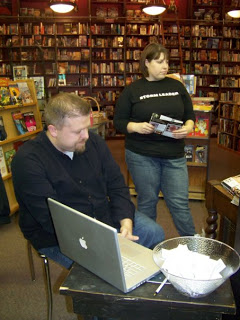 (In October 2009, about 6 months into the process)
I had lived with being over weight and I just decided that I wanted it. So, the work really began.
I began monitoring my calories, working out 5 days a week and changing my life. The pounds started to fall off.Then I hit a massive road block. I had been allotting 1300 calories a day and I was starving. People kept telling me it was in my mind, that I just needed to tell myself I wasn't hungry. I tried it. Didn't work. After about a month of being in tears and frustrated that I had stopped losing weight, I had an
BMR
test,
Basal Metabolic Rate
Test. It told me that I was in need of 2000 calories a day just to maintain my weight and shouldn't eat less than 1800. I had been starving myself for a month! Literally starving myself. I had all the symptoms but there was no way I could imagine I had been starving, not when I had always been such a "healthy" eater.
At that point I enlisted the help of a Registered Dietitian. She helped me to rewire my thinking and how I dealt with food. I started using an amazing program,
Intuitive Eating
, which changed my life and helped me lose a lot of weight. For more specifics on this aspect of my journey,
click here.
I still have 60 pounds to go, but I know I can do this. I can do it! These next few photos are from my "I've lost 100 lbs!" photo shoot. While they are basically edited they are not the best. The photographer is still working on the majority of them and I begged to get what I could. So, beware the weird faces I make. But, you get the idea…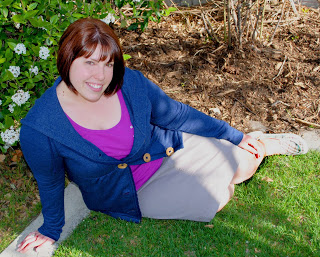 The moral of this story is that if I can do it, you can to. Start with a small goal and just keep at it. You won't lose 100 lbs over night, in fact, it took me a year, but you can do it. You can!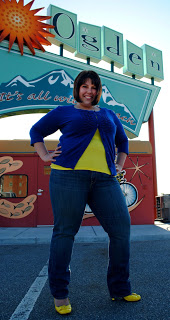 (notice the legs and yellow shoes…nice! and did you catch my decent sized boobs?)
Here are just a few tips on how to lose the extra weight you may have:
1) Be careful. Don't push too hard. Go slow and let your body work up to the hard stuff. If it hurts, stop!
2) Be creative. Find friends who want to work out with you, find active things to do and stick to the plan. Even if your friends don't.
3)
Listen to your body
. If you are hungry, eat. There are ways to find out how many calories you need from online equations you can find
here
to having an
BMR
test done at your gym. Be informed and aware of your body.
4) Don't be afraid to spend the money. You can join running groups for little or no money, you can see a dietitian once for $40 or you can go all out and invest in a personal trainer. The choice is yours. One investment I do recommend you make is new work out clothes and shoes. I buy a new set of clothes once a month (target has great clearance racks!) to excite me and truthfully, because I need them!
5) Your life will only change as much as you want it to. If you want it, you can do it. You do have to work for it and if you do, you will see results.
At this point in my journey, I weigh 196, wear a size 16-17 jean, a large shirt size, have a 38 D bra size, and wear a size 7 1/2 shoe. Did you know when you lose a lot of weight your feet shrink? I didn't and my shoe collection and I had an emotional parting. I have lost 9 inches in each of my arms, 8 in each of my thighs and 12 in each of my calves. I can hardly believe it. I work out 6 days a week (3 days of serious
cardio
and 3 day of
Crossfit
), bike to work, and am running my first
5k
, a year later, this spring.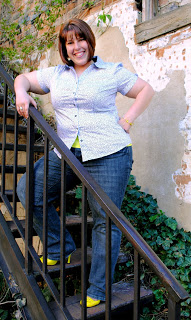 (look at those arms! What a difference! and do you see my waist? I HAVE ONE!)
I hope my story and tips inspired you. Even if you have 5 extra pounds of baby weight to lose or 160 lbs like me, you can do this. You can follow my continuing journey on my blog, Fit
with a Side of Cheesecake.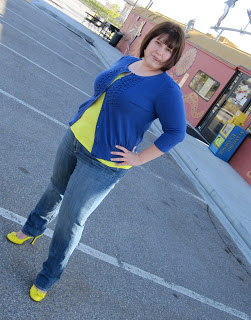 (Lots to go still, but all in all, I think I look good! Be happy where you are and you will get where you want to be.)

You can do it!