Each month, my mother-in-law and sister in laws get together and have a recipe swap. Whoever is hosting, makes the main dish, someone brings and appetizer, dessert, salad, so on and so forth. It's awesome! Girl time, yummy food and laughs. My cute sister in law Cassie brought this appetizer the last time, and I've seriously made it 4 times since!Your ingredients. Cooked and diced chicken, feta, sun dried tomatoes, Italian dressing (it has to be Bernstein's Garlic and Cheese) Spinach and either foccacia or a baguette.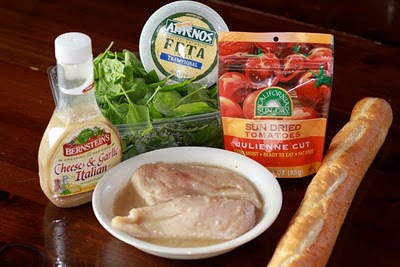 Marinate your chicken in the Italian dressing at least three hours. Cut up and cook the chicken.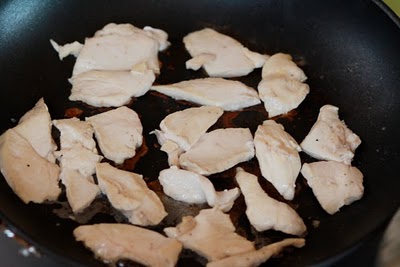 After the chicken has cooled a little, either shred it or cut it. Add chopped sun dried tomatoes,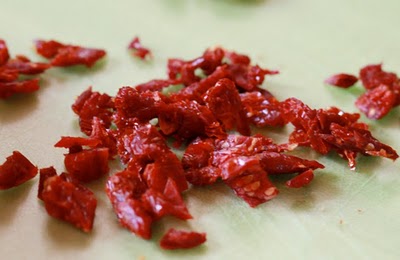 Tear up the spinach, add the feta cheese and more Italian dressing. Mix together.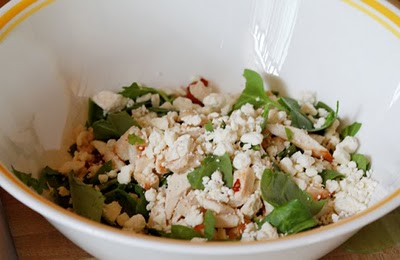 Cut up your bread and drizzle with olive oil. Broil it in the oven.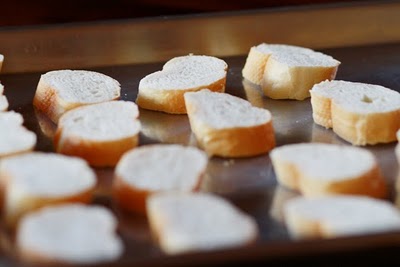 When the bread is done, top it with the chicken mixture and serve. (Sorry I don't have a finished picture) The next time I make it, I'll take one.
You'll be addicted!!
Chicken and Sun dried Tomato Bruschetta
Ingredients:
2 skinless boneless chicken breast halves
1 1/4 cups of Italian dressing, divided
1/3 cup feta cheese
8 sun dried tomatoes, without oil chopped (I found these next to the fresh tomatoes)
1 loaf foccacia bread cut into 1/2 inch thick slices
1/4 cup olive oil
Directions
Place the chicken in a bowl with 1 cup of the dressing. Marinate for at least three hours. Cook the chicken. After the chicken has cooled a little, either shred it or cut it. Add chopped sun dried tomatoes, torn up spinach, feta and the rest of the dressing. Mix together. Cut up the bread and drizzle with olive oil. Broil until lightly toasted. Add the chicken mixture to the bread and serve!
~ Jessica