Alright ladies. I've been having the most annoying problem lately. Here is part of it…..
We have the cutest, sweetest dog who I wouldn't trade for anything in the world, but he keeps getting in my garden and digging up plants and making holes! GRrrrr. (Not to mention the kids dragging their shovels and doing their part in my "victory garden") I'm not kidding you, I have replanted it twice this year!
Anyways, IM NOT PLANTING IT AGAIN! (Besides, it's getting a little late) Maybe no one else has a problem of "critters" ie: dogs, cats, rabbits, kids etc. ruining your garden. So I googled it the other day, and thought why don't I do a post on it? So here you go friends.
This recipe is supposed to work wonders….
Jerry Bakers Recipe
2 1/2 parts flour
1 part cayenne pepper
1 1/2 parts dry mustard
Mix together and sprinkle around your garden and flower beds. If it rains, you'll have to do it again:(
Doggy Doo Doo. Dogs naturally will protect their poop. Gross, but if you put their poop in or around your garden and flower beds, they will refrain from digging.
In Austrailia people put 2 liter pop bottles around their yards to keep the dogs away. Don't ask me, but they say it really works! Just take the bottles, remove the wrappers and fill it with water.
I heard this works with deer too. Take hair clippings, and sprinkle them around the area. The hairs get in their noses, and make them sneeze. They don't like it. You'll have to give the whole family haircuts though!
Have your husband go take a leak outside where you want to deter the critters. Supposedly, male urine has a hormone in it, that repels other mammals. It's almost like he's "marking his territory".
If you want to get technical, try the
ScareCrow Sprinkler
. It has a motion sensor, so when unwanted guests come, they get sprayed. It's chemical free, and uses no traps! $45 on Amazon.
Tonight, I applied
Bonide Dog, Cat and Rabbit
repellent around my garden. I sprinkled it 4 feet around and then had to turn the sprinklers on for awhile. Clancy, our dog has been inside with me (while the hubby's out of town) so we'll see how it goes. I'll let you know! $6 on
Amazon
or at your local garden store.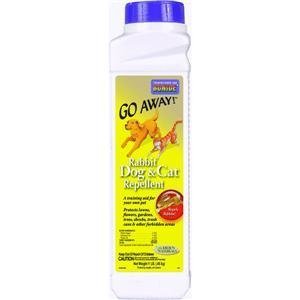 I'd love to hear your ideas!!