I've been soo excited to share this recipe with you ladies. I took them to Sunday dinner the other night, and I'm pretty sure I'm the new favorite daughter/sister-in-law:) The men in the family went gaga over them and they have been requested for appetizers in football season. Make these, ladies and YOU'LL be mans new best friend!
Here are the ingredients: Jalapenos, bacon, cream cheese, cheddar cheese, green onion, barbecue sauce and toothpicks.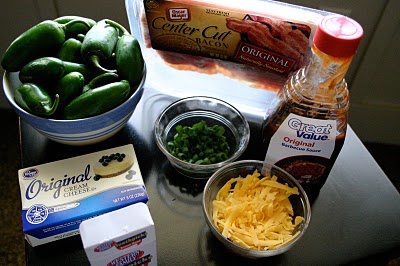 Start out by cutting the jalapenos in half (I like to leave the stems attached- I think it looks purdier) and then scooping out the seeds and membranes of the jalapenos. The first time I made these, I scooped every little seed and membrane out, and they weren't hot at all. This time I left some stragglers and they were just right. It's your preference.
*Whatever you do, DON'T touch your eyes or pick your nose!

Then in a bowl, mix together the cream cheese, green onion and cheddar cheese.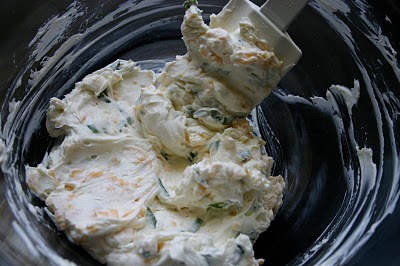 Fill the jalapenos with the cream cheese mixture. I'm salivating.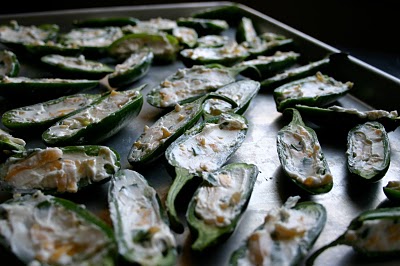 Cut the strips of bacon in half, then wrap them around the jalapenos. Secure them with a toothpick.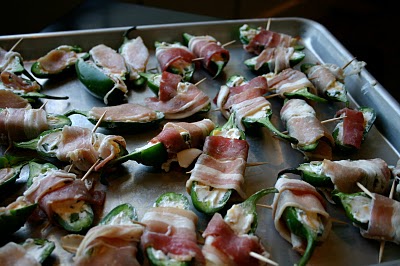 Brush some barbecue sauce on them……
Bake them in the oven for 275 degrees for 1 hour. And you have pure deliciousness.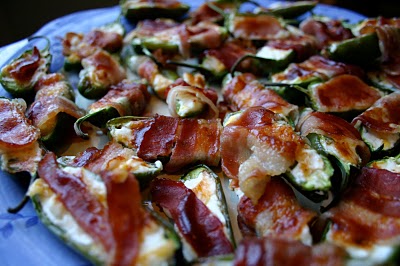 Jalapeno Poppers
Ingredients:
18-20 Jalapenos
1 8 oz package of cream cheese
1/2 cup cheddar cheese
1-2 green onions, chopped
9 slices of bacon cut in half
Directions:
Preheat the oven to 275 degrees. Cut the jalapenos in half, scoop out the seeds and membranes. (For a little kick, leave some seeds in) In a bowl, mix together the cream cheese, cheddar cheese and green onion. Fill the jalapenos with the cream cheese mixture. Cut the bacon slices in half and wrap them around the jalapeno. Secure with a toothpick. Brush them with a little barbecue sauce and throw them in the oven. (I was in a hurry and cooked them at 350 for 30 min and they were great) Enjoy!!
~ Jessica