Hello all you 'Or So She Says…' readers! My name is Jesseca, and I'm a stay at home mom that has an obsession with baking! You can read about all of my adventures in the kitchen over at Sweet Treats By Jesseca. 
I've been missing those warm summer days lately. Spending our time at the pool, sidewalk chalk all over my little guy or hours at the park. Those are all behind us for now. I wanted to make something that reminded me of those good ol' days. So I broke out my cook book and found this recipe for Key Lime Cupcakes.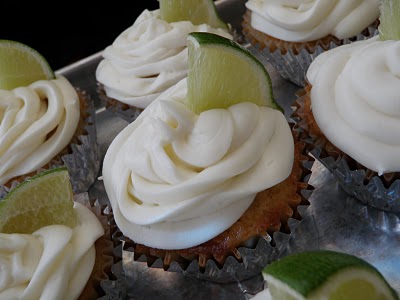 Key Lime Cupcakes
½ C. butter, softened

1 C. sugar
3 eggs
1 C. milk
1 C. flour
1 (14 oz.) Can sweetened condensed milk
10 graham cracker squares, crumbled
1 t. baking soda
1 t. baking powder
1/8 t. salt
5 egg yolks
½ C. lime juice

è Start by creaming your butter and sugar until it is light and fluffy. Add the 3 eggs, one at a time.

è In a medium sized bowl, shift together the flour, baking soda, baking powder and salt. Mix in the graham cracker crumbles.
è Slowly add the dry ingredients, and the milk, to the butter mixture. Make sure you alternate between the dry ingredients and the milk. (dry-milk-dry)
è In a separate bowl, mix the egg yolks, condensed milk, and lime juice. Pour into your batter and stir slightly.
è Fill cupcake liners ¾ full and bake for 15-20 minutes at 350.

For the frosting, I made a basic cream cheese frosting with a little lemon extract.
Cream Cheese Frosting:

1 8 oz package softened cream cheese
¼ C. soft butter
1 t. lime or lemon extract
4 C. Powdered Sugar

è Mix the cream cheese and butter until combined.

è Add the sugar and extract slowly. Beat on high until fluffy.

This is my all time favorite cupcake. I don't know what it is about the graham crackers mixed into the batter, but the cake is so moist and the lime juice gives it a yummy citrus flavor. I hate to say it, but I have a hard time sharing these precious little cupcakes. Every calorie is well worth it!