Hi, I'm "B" from
Fryman Four
!   I see every holiday as an opportunity for fun, food and education! (National Elephant Appreciation Day?  I'm there!   National Chicken month?   I've got a costume for that!) So when a big holiday comes around, I like to go all out!  Come check out more fun food, theme days and holidays with me at Fryman Four!
 Wednesday was our conversation heart day. We counted them, sorted them by color,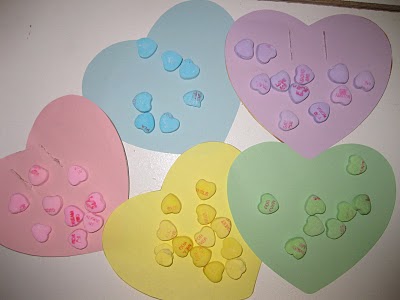 practiced our hand-eye coordination with tweezer transferring into heart ice cube trays,
and put them in order, by size.

We even used them as markers for Bingo.  
Then we ate them for snack. (FYI-adding milk to icing does not make glaze. Lesson learned.)
Want more conversation heart learning activities to do with your kids? Check out
this site
.
~ "B"