Have you ever thought, "Dang!  I wish I had this with my first baby!"  I'm sure you have.  Then, when you get to the point where you're done or almost done having kids…it seems too late to buy anything new and fantastic.  I know, I know all about it.  So, I thought I would share with you some of my all-time favorite must-have products, and must-do tips that I gathered along my 6-baby way …
Reusable Straws.
  I never knew there was such a thing until last year.  I stumbled across these
Reusable Straws
, and life has never been the same.  Kids love straws, they just do.  I could never keep my straw supply stocked longer than a week…but, now I'm never without one.  You can just put these in the dishwasher and they're ready to be used again!  I love these and plan on getting more of them.
Sleeping Through The Night.  With my first baby, I didn't get much sleep.  Every time he slightly fussed, I felt like I needed to rock him, feed him, comfort him, kiss him, pet him, sing to him, and tickle his blanket on his face…all at the same time.  Unfortunately, he started to like it too much.  And, who wouldn't, right??  By the time morning came, I was a zombie.  Zombies don't make very good moms.  Slowly, I started to learn, kid by kid…and by number 4, I found something that worked for me.  While my babies were under 4 months old, I would feed them throughout the night, when they seemed hungry.  Around the fourth month, they would randomly sleep through the night (yay!) and the times they woke up, it seemed to be for reasons other than hunger, like habit (boo.)  In turn, my habit was to pamper them and continue the cycle.  So, at that point I put them in their nursery and started letting both of us sleep through the night.  Usually, the first one or two nights they would fuss, but it was never more than a few minutes, and after that…a beautiful slumber, every time.  Sometimes they will sleep for so long that I have to wake them up in the morning!  True story.   My doctor always says as long as the baby is gaining weight at a healthy rate, he doesn't care how early they sleep through the night.  Anyway, both mom and babe seem happier, more patient and functional, when we're getting more sleep.
A couple other sleeping tips that helped immensely: 
1.  Always try to put your baby to bed when they are awake.  It helps them learn how to fall asleep on their own.
2.  My babies seem to really love the white noise thing, womb noises or rain also work.  From the time they're newborn, I get them used to sleeping to the sound, and still my toddlers sleep more sound with it.  For babies, I love the
Cloud B sheep or giraffe
.  I'll get the big one for their bed, and the little one to hook on their car seat. My toddlers love the
Marpac Sound Conditioner
.
Sippy Cups.
  I have tried probably 30 different types of
sippy cups
over the past 10 years…and, I always come back to the most simple, super cheap, non-cute, Take n Toss ones…I'm sure you've seen them.  I swear they are the best for not leaking!  But, here's what took me 5 kids to learn (I'm slow)…only buy ONE kind of sippy cup so the lids are all interchangeable.  I can't tell you how many cups I have with no lid or lids I have with no matching cup.  Ridiculous.  Some moms don't like that the holes are so small…prevents orange juice from getting through, but my kids have never complained about them, and as long as they're not leaking, I'm happy.  My only problem is keeping them off the floor where the puppy shreds them to pieces.
Pantry Lock.  I used to think only a nazi-mom would lock her pantry door.  But, then I realized how absolutely great it is!  Now, the boxes of cheerios are dumped out only 3 times a day…when I open it for meals.  Oh, and junior isn't stuffing his face full of Oreos, every time I turn my back.  We've learned that there are no shelves high enough to hide the junk food, you've just got to lock the door.  I'm a fan.
Robeez.
  When I first saw the
Robeez shoes
, I thought they were as ugly as sin.  But, after I heard rave reviews about them, I tried them out.  They are the best!  No shoe stays on your little babe's feet better than these.  And, they have grown on me…I find them pretty stinkin' cute, now.  I especially like the slipper type ones for colder weather.
Toggle Bottle and Breastfeeding.  With my first baby, I thought the only right thing to do was to breastfeed my baby, exclusively. As opposed to breastfeeding other people's babies.  Just kidding…what I mean, is I had anxiety about giving my baby an occasional bottle.  What a nerd.  It wasn't until a couple kids later that I realized how much easier life could be if I gave them a bottle of formula (or breast milk) while I was at the grocery store, or eating at a restaurant, or anywhere that it was hard to stop what I was doing and find somewhere to nurse the baby.  To date, it has never made my babies stop nursing, made me lose my milk supply, and it hasn't ruined their lives.  I'm proud to say that all of my kids are plenty healthy and plenty smart.  But, if the baby just won't take a bottle, like my current little stinker, you're out of luck.
Speaking of breastfeeding, if you get on a birth control pill, make sure you are on the one specifically for nursing mothers (there might be different brands available.)  Okay, this is so crazy to me.  But, for the first four babies I had NO idea there was such thing as a birth control pill for nursing mothers, I just took what my doctors prescribed (3 different docs.)  Within a couple weeks of taking the pill, my milk supply was drastically less, causing so much frustration for me and baby.  I always thought it was just my body finally overcoming engorgement (to an excess) and never realized it was from the pill I was taking.   After all, the doctor(s) gave it to me.  Finally on baby #5, I got a new doctor (for reasons other than this) and she told me I needed to be on a specific pill.  I was like, 'What?!?  I had no idea!  After all these years of struggling!!'  Needless to say, now I know and it has made all the difference in the world.  It's amazing to finally have all the milk that my baby needs.  Yay!
Security Items
.  I love binkies (pacifiers) and woobies (or special blankets) for my babes.  I swear they just make them happier and sleep more soundly.  Plus, have you ever tried sleeping on their blankie, bunched under your head??  It's way comfy.  I totally get it.  Anyway, even though I usually let my babies try a few different pacifiers, they have always liked the same ones by
NUK
.  And, as far as woobies go (that's what they're called in my house), we love the ones that are silky on one side and minky on the other.  Ahhh…so soft.  There's an Etsy shop that I've gotten a couple from called
Yatoil,
they're super cute.  Anyway, so if you're worried about eventually having to take away the binky and having it be a big fuss, never fear.  Check out this post:
Time to Take Away the Binky & Stop Thumb Sucking
.  In it, I share what has worked for me.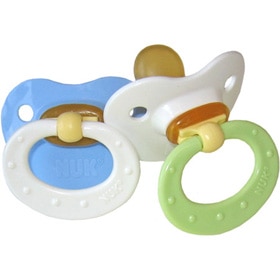 Bumbo Chair in Shower. 
Have you ever had a shower while your baby is sitting in a bouncer chair outside the shower door, screaming bloody murder??  It's great, you should try it.  I'm usually not giving my babies baths, it's hard on my back.  So, when they are under 5 months, I just put their baby bath right in the shower with me.  They love laying in it, as long as I put a wet, warm wash cloth over their belly.  But, after 5 months, I'm all about the
Bumbo chair
.  It's perfect for getting wet and propping up the baby. * I should probably note that these chairs are not meant for showers or baths.  If you put it in a bath, it will float away.  I only use it in my shower because it doesn't slide on the floor at all, there's not standing water, and I'm standing just inches away from it.
Maternity Clothes. It wasn't until baby #6, my last one, that I discovered Zulily for maternity clothes.  I'm kicking myself, because now I don't need any more!  When I was buying maternity clothes, I could only think of two places where they were cute and affordable, Motherhood Maternity and Old Navy.  But, nearly every day, Zulily has a different maternity brand, offered at great prices!  Just know that Zulily has ridiculously slow shipping.  It probably takes 2 weeks to a month to get anything, so consider that when you're placing your order, as your tummy is growing so fast!  Besides maternity clothes, I actually find tons of great deals for my kids.  Mostly little girls.  I'm always finding adorable dresses for my girls, shoes for everyone, and sometimes some cool educational products.  They have lots of stuff, but those are my favorite finds.  Also, I don't shop their as often, but I know Totsy is another place to find great deals on maternity clothes (and kids clothing, as well.)
Anyway, those are some of my tried-and-true mommy tips. What are yours?? What do you wish you knew about (products and advice) from the very start of motherhood??
Want to check out more favorite baby products?? 
Check out these past posts:
Awesome Baby Products
Favorite Products for New Babies
Gift Ideas for New Moms and Babies
Gifts for New Moms and Babies