Hi everyone! Amy here, from
Amy's Cooking Adventures
. I am a stay at home Mommy with a 3 year old and a 7 month old. I love to make healthy, nutritious meals for my family. Unfortunately, my 3 year old is extremely picky. If he had his choice, he would live on hot dogs and Nutella sandwiches (really).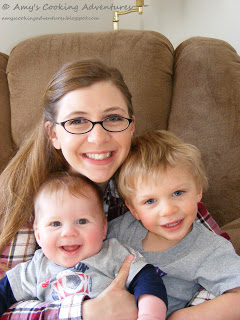 Since he is so picky, I often "sneak" vegetables and whole grains into his favorite kid foods, like pancakes and chicken nuggets. Note: I also offer a variety of undisguised vegetables to my son at meal time, however, if he chooses not to eat them (and this happens frequently), I feel better knowing that he is still getting some of those healthy veggies!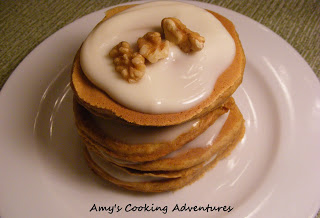 First up, Carrot Cake Pancakes. Sounds indulgent, doesn't it? These pancakes are just sweet enough (with a touch of honey and yogurt) to be a picky eater favorite, but have a touch of sophistication so that adults can enjoy them as well.
Healthy ingredients in Carrot Cake Pancakes:
Whole wheat flour, wheat germ, ground flaxseed, pureed carrots, pureed sweet potatoes, honey, yogurt, and walnuts.
Grown up twist: top with yogurt and walnuts (your picky eater may opt for a drizzle of syrup)
The recipe:
1 cup unbleached flour
½ cup whole wheat flouR
2 tbsp wheat germ
2 tbsp ground flaxseed
1 tbsp baking powder
1 tsp cinnamoN
1/8 tsp salt
2 large eggs, beaten
1 1/3 cups light soy milk (or a milk of your choice)
½ cup pureed carrots or
orange puree
2 tbsp honey
1 tsp vanilla extract
6 oz French vanilla yogurt
¼ cup chopped walnuts
Whisk together the flours, wheat germ, flax, baking powder, cinnamon, and salt.
In a separate bowl, whisk together eggs, milk, pureed carrots, honey, and vanilla extract until well blended. Pour liquid ingredients over the dry ingredients and stir until just combined.
Heat a large non stick skillet to medium-high heat. Pour batter onto the hot skillet using a heaping 2 tablespoon scoop.
Cook until bubbles begin to appear on the surface of the pancakes and the bottoms turn golden-brown, about 3 minutes. Flip and cook until golden, an additional 2-3 minutes.
Serve topped with French vanilla yogurt and chopped walnuts.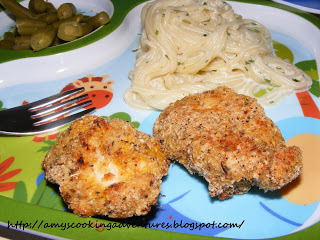 Next up, we have homemade chicken nuggets! Instead of frying this kid favorite in vats of oil, these are baked. There are also a load of healthy ingredients mixed into the breading.
Healthy ingredients in Chicken Nuggets: boneless skinless chicken breasts, whole wheat flour, pureed sweet potatoes and carrots, whole wheat bread crumbs, and wheat germ.
Grown up twist: instead of cutting the chicken into chunks, cut into 4 ounce portions (the size of a deck of cards) and call it parmesan chicken. Serve with noodles.
The recipe:
1 pound boneless skinless chicken breasts, cut into 2 inch chunks
½ cup whole wheat flour
2 eggs, beaten
¼ cup orange puree
¼ cup whole wheat bread crumbs
1 tbsp wheat germ
2 tbsp parmesan cheese
1 tsp dried basil
1 tsp dried thyme
½ tsp pepper
1/8 tsp paprika
If you wish, pound chicken into a uniform ½ inch thickness. If you choose not to do this, it will affect the cooking time slightly.
Cut chicken into 2-inch chunks, set aside. Place whole wheat flour in a medium sized bowl, set aside.
Beat eggs and orange puree together in a medium bowl, set aside.
Mix bread crumbs, wheat germ, parmesan cheese, basil, thyme, black pepper, and paprika together in a medium bowl, set aside.
Spray a large cookie sheet with cooking spray and preheat oven to 400 degrees.
Coat chicken pieces in whole wheat flour, shake off any excess.
Next, dredge chicken through the egg mixture, evenly coating both sides.
Lastly, lay chicken in the bread crumb mixture and gently press; turn to coat the other side. Arrange coated chicken pieces on the cookie sheet. Repeat as necessary.
Place tray in preheated oven and cook for 10-12 minutes. Flip chicken nuggets and return to oven for another 10-12 minutes, or until chicken is fully cooked. Enjoy plain or with your favorite dipping sauce!
Happy Cooking!
~ Amy
Need more ideas for your picky eater?? 
~~~~~~~~~~~~~~~~~~~~~~~~~~~~~~~~