Hello, I'm Nicole the creator and blogger behind
the lovely poppy
. I'm new to the handmade world, but am loving the journey as I move along. from 8-5 you can find me at a desk, but afterwards I'm either enjoying a meal with my husband, playing with my puppy, or creating items in the studio. Thanks for having me, Mariel!
My cell phone case needed a little revamping,
so I came up with this fun and easy project).
Skill level: easy
Time: 30 minutes (2 hours including dry time)
Supplies: cell phone case, cardboard, fabric, mod podge
1) Start by peeling off the old backing (if your case had one)
2) Trace the old backing onto a piece of cardboard. If your case did not happen a backing before, measure/trace your current case
3) Trace onto the back of the fabric
4) Cut out your fabric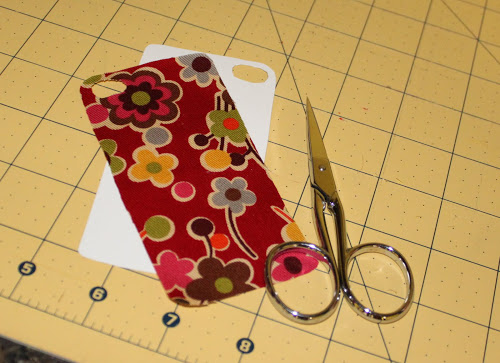 4) Cover the back of the case with a thin layer of mod podge
5) Immediately cover the modge podge with your fabric cutout. make sure to apply smoothly, if you get a few bumps take off quickly and repeat step 4.
6) Allow 10-15 minutes to dry. afterwards apply a thin layer of modge podge over the top of the fabric.
7) Allow 5-10 minutes to dry (it should look almost clear before applying another coat) and apply another coat.
8) TA DAAAAAAAAA!  Wait patiently for 1-1.5 hours before using.
~ Nicole