It's cheap, makes the mess that kid's require, it washes up and it stays outside. What more do you need?? For some reason my kids only want to play outside if I'm there watching them. So, you can often find me parked in a camping chair in the driveway, complete with my laptop, my book, my cell phone, camera, sunglasses and glass of water! I occasionally get up to change poopie pants, soothe crying kids, and pass a few footballs.
The other day the kids were out playing with sidewalk chalk and they came up with a game I thought was so creative…which of course, made me think I should do a post on it and embellish it with some more ideas!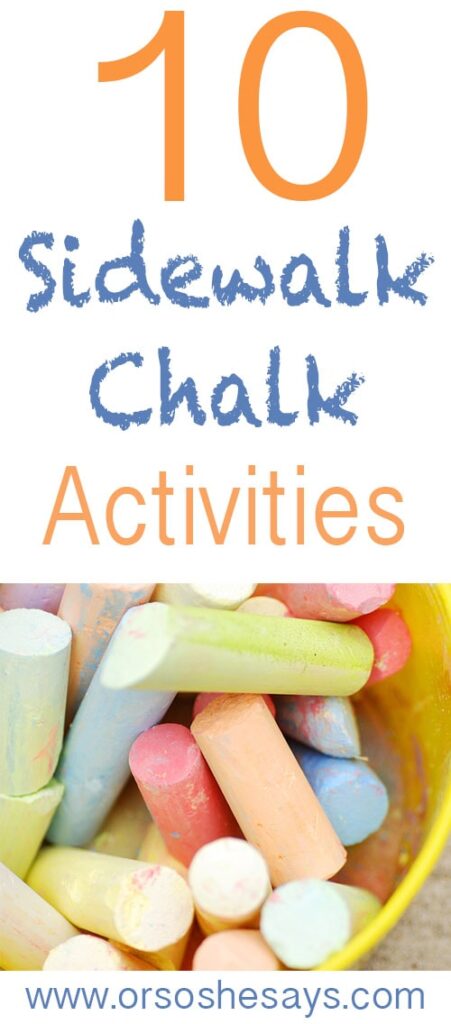 So, here we are, 10 Activities with Sidewalk Chalk :
1. Around Town – this is the game my kids made up and they played for hours! They all drew their favorite places to go and some essentials (police/fire department, grocery store, airport) all over the sidewalk. They spread them out just like a real town. Then they got on their bikes/scooters and "traveled" to where they wanted to go. Or = shout out a list of building and they have to travel to them in the correct order as fast as they can! Or = if they like to play with toy cars, let them use that as their backdrop.
2. Body Shapes – outline each other's bodies on the sidewalk (by laying down). Or = trace their shadows!
3. Win, Lose or Draw – one person draws something until another person guesses. It's then their turn to draw.
4. Hopscotch – Really creative, huh? Okay, move on. I was just trying to get ten!
5. Beanbag Toss – draw circles different distances apart, some bigger and some smaller. Put a number of points in the middle of each circle. See who can get the most. Or = whoever gets to a certain number of points gets a popsicle!
6. Alphabet Games – shout out a letter and either the child has to think of something that starts with that letter and draw it. Or, they have to write the letter.
7. Family Portrait – have them draw the whole family. See if you can guess who's who.
8. Sidewalk Painting – Along with the chalk, you just need a bowl of water and a large paintbrush. Go over the picture with the wet brush to blend the colors…just like painting! Or, make your own paint specifically for sidewalks with: 2 TBS. cornstarch, 2 TBS. water, 4-5 drops food coloring
9. Tic-Tac-Toe – again, obvious. But, maybe…just maybe, it slipped your mind.
10. Maze – draw a maze and have them try to walk through it. Or = draw squiggly lines all over and see if they can follow them with their scooters/bikes/rollerskates.
If you're feeling crafty, try making your own chalk! Instructions, here.