So, we have this faithful follower/friend/superstar/hot mama named "
Reb
" who sent us a request asking for ideas for keeping the tots happy in her travels. "Or so she says…" to the rescue! This is for you, Reb! Thanks for the request, we love hearing what you might need an idea for! (And that goes for the rest of you too!)
20 Travel Games and Activities for Kids:
1. TV – obvious kid entertainer. Wal-Mart sells back-of-the-head-rest dvd players for just over a hundred bucks. Pop a movie in and your set for at least an hour! If you are anti-letting-your-kids-watch-mindless-tv, then think about some educational shows they can watch…Baby Einsteins, National Geographic, etc.
2.
Ipods
– I love my ipod for more than a couple reasons. I have it in my purse at all times, with some kid-sized headphones. It's great for fussy kids in the store, doctor's offices, or car! I go to itunes store and download music, tv shows, and audiobooks for kids. They have so many great ones! They can either listen to it on the headphones or plug it into the car and share the love with everyone.
3.
Name that tune
– either hum a part of a song or use your ipod to play parts of songs and then quickly turn it down. See who can guess the song the quickest.
4. Snacks – Obviously, not a game or an activity…but a sure-fire way to keep kids happy. Keep a gallon sized ziploc bag in your car filled with different types of snacks, include some napkins or wet wipes.
5.
Leapster
– You may have noticed that I am a huge fan of the Leapster Explorer. My kids love playing it and all the games are educational! I would recommend buying a charger to save on batteries.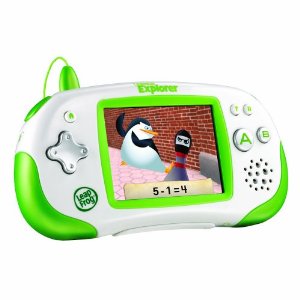 6. Buy some fun
activity books
:
I Spy
,
Where's Waldo
,
Mad Libs
,
Klutz Book of Paper Airplanes
,
ABC Sticker Book
, etc.
7. Get some
fun magnets
(words, letters, Disney, etc.) and bring a big sheet pan in the car and let your child play with the magnets on the pan. The lip around the sheet pan should help the magnets not drop onto the floor or in the crevices of their car seat. Find some magnetic words to create kid's poetry,
here
.
8.
Lacing Cards
– There are lots of cute ones on Amazon like these animals ones by
Melissa & Doug.
9. BINGO game – Make us some BINGO sheets with each square naming something that might be seen in your travels. If you hard laminate these, they will last longer and your kids can use dry erase markers to check the ones they see. The squares might include things like "cow, McDonalds, stop sign, flowers, etc.". You can play blackout or traditional BINGO…or to make it even harder have your child only look on their side of the road, right or left.
10. Add-On Story – My kids love this one! One person starts rattling off a few lines of a story that they just made up, then it's the next persons turn to add onto that story. You'll come up with some real crazies! It's fun!
11.
Pipe Cleaners
– Your kids can bend and twist these into whatever they want! Or you can call out numbers, letters, or shapes and have them shape the pipe cleaners accordingly. Maybe it could be a race…either way.
12.
License Plate Game
– There are so many variations of this game. But, this is the one I like. Find a page size picture of the United States map, hard laminate it, and have your child check off (dry-erase marker) all the states that he sees on the license plates of passing cars. See how many they can find! This is a great one for long car rides. Store these laminated pages along with your BINGO pages in the back of the seat pockets.
13.
Letter Spotting
– Starting with A, ending with Z, try to spot all the letters in the alphabet (race, or not). You can find the letters on billboards, license plates, anywhere!
14.
Would you rather??
– Who doesn't love this game?? My husband and I have come up with some real nutty ones! Basically you just pose a question, would you rather do this or that. The more vile and disgusting, the better. Here's an example: Would you rather stick your tongue in a cow's nose for 5 minutes or swim 5 laps in a pool of pee??
15.
20 Questions
– Classic car game. One person thinks of something and the others have 20 questions to guess what it is. Yes or No questions only.
16.
Family Fun Printables
– The Family Fun web site has a handful of travel game printables, found
here
.
17.
Life Stories
– Pick one of the cars traveling next to you and together make up a story about who they are, where they are going, what they are saying, etc.
18.
The Quiet Game
– My personal favorite. Everyone has to be perfectly quiet and the first one to speak is "a monkey for a week".
19. "I'm going on a trip" – The first player starts by saying "I'm going on a trip and I brought my…" and they finish the sentence. The next person has to repeat what the first person said and then add on something. Everyone continues this, repeating everything the players said before them. The point is to see how many rounds you can do without forgetting what everyone said.
20.
Game Games
– There are tons of fun travel games that you can buy. Amazon has a whole bunch. My kids love
Guess who?,
but there is also Memory, Blokus, Trouble, CandyLand, Clue, everything you can think of…bite size.
Since only amazing, genius women (and a couple manly men) read this blog, I'm sure there are more ideas floating around out there. Feel free to share! We love when you do!