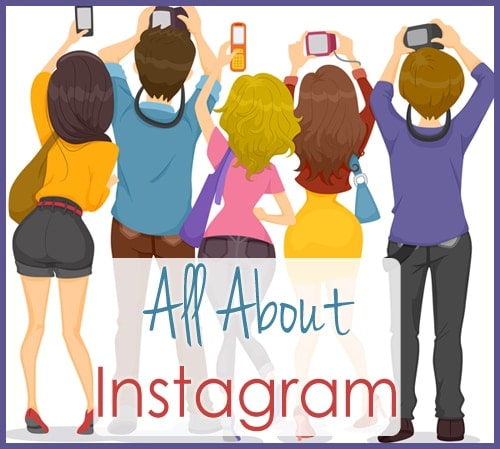 Who loves Instagram?!? I must admit, it took me a while to warm up to it. At first, I was thinking, 'Ugh… do we really need one more social media site and app?' Soon enough, I was hooked. Why?? Well, it makes sharing and documenting the daily haps in your life so easy. How often do you whip out your huge DSLR to snap a picture of the giant calazone you just ordered? How often do you have your camera on hand when your kids are lined up on the floor doing planks? Or, when your husband is giving a 'how much toilet paper to use' lesson to the family? Hardly ever, right? But, the chances are pretty good that your handy-dandy phone is nearby to snap a quick photo. (By the way, those were all true stories.)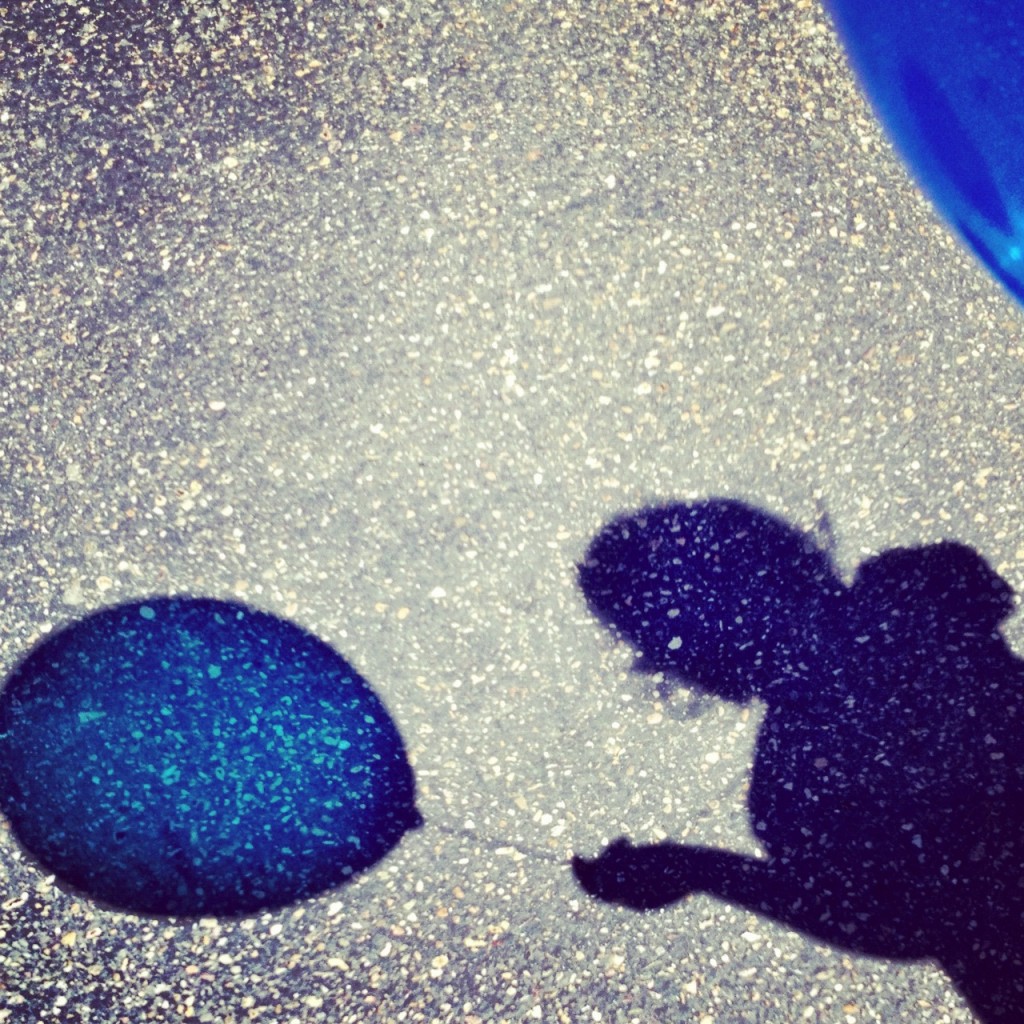 I've always loved this picture I snapped of my little girl holding a balloon, walking out of the grocery store. I love that the shadow of the balloon is in color… no editing!
That's where Instagram comes in… snap a photo, and with the click of a couple buttons, it's being shared with all of your family and friends AND you have a memory of 'the little moments in life' saved forever. Any time you're ready, you can take those pictures and make something really special with them. There are lots of online programs for creating books and fun ways to make collages. I see them all the time on Pinterest!
Besides loving that I can share the pics with family and friends and having a fun way to save those moments, the third reason I heart Instagram is because I can easily share the pics on Facebook! I mean, super easy. I literally never say anything on Facebook (my personal account.) I don't know what my problem is, but I can't think of anything to say! I typically tell my little children 'Happy Birthday' to their face, and I don't think the guy that cut me off on the highway is really reading my account. So, beyond that, I'm speechless. Maybe I'm boring. But, I would be happy to share some pictures of the happenings in my life. I've moved around a lot and love staying in contact with my old buddies and my family across the country, and most of them are on Facebook. True, I can upload pictures to my FB, but it's a zillion-million times easier to click the 'send to Facebook' button when I'm sharing on Instagram. Love it! To me, it's actually a little more fun to SEE what's going on with my friends and family, than to just read a short sentence about it. Instagram rocks. Oh, and super cool… Instagram just announced the ability to post short video clips. Just make sure you download the update to get in on the fun.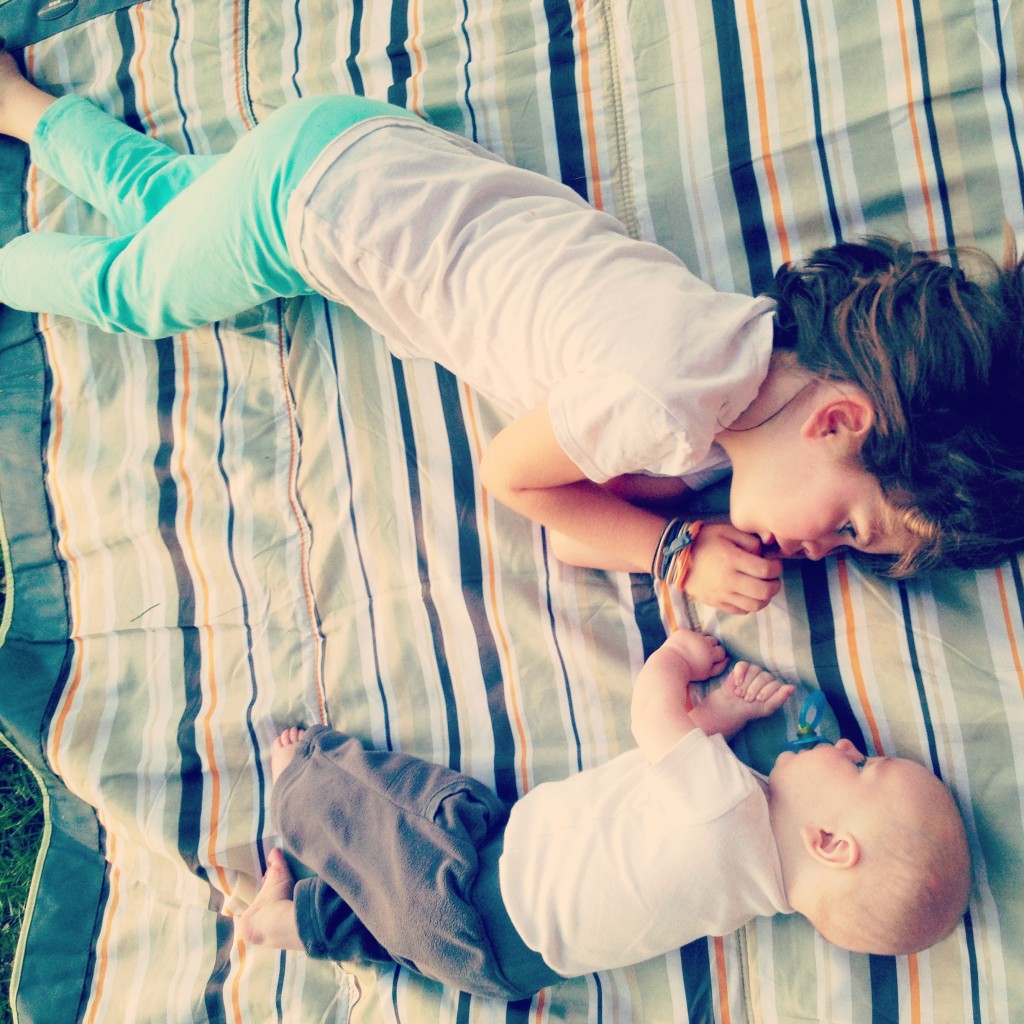 This was a recent pic of two of my babes, taken while at my son's baseball game. I told you about it before, but there was complete chaos around me (a.k.a. screaming child that just woke up from a nap), so I loved spotting this moment of complete serenity, right next to me. Five minutes later, I was packed up, sitting in the car with the anonymous screaming child, waiting for the game to end.
Another neat feature on Instagram, is the ability to use hashtags. For those that don't know, a hashtag is a way to label a picture and be able to find other pictures that are related, in some way. So, if you snap a picture of your favorite lemonade, you write your description, and next to that, give it a hashtag, which is the pound sign, followed by the label. So, maybe: #lemons, #summertime, or #drinks. Or, maybe all of them! Whatever you want. So, next time you post something similar to lemonade, you can use the same hashtag, and your pictures will be linked together…all your lemonade pictures will be in one spot. Does that make sense? Or, if it's a popular hashtag, other people might be using it, as well. So, you can see who else is posting pictures related to #lemons, and they can see yours. It's actually a fun way to gain new followers or find people to follow with similar interests. But, that's another post.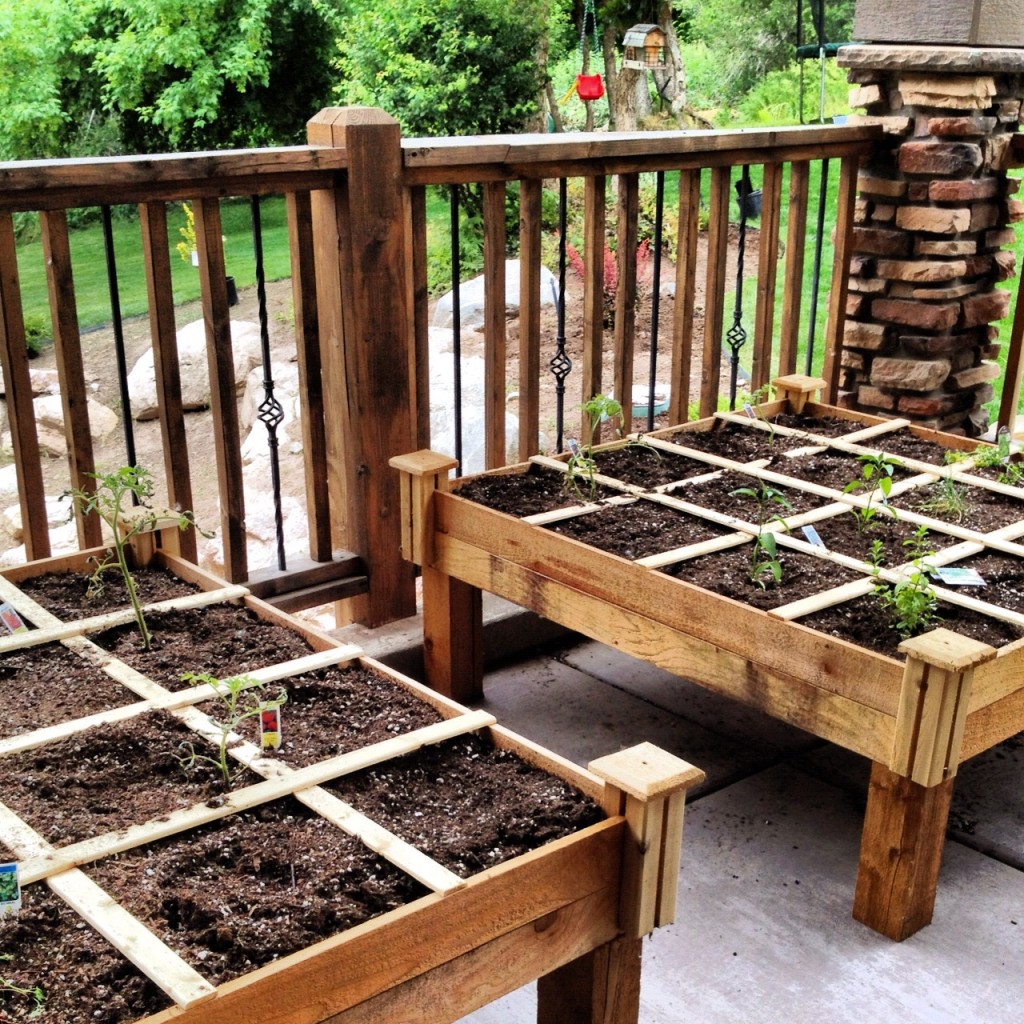 I love this older picture of the elevated garden boxes my husband put together for me. I had been longing for them for who knows how long, and I love that he would do that for me.
Of course, Instagram isn't just about sharing your own pictures, it's about following your friends! It's so fun to see what's going on (usually within minutes) of my friend's lives. I can see them splashing in the pool, riding a roller coaster, relaxing on the beach, you name it. It's a special way to stay connected. See a picture you love? Give it a 'like' or comment. Any time you want to notify someone (maybe they are in the picture you are sharing, you think they will want to see your picture, or you are responding to them), be sure to put the at symbol @ in front of their user id. That will let them know you mentioned them. If you're mentioning several people and don't want a big mention-list in your description, Instagram has a new tag feature that is less invasive, but still notifies people that you want to show them your post.
Wondering which of your Facebook friends are on Instagram?? Instagram will totally help you out with that. Go to your profile and click on the settings icon in the top right corner, there will be a option to 'find friends.' You can also try searching for friends, in the designated search box.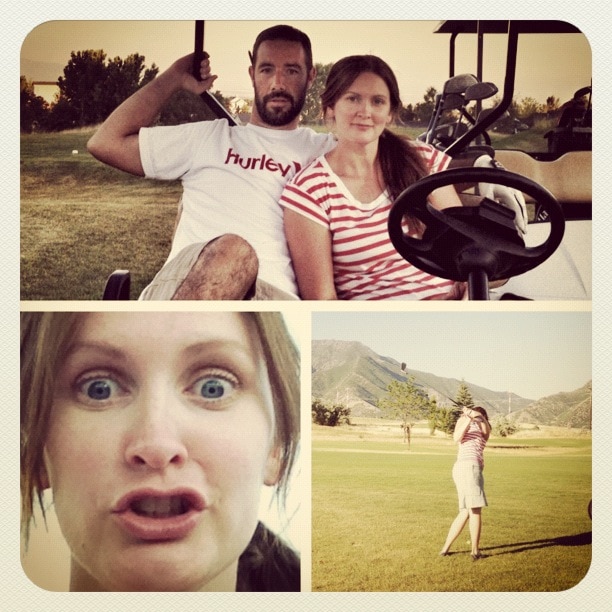 I love this collage that I shared on Instagram. The collage was put together with the app Diptic. But, it captures something that my hubs and I love doing together, golfing. Those rare moments where we line up a babysitter and go golfing are some of my absolute favorites.
Cool stuff, right?? Sign up, you'll love it. You can find the Instagram app in the app store. Download and you're ready to go! And, as an awesome extra bonus, once signed up, you'll be rearing and ready-to-go when the 'Loving Life…' Instagram project is announced on the blog this coming Monday! It will give you even more motivation to start snapping away, when you win some rad prizes. Stay tuned!
…now, some of my best blog friends have more to share with you about Instagram:
Instagram Basics & Why Instagram – Right here, baby.
Great Apps to Use With Instagram – Your Homebased Mom
10 Ideas for Instagram Awesomeness – The Crafting Chicks
Growing an Instagram Following – Lolly Jane
Be sure and follow these cute gals on Instagram along with me!!
@orsoshesays
@craftingchicks
@yourhomebasedmom
@lollyjaneblog
@craftykirsten