Hello! My name is Natalie, and I've been asked to do a guest post this fine Sabbath morning. I'd link you to my blog if I still had one, but I cut myself loose last week. Big thanks to Mariel for giving me the opportunity to write again!
I've known Mariel since we were little girls back in New Mexico bouncing on the trampoline, playing with Barbies, watching Faerie Tale Theatre, and eating Mariel-shaped birthday cake made by her amazing mother (Hi, Sister Sunday!).
Now I live in Houston with my husband, Neil, and two kids, ages 9 and almost 8.
Neil and I were discussing the other day how we've almost had our kids for half the time they will spend in our home. It's both a sobering thought and an exciting one- only ten more years and we'll be alone again! Woot woot! But only if they actually leave which is what we raise kids to do, right?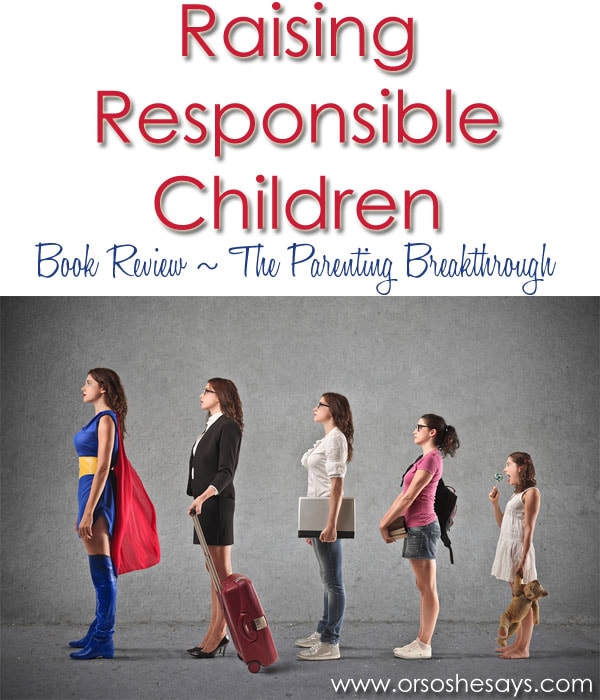 Parents in the animal kingdom prepare their offspring for life on their own, and then push the kids out when they reach maturity. There's no staying in the cave or the nest- out you go! We humans can learn a thing or two here.
We have 18 years to turn our kids from helpless…
… to independent and self-reliant.
Do you think he's on the phone asking mommy for money? I think not. Unfortunately, the 18th birthday is not a magical event that automatically produces a prepared, responsible adult. Did you get that memo before you turned 18? I didn't, and I got married nine months later. Scary!
I don't know about you, but I felt very lost when I left home. I could make a meal, but I had never shopped for food. I could drive, but I had no idea how my car worked. I had a job, but had never had a checking or savings account. I was cared for growing up, but I was certainly not trained for real life. I want my kids to be ready.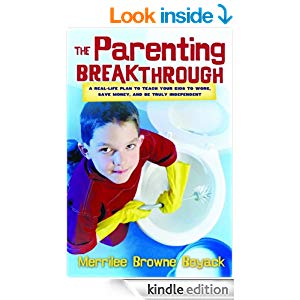 Enter The Parenting Breakthrough by Merrilee Browne Boyack.
She and her husband recognized the need for a clear-cut plan for teaching their four boys life skills. You wouldn't leave your finances to be figured out as you go along without a plan, you look for cash loans options when you are in a crisis, so why do we do it with training our children? This book covers everything your kids need to know before they go out into the world alone; from cleaning windows and toilets, to making meals, to investing and saving money, to physical and spiritual development.
Raising Responsible Children:
Starting at age three, The Plan is instituted and worked on for the whole year. Every year new things are added to The Plan. The three year-old Plan looks like this:
Dress self
Use toilet independently
Begin to brush teeth
Pick up toys
Say prayers
Clean glass tables and windows
A thirteen year-old Plan looks like this:
Sew simple items
Shop for clothing
Find bargains
Plan a party
Have own recipe file
Shop for groceries
Care for plants
Keep a simple budget
Pay household bills
Use ATM
Certify for CPR
Type without looking
Go to movies without a parent
Understand prescriptions
Learn meat-handling rules
Make and keep doctor appointment
Keep personal calendar
Understand filing system
Use common computer programs
Order something by phone, mail and internet
Check fluids in car
Attend church activities
Paint interior and exterior of house
Babysit
Mend clothing
You get the idea. By the time the kids are seventeen, they are prepared with knowledge of all the important things. You will, of course, make your own adjustments to fit your family, and some things will have to be taught by other family members or friends with certain skills or talents.
The whole book, besides being a treasure trove of knowledge and great ideas of how to implement and stick with The Plan, is like having a conversation with a hilarious good friend. It is so much fun to read! I've read it many times, and as my children grow and change, I will read it many times more. I should mention that there is much, much more in this book than I could possibly cover here (like values, modesty, and consequences).
I read a quote once that a mother who does everything herself is a lazy mother. Harsh, but true.
So what are you waiting for? Start training those offspring!