Hi! My name is Beverly and I blog at
Flamingo Toes
. I'm so excited to be here at "
Or So She Says…
"!
I have only been blogging for a few months but I have loved every minute of it. I enjoy sewing, embroidery, home decor crafts, and now jewelry! I would love for you to stop by sometime – I try and make my tutorials seem like we're just getting together to hang out, craft, and have a good time.
I also love a good knockoff – and Anthropologie is such a great source to steal ideas from for inspiration. One of my favorite things to do late at night is browse through the Anthro site with a cup of hot tea. Gets my brain going.
Much to my delight, Anthro just added a darling little fabric and bead necklace…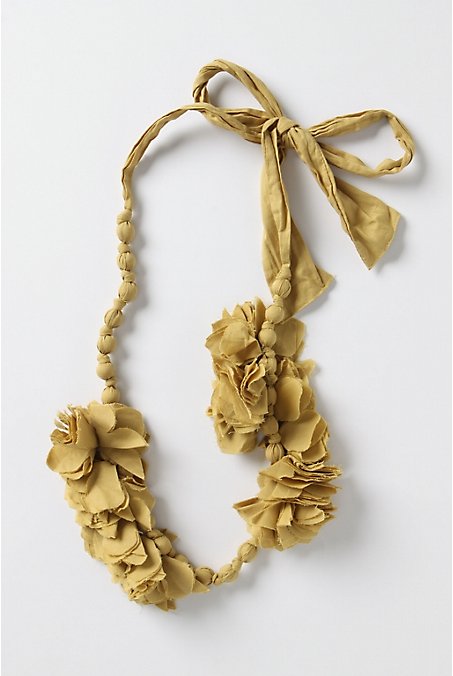 I love the style of this necklace but the color, not so much. I don't want anything named "Guacamole" for the color hanging around my neck. I don't have the style to pull that off.
Second, according to the description, this little baby is 72″ long. That would go down to my knees. No thanks. Never fear, Anthro-Knockoff Girl is here!
Ok, that was weird. But the necklace that resulted is pretty darn cute, and a much better fit for me in size and color. The beauty of creating things ourselves – we get it the way WE want it.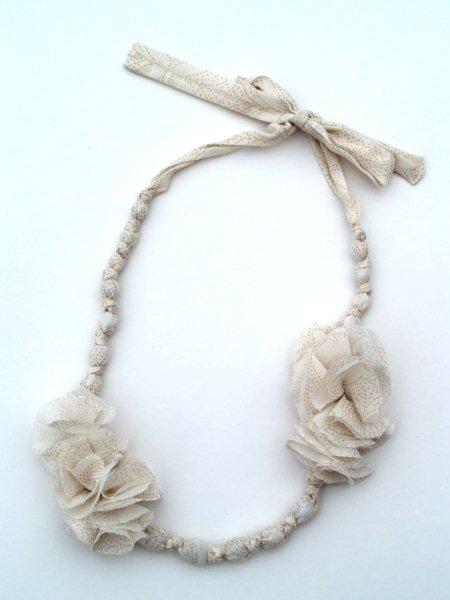 One of the other things I like about this necklace is that you don't need any jewelry hardware or tools. Just a sewing machine. Ready to get started? This one won't take long, I promise!
Here's what you'll need: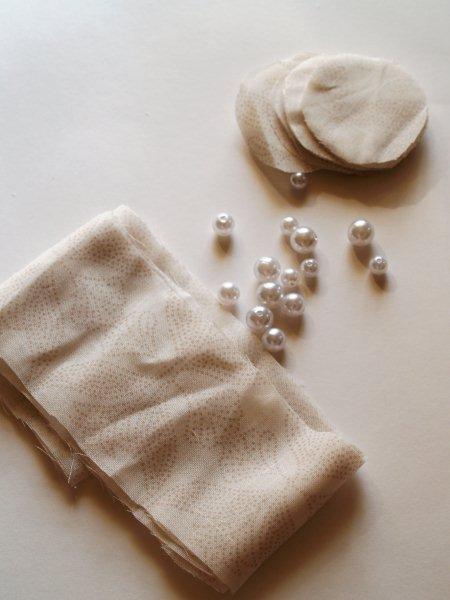 – Fabric
for necklace and ruffles – I used a sort of sheer fabric I had on hand
– Beads – 3 sizes. Buy the cheapies – they don't show.  (The largest bead I used was 1/2″ diameter, then two smaller sizes.)


– Thread to match
Cut your fabric into long pieces – measuring a total of around 90″ long by 2″. Mine were 2 pieces that I sewed together in the middle. That's no big deal, we'll just hide the seam in a knot. Cut out your circles – 2 1/2″ diameter. I used 22 but you would want to cut out a few more in case you want it a little rufflier. Do any piecing of your long strip first. Fold the strip in half, longways, and sew together using a 1/4″ seam. You might need to adjust this if you are using different sized beads. You want your casing to be just a little wider than your largest bead. Get ready to turn your casing inside out. You can either sew a ribbon in one end, then as you sew your casing, keep the ribbon running through the center so that you can just pull the ribbon to turn it inside out.  
Or you can pin a safety pin in one end and feed that through the casing.
That is what I did.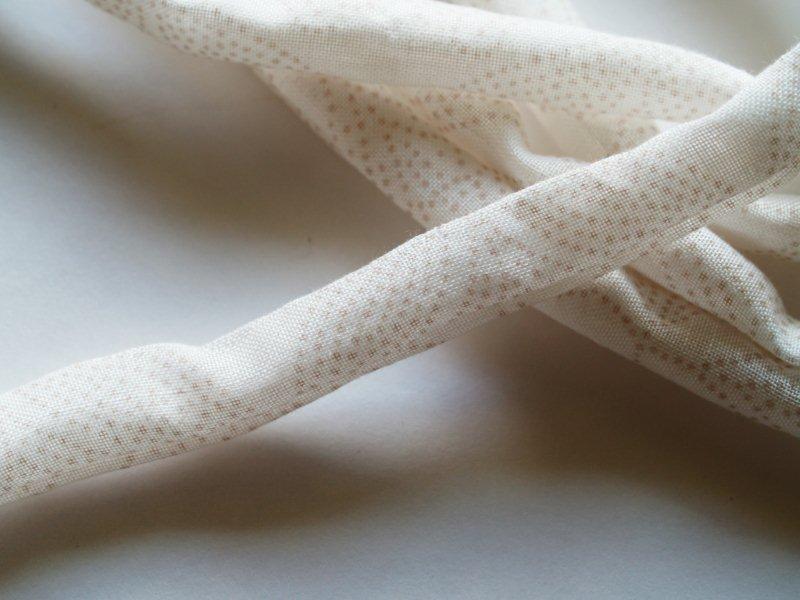 Place a large bead inside the casing. Fold your tube in half and move the bead to the bottom center. Make a tight knot on either side of the bead. If you have a seam in the middle, try and put your seam inside the knot so it doesn't show. You might need to twist the fabric a bit as you knot it to keep the knot as small as possible.
 Add a couple large beads on either side of this bead, knotting after them.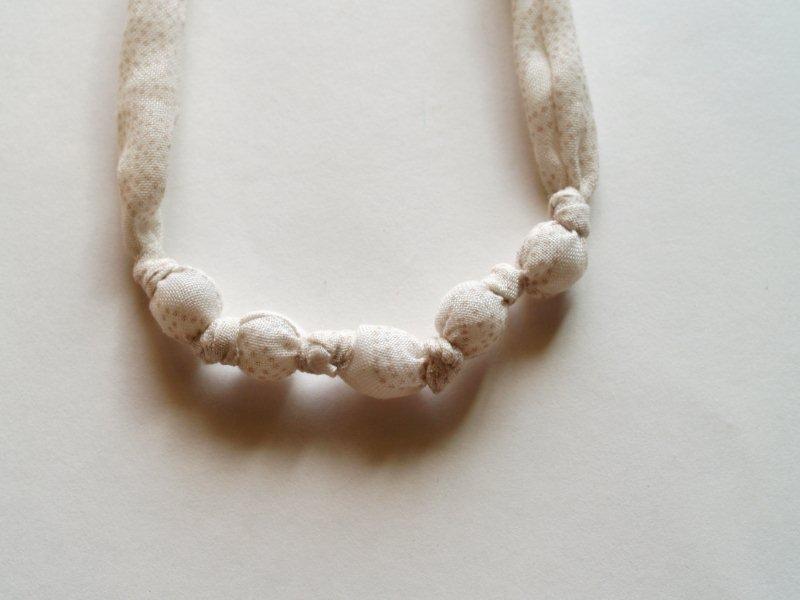 Continue adding beads on each side of your center bead, keeping the number of beads on each side even. Here is the pattern I used – feel free to do your own thing. 😉 Center Bead: 3 Large Beads on either side of this: 6 Medium Beads on either side: 3 Small Beads on either side. So, 7 Large Beads, 12 Medium Beads & 6 Small Beads for a total of 25.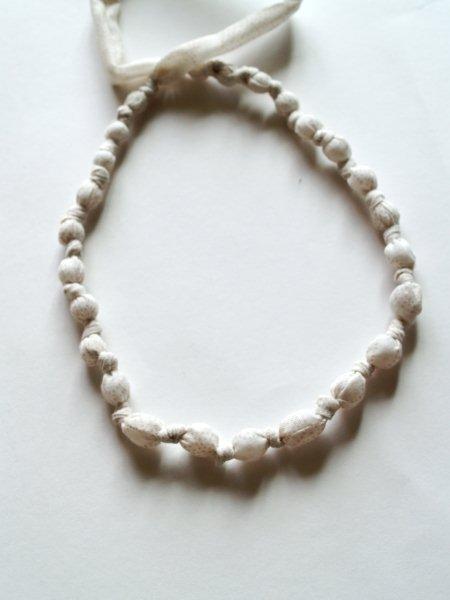 Turn the ends of your fabric tube to the inside of the tube – sew the ends closed. Time to sew on your circles! Start by folding a circle in half, then in half again.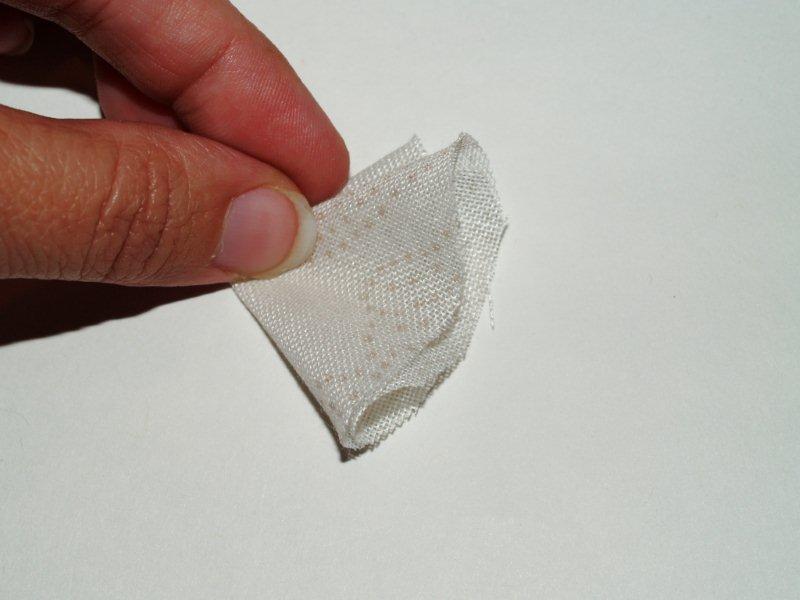 (In a weird optical illusion I actually look tan here. Must be the flash.) Sew the corner of the fold to one of the knots on the right side of the necklace. Mine is started on the knot below the 5th bead on the right side.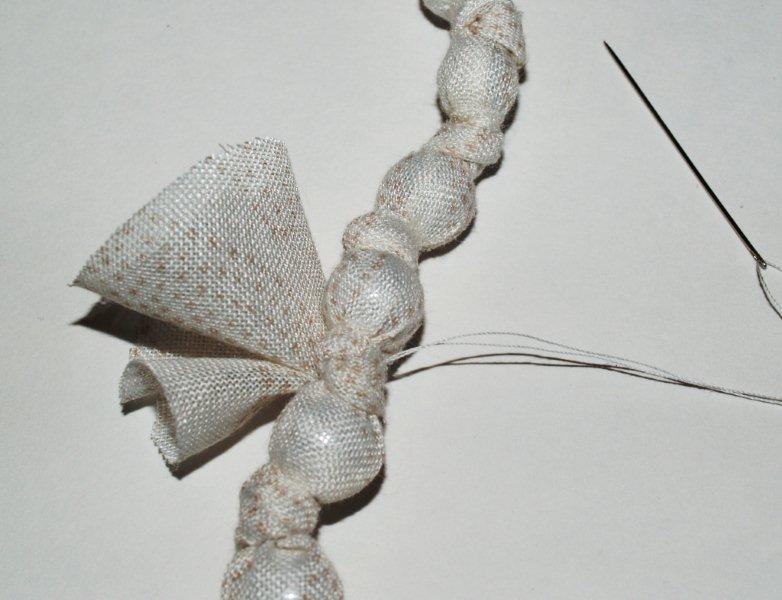 Keep sewing folded circles to the fabric over the beads and the knots, keeping them to the front of the necklace so it lays flat. Sew about 12 circles over a space of three beads. Change directions that the ends of the circle point to fill in the area.
Repeat this process on the lower left side of the necklace – start sewing below the 8th bead down on the left side, covering 3 beads of space again.
To finish off the necklace and give it a little more of "store-bought" look, I pressed the ends of the necklace that didn't have beads into folds, like the Anthro version. I also kind of "smooshed" up the ruffles, so they weren't so puffy.
Try the necklace on and tie it to the length you'd like. Show off to everyone else so they can see how cool you are.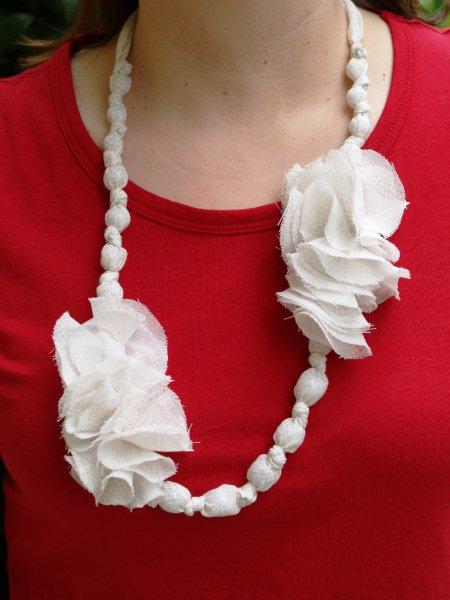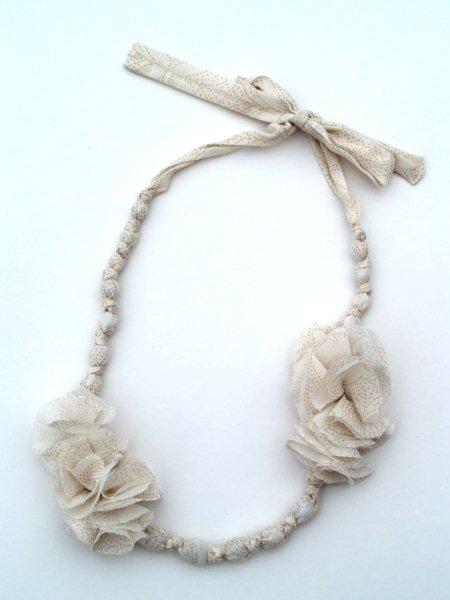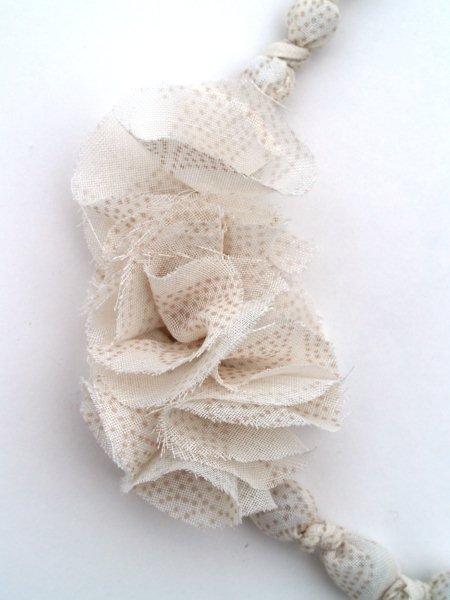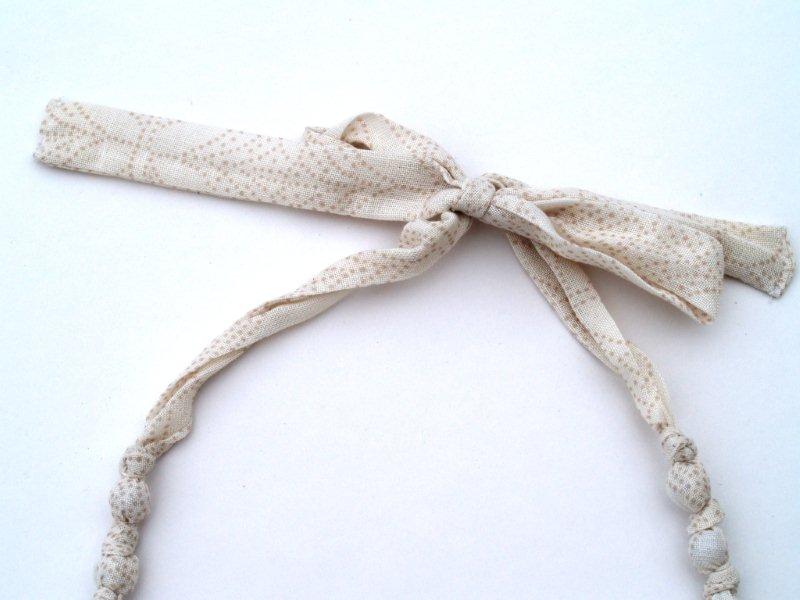 I made the necklace with what I had on hand – but the bead package I used was originally about 3 dollars and if you bought the fabric you'd need less than a 1/4 of a yard. A little better than $38 huh??? 😉
I hope you enjoyed the tutorial!
~Beverly