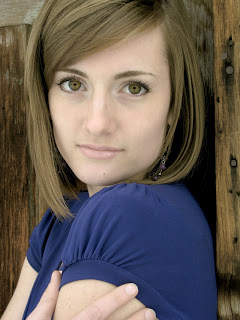 Hey everyone! We should probably start off this post with getting ourselves acquainted—My name is Mariah. I'm Mariel's sister/ babysitter/employee and Jessica's cousin. I'm eighteen and I love playing soccer, reading, playing the piano, etc. I'm so excited to get to write on this blog! Checking out what's new on here has become part of my daily "computer routine": Check my e-mail, check my Facebook, check "Or so she says…". OK, now that we've established who I am and the awesomeness of this blog, let's get started!
Today I'm going to talk about what I've learned from a little book called, 
How To Win Friends and Influence People
by Dale Carnegie ($15).
Some of you might have already read this, but this is the kind of book that benefits you EVERY time you come back to read it. Now you might be thinking, "Is this girl some sort of loner who can't get friends?" (Maybe you're NOT thinking that, but when I was reading this that's what I thought people would think–being the teenager I am) However, despite what you may or may not think, it is a wonderful book!! (And I do have friends by the way, but everyone could use more!!) It teaches you how to interact with people in a way that will really strengthen your relationship with them.
Here are the basics of the book:
Fundamental Techniques in Handling People
1. Don't criticize, condemn, or complain.
2. Give honest and sincere appreciation.
3. Arouse in the other person an eager want.
1. Become genuinely interested in other people.
2. Smile.
3. Remember that a person's name to that person is the sweetest and most important sound in the English language.
4. Be a good listener. Encourage others to talk about themselves.
5. Talk in terms of the other person's interest.
6. Make other people feel important– and do it sincerely.
How to Win People to Your Way of Thinking
1. The only way to get the best of an argument is to avoid it.
2. Show respect for the other person's opinions. Never say, "You're wrong".
3. If you are wrong, admit it quickly and emphatically.
4. Begin in a friendly way.
5. Get people saying, "Yes, yes" immediately.
6. Let other people do a great deal of the talking.
7. Let other people feel that the idea is his and hers.
8. Try honestly to see things from the other person's point of view.
9. Be sympathetic with other person's ideas and desires.
10. Appeal to the nobler motives.
11. Dramatize your ideas.
12. Throw down a challenge.
How to Change People Without Giving Offense or Arousing Resentment
1. Begin with praise and honest appreciation.
2. Call attention to people's mistakes indirectly.
3. Talk about your own mistakes before criticizing the other person.
4. Ask questions instead of giving direct orders.
5. Let the other person save face.
6. Praise the slightest improvement and praise every improvement.
7. Give the other person a fine reputation to live up to.
8. Use encouragement. Make the fault seem easy to correct.
9. Make other people happy about doing the thing you suggest.
Each one of these little suggestions he gives is obviously described further in depth in the book and comes with many stories that prove its truth or success when applied.
One thing that dear Mr. Carnegie talks about is how, as people, we are naturally self-centered. The technique that we need to master so we can win friends and influence people is to
stop thinking so much about ourselves
and start thinking more about the other person—which can be super hard!
Let me tell you a little experience I had with trying to apply some of the "Six Ways to Make People Like You" principles:
Once upon a time, I was at a church activity and we were planning on going on a bike ride. This wasn't just any bike ride, however; it was a fourteen miler! As we began the treacherous journey, (which turned out to be not so treacherous—it was mostly just a flat dirt trail) I found myself riding next to a girl to whom I was not so ardently acquainted with—let's call her Alexis. I struck up a friendly conversation, but as we were talking, I thought of the "Six Ways to Make People Like You" principles. "Why not make her a friend!" I thought; so I evaluated what I knew about this girl, Alexis. I knew she loved horses and that she was a cowgirl—true blue through and through.
Therefore, instead of talking about school and dreadful things like that, I started talking about horses! Now what did I know about horses? — Absolutely nothing. However, I found that I didn't have to know anything about horses (or roping or barrel racing or branding or fairs or horse shows or breeding) at all to have a conversation about them for an hour or so. I just asked her every question that came to mind—What types of horses are there? What contests do you compete in? What are the rules of barrel racing? Etc. It was really fun and challenging to see how long I could keep her talking; not just talking but talking about something she loved. At the end on the ride, we got off our bikes and rubbed our sore bums. Alexis and I rode home in the same car and talked the whole way there. I felt like I had accomplished something totally worthwhile; I'd made a new friend! "Alexis" and I are still friends to this day, and it was as simple as following a few little tips from Dale Carnegie.
"I shall pass this way but once; any good, therefore, that I can do or any kindness that I can show to any human being, let me do it now. Let me not defer nor neglect it, for I shall pass this way but once."
         -Ralph Waldo Emerson
What better time is there than now to start improving your relationships with others? Maybe today we can work on just smiling more, or telling someone that you appreciate or admire them. I'm far from a having these ideas mastered, but I know that if you'll apply them in your life you'll notice a difference, because it's happened to me! So, get out there, start experimenting and have fun!
– Mariah