Hi Or So She Says readers! Becky from Bite of Delight here, and I'm so excited to share this yummy treat with you!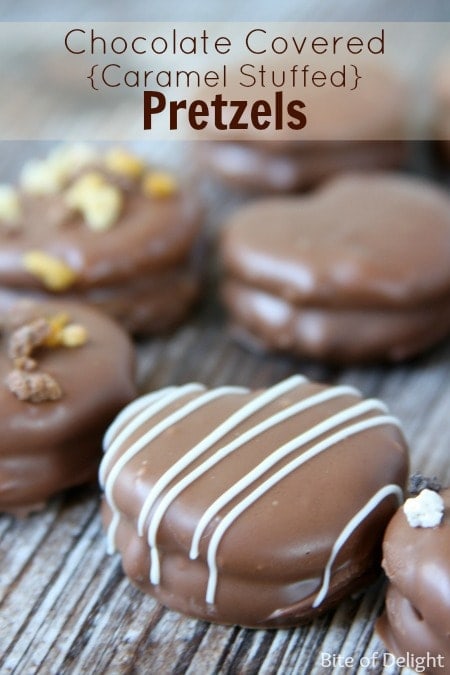 I have a slight obsession with coating things in chocolate, so it only made sense to come up with today's treat…Chocolate Covered Caramel Stuffed Pretzels!  The combination of sweet and salty and crunchy and chewy is my new favorite thing.  These are dangerously addicting and hard to put down!  They're also easy peasy to put together and can be made ahead of time.  So basically, this is perfection.  I hope you love them as much as we do!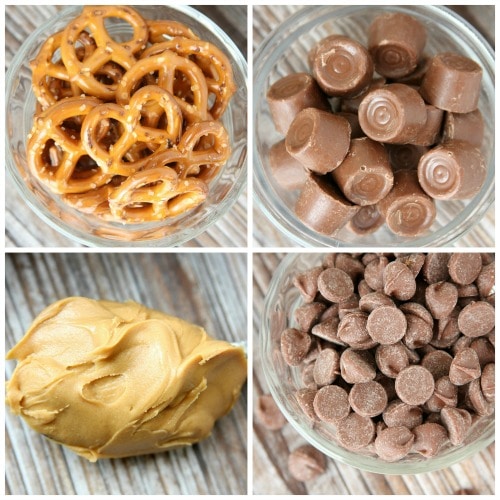 You only need four simple ingredients to make these treats!  I always have pretzels, chocolate chips and peanut butter in my pantry, and I have Rolos most of the time (I buy them whenever they go on sale for holidays).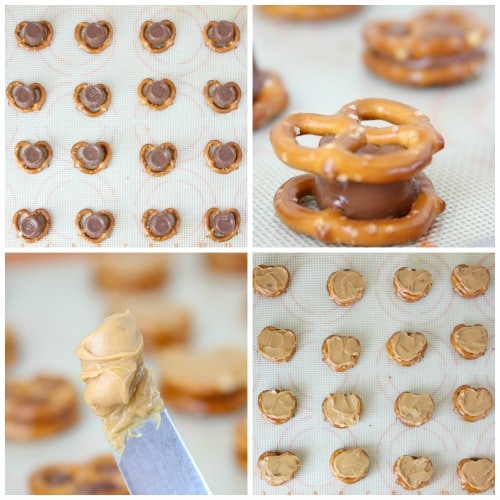 These are so simple to put together.  Put half of your pretzels on a parchment or silicone mat-lined baking sheet, put a Rolo on top of each pretzel and put in the oven for a minute or two.  When the Rolos are soft and melted, place another pretzel on top of it and press down on the pretzel to sandwich the Rolo in between.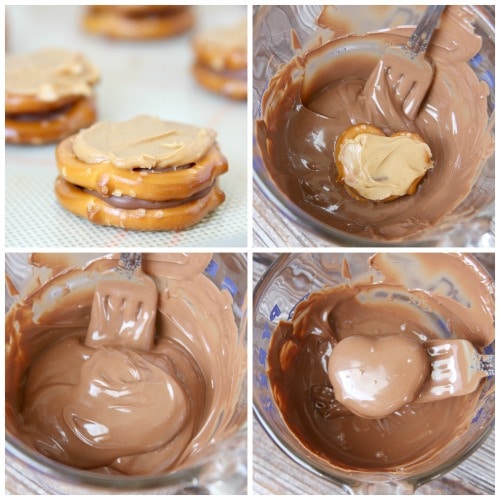 When the Rolo has hardened, spread some peanut butter on top and dip in chocolate.  Be sure to gently tap the fork against the side of bowl or measuring cup to remove excess chocolate and air bubbles.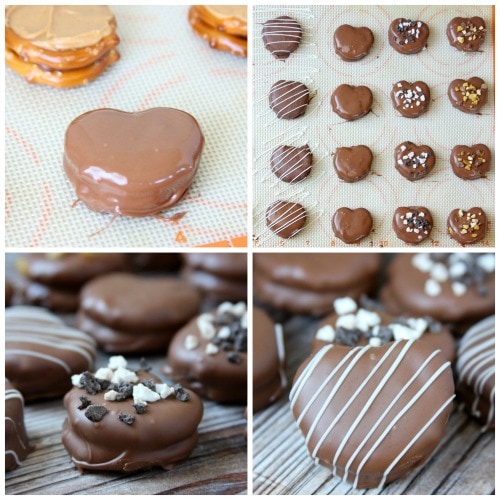 Just put the chocolatey pretzels back on your parchment or silicone mat, decorate (or leave plain), and let harden.  You can put them in the fridge to harden them more quickly, but the chocolate *may* bloom a little (that's the white stuff that you sometimes see on chocolate, which essentially means the fat or sugar has come out of emulsion).  It's totally safe to eat, but if it's not the look you're going for, you'll be sad to see it on your beautiful treats.  This doesn't always happen, but it can, so just be aware.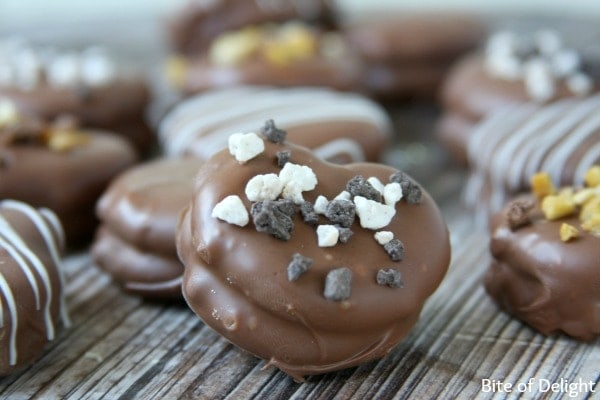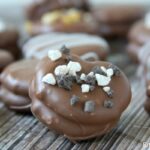 Chocolate Covered Caramel Stuffed Pretzels
Ingredients
48

pretzels

24

Rolos

unwrapped

about 1/4 cup peanut butter

1

cup

chocolate chips

melted

Optional:

1

oz

white chocolate for drizzling

sprinkles

small candies

crushed pretzels

sea salt
Instructions
Preheat oven to 350 degrees. Place 24 pretzels on a baking sheet. Place an unwrapped Rolo on each pretzel, and put in the oven for 1.5-2 minutes (or until chocolate is glossy and soft).

Place a pretzel on top of each Rolo, and push down until chocolate is evenly spread between pretzels. Let chocolate harden, place in the fridge for 15 minutes if necessary.

Spread a small amount of peanut butter on top of each pretzel sandwich.

Melt chocolate chips over a double boiler or in the microwave*.

Dip each pretzel sandwich in the melted chocolate, and place on parchment or a silicone mat to cool. If decorating with sprinkles, add them before the chocolate hardens. If drizzling with white chocolate, let harden first.

Enjoy!
*To melt chocolate in the microwave, place the chips in a glass bowl or measuring cup.  Heat for 1 minute, then stir.  Heat in 15 second increments, stirring in between, until chips are mostly melted.  Stir to finish melting any remaining lumps.  Be careful not to overheat.

For some of my other favorite thing to dip in chocolate, check out these recipes:
15 Minute Thin Mints  //  3 Ingredient {No-Bake!} Twix Cookies