Food Storage! I know what you're thinking…food storage sucks, thus this blog sucks. You're so harsh. But, I totally know where you are coming from. It seems so overwhelming and easy to ignore. But, frankly…It's too risky to think we can rely on the government or that it will never get to the point where we have to use it. All families should be self-sufficient.
–
Think how safe you would feel to know you and your family are prepared for the worst of times. This is a project I have been working on and I have actually started to enjoy it. So, I decided to share some of my personal tips and ideas to help you get started or further things along…But, to make it easier for you I am going to break it down into assignments. If you haven't started your food storage, this will make it easy. Otherwise, if you have…maybe you could get more organized! Or, maybe you're just perfect. Either way, let's get started.
–
Here's your

How to Start a Food Storage

assignment for the week:
–
1. Find a space for your food storage. It could be one specific room, or many little spaces. (Under the stairs, under beds, linen closets, top of your kid's closets, etc.)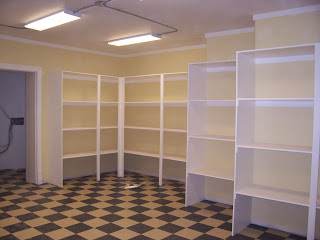 Wouldn't this be nice? It's not mine, but the hubs did build it…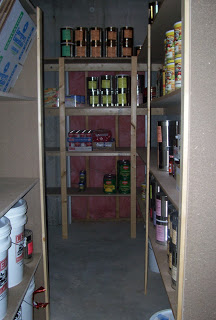 Here's mine…dark and gloomy…and, a work in progress! But, you don't even need this much space…
–
2. Buy a binder at the store
–
3. Go to this Food Storage Calculator and fill in the info for your family
and it will generate a report for you to print off that will tell you just how much food you need to store for a year's supply. Print it and put it in your binder.
–
4. Type up a list of everything you think your family will need, besides food, for a year's supply. For example: Toothpaste (15 tubes), Deodorant (12 man/12 woman), Bleach (6 gallons), Baby Formula (12 cans), Shampoo (12 bottles), etc. I even include hair gel, because seeing my curly hair without gel in it would make my family lose their appetite and all the food storage would be for nothing. Print the list and put it in your binder.
–
5. Start your water supply.
Obviously, water is the most important thing. We should have a two week supply which is 14 gallons per person. You could buy the big blue water barrels or one of my most favorite things is sold at
http://www.emergencyessentials.com/
. It is a box kit that comes with 5 boxes that hold 5 gallons each. They are so easy to stack on top of each other and they take up significantly less room than storing water in gallon jugs, pop bottles, etc. If the water comes out of your sink, and it is city treated water then you will not have to put any additives in it. Just fill up the
boxes
.