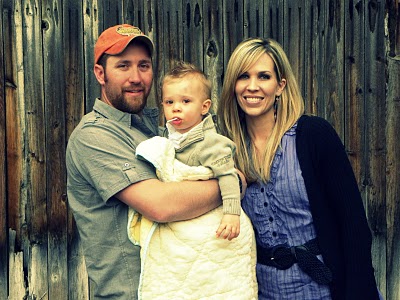 Hi! My name is Holly. I'm excited for the chance to post about my very favorite hobby on my very favorite blog. Imagine that, my two favorite things all in one. What a life.
I have been married for 4 years to my wonderful husband Casey and I have an adorable little boy named Tyler, he is 18 months old. While I spend most of my time chasing after a now mobile little boy, my mind is always reeling with ways I can fix up my old, but oh so cute, little brick bungalow home. With every square inch of our home needing remodeling, most of our money has been poured into that leaving me pinching my pennies when it comes to decor. That being said, my home away from home is a good old thrift store. I think it's safe to say that we all love a good bargain. Thrift stores can often hold unique treasures just waiting to be found. Using your minds creativity to visualize the potential of an item can be very exciting and rewarding and you'll save a few bucks in the process. I have often heard it said to train your eye to see what the item can be rather than what it is. I always try to keep this in mind while shopping and at times I am quite amazed at what can be found when I really put my creativity to use.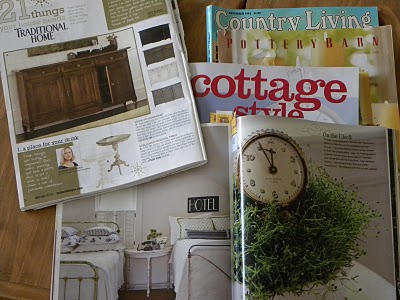 Most of the time we find home decorating ideas from the pages of magazines and catalogs. Save those pages, organize them in a folder or binder and refer to them before you go looking for your treasures. I have a three ring binder with dividers for each room in my house and I put all the images I've torn from magazines/catalogs in it to help remind me just what I'm looking for. It's easy to come home with more items than you have need for or have room for. Keeping track of what you are in the market for really helps keep things under control.
I loved the old clock in the picture above and I found one similar at a thrift store for $2. All it needed was a new battery. Awesome.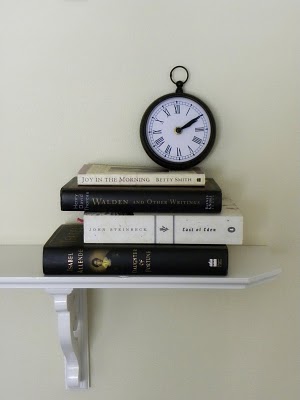 Thrift Store Items with Potential
Furniture
It's no secret that a little paint can work wonders on a lot of things. Just about every piece of furniture in my home has been give to me or I've found it at a thrift store. Slowly, but surely, I'm transforming every piece with sandpaper, paint and new hardware. Use your creativity to visualize the potential of the item. How would this table look refinished? What if I painted it a fun new color? What if I cut the legs down? Don't underestimate even the ugliest piece of furniture. It just may have potential to be amazing.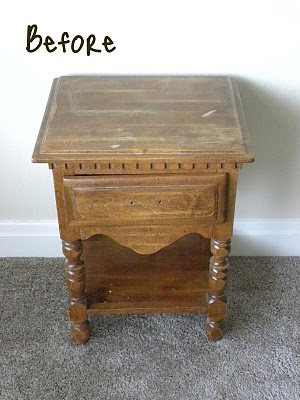 I found two matching, and very unattractive, end tables in need of some TLC.
A little green paint, sanding and new hardware gave a once very boring piece of furniture a new look.
Lowe's offers $2 paint samples and I easily painted the two end tables and had paint left over with this can. Great deal.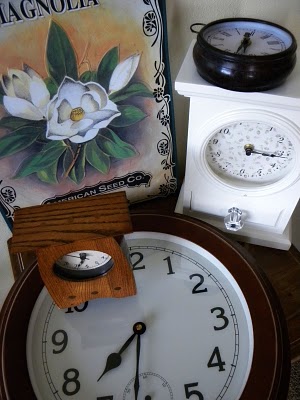 I love clocks. I have at least one in every room in my house. I have often found very cute clocks in thrift stores. I purchased all four of these clocks for a grand total of $5. They all just needed new batteries and they are now ticking away reminding me that with this many clocks, I have no excuses to be late.
Thrift stores have many, many books. I buy them, I read them AND I use them for part of my decor. Here I removed the dust jackets and stacked them on top of an old $3 jewelry box I found at a thrift store. I was hoping someone had accidentally left a diamond or two inside. No such luck.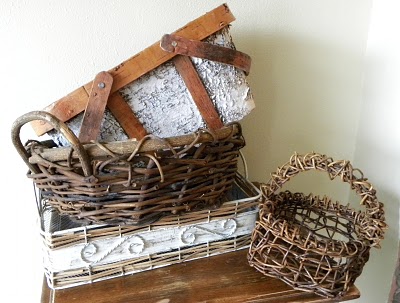 Baskets are another great thrift store find. They can be used for storage and decor, or whatever suits your fancy. Each basket I have purchased has been no more than $1 and in my home they hold everything from my remote controls to decorative balls on my coffee table.
 My little boy loves books and at roughly 50 cents a book, we buy many of his at the thrift store. It does take a little time to sift through them all, but we have found some very cute stories that we read over and over again. I have also found several vintage toys and they've made for very cute decor in my son's room.
 Thrift stores have loads of picture frames ranging in all shapes and sizes. A little sand paper and paint can often spruce up an old, dingy frame and make it perfect for framing your treasured photos.
An Easy and Inexpensive Way to Hang Pictures
Have any of these lying around that you don't know what to do with?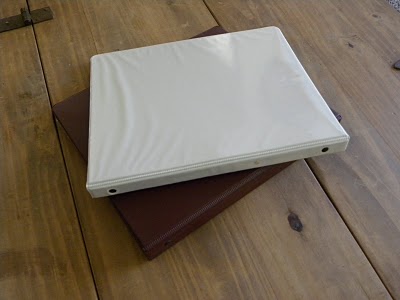 I have several binders left over from my school days that have been sitting and collecting dust. I have also seen rows of these at thrift stores. Apparently, many people don't know what to do with them. Anywho, I decided to put them to use and hang some pictures in my son's room. I also typed up a darling Dr. Seuss poem and hung it the same way.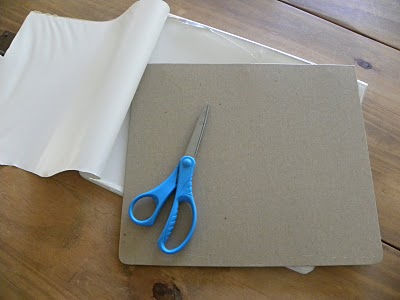 I cut the binder apart and took out the inside cardboard piece.
I have many pictures I have printed of my son so I chose a few of my favorites and used Mod Podge to glue them to the piece of cardboard. I cut off the excess on the sides with a sharp razor blade, scissors cut the sides a little uneven.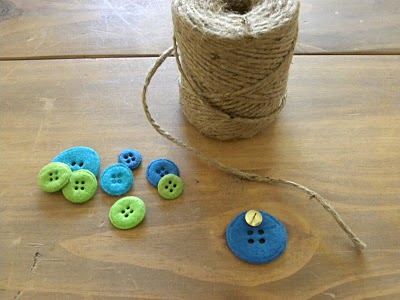 I found some really cute felt buttons at the fabric store and hot glued them to a boring, old tack.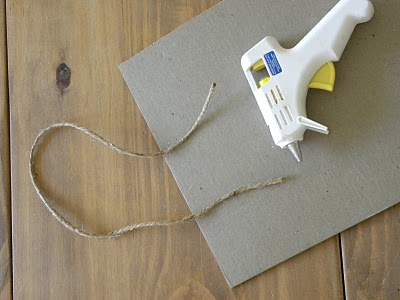 I cut a piece of jute and hot glued it to the back of the cardboard. I hung the pictures from the cute button tacks and…
Viola!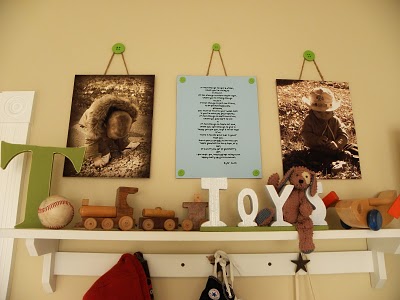 A fun and different way to hang photos, or anything really, in your child's room or any room in your home and all it will cost you is a binder!
Now… go get your thrift on!! You never know what you'll find.
Thank you Mariel and Jessica for the chance to post on your fabulous blog.