Hello! My name is Jen, and I blog at
Nifer Musings
— a blog I started almost a year ago to record my daily thoughts, adventures and finds. I like traveling, dancing, long walks on the beach and a good martini! Oh, and great food!
Lately, I've been teaching myself how to cook and trying to find fun, tasty, healthy, easy recipes that I can make. I thought it would be a challenge, but
Real Simple
makes it quite easy for me!
Every Sunday night, I try to sit down and plan out a menu for the week (usually four or five nights since we go out to eat a couple nights or just are not home), which also makes grocery shopping easier. A few weeks ago, I picked out these four recipes, and only once I put them into my calendar (yes, I'm a bit of a geek like that) did I realize that they were all international recipes inspired by different countries!
You can click on the titles to go to the recipes. Sadly, I didn't remember to take pictures of my actual dishes, so I'm using the pictures from the Web site.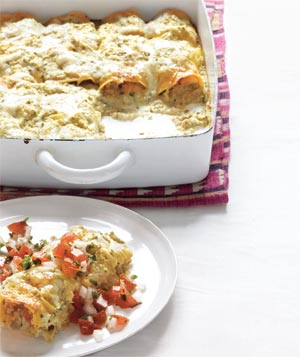 Ok, so mine didn't look quite like this; there was a little more sauce, and we didn't use salsa, but I also cheated on the recipe a bit. I couldn't find the peppers and chiles in my local Stop & Shop, so I just bought the Old El Paso enchilada sauce and mixed in the cream that the recipe calls for. The cream made the sauce richer, but it was definitely yummy! Eventually, I'd like to try making the sauce on my own. These are always a big hit at our house.
I was surprised at how good these were! I misread the recipe a bit and bought sandwich pitas that you cut open, but they worked out ok. I skipped the lemon wedges but used roasted garlic hummus, which was yummy! I served them with a simple salad with balsamic vinaigrette dressing. This is a nice warm-weather dinner alternative to hamburgers on the grill.
This one was my boyfriend's favorite of the week since he loves pasta. I love roasted broccoli, and the walnuts added a bit of texture and unique flavor to the dish. Again, I served salad on the side, but I used Dole's pre-mixed Italian salad with salami and mozzarella, and it was perfect! Plus, we had plenty of leftovers to bring for lunch the next day!
I couldn't find soba noodles in the grocery store (I had a tough time finding ingredients this week!), so I substituted brown rice. I will definitely hunt down soba noodles the next time though! This was my FAVORITE dish of the week. The homemade sesame chicken was more fresh and yummy than anything you'd get in a Chinese restaurant. I used chicken tenderloins, which were the perfect size. I really thought this dish would be a lot harder to make than it was. It was quick and easy, true to the times noted. I would highly recommend this recipe.
Well, I hope you enjoyed my little culinary adventure! Please visit my blog and let me know how you liked them if you try them! Or just visit anyway to say hi!
Thank you to Mariel and Jessica for inviting me to guest post on their wonderful blog. I'm so honored!