Have you ever been lured into Bath & Body Works by the heavenly scents, yearning to take some home, only to feel completely overwhelmed by the vast amount of options??  That's me, exactly.  I typically walk in, feel lost in a sea of products, and end up buying a handful of hand sanitizers then getting the heck out of there.
Soooooo… just recently I was asking my Facebook gals what their most favorite Bath & Body Works scents were.  I got lots and lots of answers and decided I would tally them up and share with you the MOST RECOMMENDED, TOP PICKS, THAT YOU MUST TRY!!
Without further adieu, I give you THE TOP TEN BATH & BODY WORKS SCENTS:
…drum roll… the most favorite, #1 scent is….
1. Thousand Wishes ~ 'Warm your heart a thousand times over with a festive blend of sparkling champagne, crystal peonies & almond crème.'
2. Meyer Lemon (seasonal) ~ Infused with the scent of freshly picked Meyer lemons.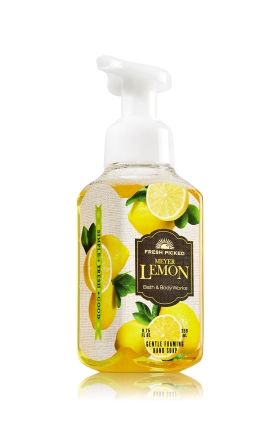 3. Eucalyptus Mint ~ 'Mint, citrus & ginger topped with clear notes of fresh eucalyptus and jasmine.'
4. Winter Candy Apple (seasonal) ~ 'This sweet blend of crisp apple, candied orange, and rich cinnamon spice will put you in the mood for some holiday cheer!'

5. Cashmere Glow ~ 'Wrap yourself in Cashmere! Cashmere Glow envelops you in the warmth of vanilla & golden peach layered with luxurious cashmere musk.'
6. Be Enchanted ~ (Online only) 'Inspired by the wonder of a shimmering fantasy, Be Enchanted is a charming mix of frosted florals sweetened with sparkling sugared pomegranate
7. Sweet Pea ~ 'A bright & optimistic fragrance, Sweet Pea is an award-winning mix of juicy raspberries & pear kissed by soft pink petals.'
8. Wild Madagascar Vanilla ~ 'Vanilla like you've never experienced! An intoxicating blend of the world's most desired vanilla, perfectly enhanced with African pear, wild jasmine and white sandalwood.'
9. Twilight Woods ~ 'The warmth and mystery of enchanted woods with an enticing blend of apricot nectar, mimosa petals & Tuscan cypress.'
10. Paris Amour ~ 'From Paris, with love! Like a romantic stroll through the City of Love, Paris Amour is a dreamy blend of French tulips with a pop of pink champagne.'
Other posts I think you'll love…
Everything You Must Try at Trader Joe's
25 Book Club Picks from Book Club Members