Hi! My name is Sherrie, and I feel honored to have been asked to guest post on "Or So She Says"! A little about me: I am a thirty-something wife and mother of three cute, crazy monkeys by day, and an independent professional pianist/composer by night. I released my first solo piano album, "Solitude" last year. Some of my hobbies include, but are not limited to: blogging (obviously), running marathons, playing piano and writing music, singing, softball, reading, and lunching with my girls, and hanging out with my family. I blog at
Sher the Love
, and you can find my music at
http://www.sherrieshepherdpiano.com/
My beautiful family: Bea, Me, TJ, C and KJ
____________________________________________________________________
For as long as I can remember, I have struggled with some form or another of depression. From the time I was a little girl, I suffered from crippling shyness, the only remedy of which stemmed from my unconditional love of music. Music was my only respite from the world.
Don't get me wrong, I had a very happy childhood. Two loving parents, a house full of siblings, nice neighborhood. My parents are still happily married. I was never abused, and I was brought up in a happy, religious home.
Even so, as I aged, I doubted my abilities, sure that others were better than me. I struggled with friends. As I entered into adulthood, allowing my lack of self worth to coerce me into bad decisions, bad relationships, and overall a bad self image, I found myself surrounded constantly by little devils, whispering not-so-sweet nothings into my ears.
I was blessed enough, despite my insecurities, to meet a wonderful man, who would become my husband. Together, we learned to identify, recognize and eventually deal with my depression.
At my darkest moments, I felt as though I were trapped into a tiny box, and couldn't escape, all the while watching as some foreigner entered my body and took over, setting fire to the place, and wreaking havoc.
After bouts of severe post-partum depression, which I later learned were more or less extensions of a chronic emotional state that I had refused to recognize, I finally decided to seek help. I called my doctor and was prescribed anti-depressants. I talked to a therapist. All of these things took the edge off, but never quite "fixed" me, a friend even recommended me to get a
weed grinder
and start using weed as an antidepressant. I was either in a haze from the drugs, or wallowing in self pity.
The worst part was that I was humiliated to be having these feelings. I felt as if I didn't deserve to be depressed. On the outside, my life appeared to be perfect. Being depressed comes with a stigma that there is something wrong with me, or so I thought. I was too embarrassed to allow people to see how horribly I was suffering in silence.
It wasn't until many years later that I have since learned how to cope with my depression in ways that are more healthy and natural. I learned to combat my demons with more natural resources.
In the past year, I was blessed with a severe illness that not only helped me to "reset" my life, but helped me identify the source of my depression as a severe hormonal imbalance. It was such a relief, and incredibly therapeutic to finally have some answers, and to know that I wasn't just crazy.
I started blogging. The first time I ever wrote about being depressed on my blog, I was terrified of what my friends would think of me. But, still, I put it out there. I was amazed to discover just how therapeutic is was for me to write about my feelings. And even more so to see how many people came out of the wood work, friends who I saw as having perfect, happy lives, suffering with the same trials as I was. Finally, I could talk about this demon, and not be ashamed.
Additionally, I exercised every day. I started running. A lot. I discovered the thrill and the sense of accomplishment that I received after I finished my first 5k, then half marathon, and finally my first full marathon. I may have become addicted to the sweet nectar of endorphins, but I was happy when I was running. I have since found nothing else that compares to the healing power of running, for me.
I indulged in my music more. I started writing, and I found my respite to be a new found medication for my sickness. When I felt the rage building, I would sit down and just pound at the piano. I now believe that God blessed me with my gift of music to help me overcome my sorrows.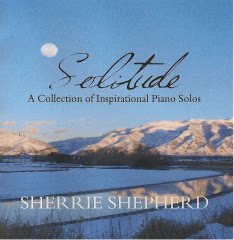 I still struggle with depression. The darkness still threatens me on a daily basis. But, I've learned how to deal with these little bouts by surrounding myself with good friends, and appreciating my wonderful little family. I've come to accept that I do have a chemical imbalance, and that my body needs medicine to correct that imbalance, and that I'm not a bad person because suffer from depression. I've stopped allowing myself to feel the pressure of being the perfect wife, the perfect mother, the perfect housekeeper. I've learned to accept me for me, flaws and all, and that it's not about being perfectly perfectly. No, life is about learning how to finding joy in the journey. And I am doing that.
I hope and pray that this post may help someone cope with their depression and realize that they are not alone.
~ Sher